2023 UEFA European U17 Championships Group A
15.30 May 20, 2023 -
Referee: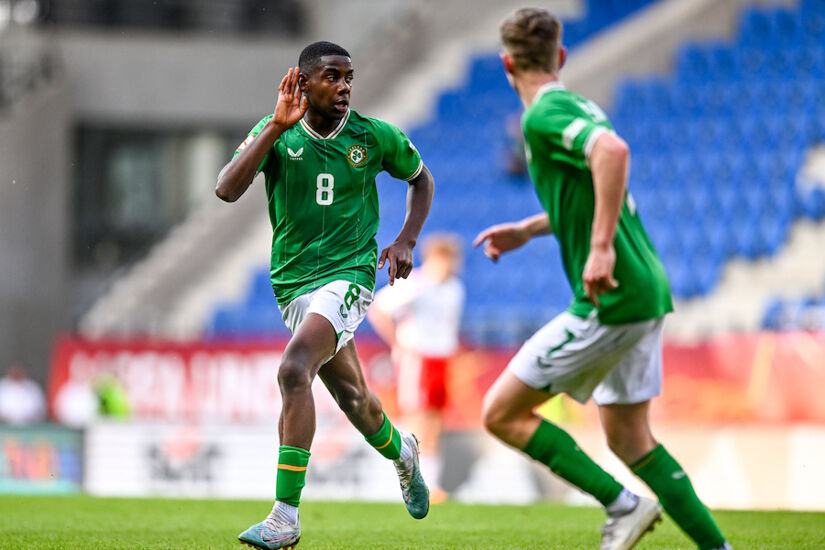 Ireland Under-17s Bounce Back to Beat Wales 3-0 in UEFA European Championship
Sat, May 20 2023




In an impressive rebound after their opening game defeat, the Ireland Men's Under-17 squad has clinched a remarkable 3-0 victory over Wales in the second group match of the UEFA European Under-17 Championship.

The game, held in Budapest, saw goals from Shamrock Rovers' Ike Orazi and Naj Razi and a spectacular finish by man-of-the-match Romeo Akachukwu.

The stakes were high, as both teams faced potential elimination from Group A with a loss. Despite the pressure, both teams showcased their skill in a high-quality encounter at the sweltering Panchu Arena.

The Welsh came out strong, with a curling attempt from frontman Iwan Morgan turned onto the post by Ireland's goalkeeper Jason Healy within the first 30 seconds. But Ireland's team, bolstered by the addition of Waterford's Romeo Akachukwu, soon found their stride.

Both Razi and Orazi proved threatening to the Welsh side, with Razi's persistence at the penalty kick finally leading to the opening goal. Orazi's performance was rewarded with a stunning goal from the edge of the area, following a mistake by Sam Parker.

Despite increased pressure from Wales after the break, the Irish defense stood firm. The team's composure shone through when they executed a brilliant team goal, ending with a thundering strike by Akachukwu from 25 yards out.

Head Coach Colin O'Brien expressed his delight with the team's performance: "I'm just delighted for them that they got the performance and they scored a couple of superb goals. It's three points on the board, it puts us in with a fighting chance now in the final game which a lot of groups always go down to. We're just delighted that we're going into the last game with an opportunity of getting out of the group."

In light of the group standings, the upcoming match between Ireland and Hungary holds significant weight. Both teams currently sit on three points, and with Hungary currently holding a superior goal difference, Ireland must secure a win in the next match to guarantee their progression to the next stage of the competition.

This sets the stage for an intense encounter, as the young Boys in Green aim to use the momentum from their win over Wales to overcome their hosts, Hungary, in this pivotal match. A victory in this game will ensure that Ireland advances from the group stage, regardless of other outcomes.

The in-house extratime.com team of writers
| P | Team | Pd | W | D | L | Pts |
| --- | --- | --- | --- | --- | --- | --- |
| 1 | Poland | 3 | 2 | 0 | 1 | 6 |
| 2 | ROI U17 | 3 | 2 | 0 | 1 | 6 |
| 3 | Hungary | 3 | 1 | 0 | 2 | 3 |
| 4 | WAL U17 | 3 | 1 | 0 | 2 | 3 |
Be Social