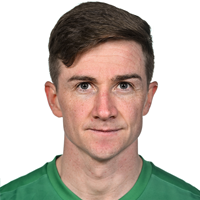 Ronan Finn
Midfield
Height 185 cm
Age 35 years, 4 months
Place of Birth Dublin
Nationality Ireland
Stats based on games populated in our system. They can be viewed below
Ronan's Biography
Ronan started his career at UCD where he won a sports scholarship for the 2005/06 academic year and was a member of the UCD Under 21 team that won the Dr. Tony O'Neill trophy in 2005. He went on to captain the UCD side which won the First Division title in 2009 and was named that years First Division Player of the Year. Having made 60 league appearances for the Students he moved across the city to sign for Liam Buckley at Sporting Fingal where he made 34 league appearances fro the Ravens in 2010 and scored eight league goals.

Following Sporting Fingal's collapse in February 2011 Ronan signed for Shamrock Rovers and he made his debut for the Hoops against Dundalk at Tallaght Stadium on the opening night of the season. He made 33 league appearances in a year that saw the Hoops win the league title and qualify for the group stage of the Europa League. The following year, Ronan was again central to the Hoops' midfield, scoring eight times in 25 league appearances and in 2013 he scored eight times in 29 league outings. His third season as a Hoop also brought cup success with Ronan collecting winner's medals in both the Setanta and EA Cups. In 2014 Ronan scored six times in 28 league appearances before leaving the club in December to sign for the new league champions Dundalk.

In 2015 Ronan played in all 33 of Dundalk's league games, scoring five goals, as Dundalk once more won the Premier Division title. He also appeared in both Champions League ties, as the Lilywhites went out to BATE Borisov, and in the FAI Cup Final, in which they beat Cork City 1-0 after extra-time. The following year brought another league title with Ronan scoring seven times in 29 league appearances. He also played in all 12 European games as Dundalk reached the group stage of the Europa League. The season ended with another FAI Cup final, though this time it ended in defeat to Cork City.

In December 2016 Ronan left Oriel Park to re-sign for Shamrock Rovers on a three-year deal.


Career Facts
Season
Round
Team
Apps
Goals
Appearances
Starts - Sub On - Total
Goals
Goals - Pens - Total
Assists
Subs
Sub Off
Yellow
Red
Shamrock Rovers Shamrock R
1
-
1
-
1
-
-
-
-
-
1
-
-
League of Ireland Premier Division
League of Ireland First Division
Season
Round
Team
Apps
Goals
Appearances
Starts - Sub On - Total
Goals
Goals - Pens - Total
Assists
Subs
Sub Off
Yellow
Red
2009

First Division

First Division

UCD UCD
29
7
29
-
29
2
5
7
-
-
-
-
1
UEFA Champions League
Presidents Cup
Season
Round
Team
Apps
Goals
Appearances
Starts - Sub On - Total
Goals
Goals - Pens - Total
Assists
Subs
Sub Off
Yellow
Red
2022

2022 Pres Cup

2022 Pres Cup

Shamrock Rovers Shamrock R
1
1
1
-
1
1
-
1
-
-
-
-
-
2021

2021 Pres Cup

2021 Pres Cup

Shamrock Rovers Shamrock R
1
-
1
-
1
-
-
-
-
-
1
-
-
2016

Final

Final

Dundalk Dundalk
1
-
1
-
1
-
-
-
-
-
-
-
-
2015

Final

Final

Dundalk Dundalk
1
-
1
-
1
-
-
-
-
-
-
-
-
Friendly
Setanta Sports Cup
FAI Cup
Europa League
Leinster Senior Cup
League Cup
Atlantic Cup
Season
Round
Team
Apps
Goals
Appearances
Starts - Sub On - Total
Goals
Goals - Pens - Total
Assists
Subs
Sub Off
Yellow
Red
2018

Grp

Grp

Shamrock Rovers Shamrock R
2
-
2
-
2
-
-
-
-
1
-
-
-
UEFA Champions League Qualifiers
Europa Conference League
Season
Round
Team
Apps
Goals
Appearances
Starts - Sub On - Total
Goals
Goals - Pens - Total
Assists
Subs
Sub Off
Yellow
Red
2021-2022

PO

PO

Shamrock Rovers Shamrock R
2
-
2
-
2
-
-
-
-
-
-
-
-
2021-2022

3QR

3QR

Shamrock Rovers Shamrock R
2
-
2
-
2
-
-
-
-
-
1
-
-