James Keddy set for reunion with former boss Liam Buckley as Wexford get set for a 'massive' FAI Cup tie at Turner's Cross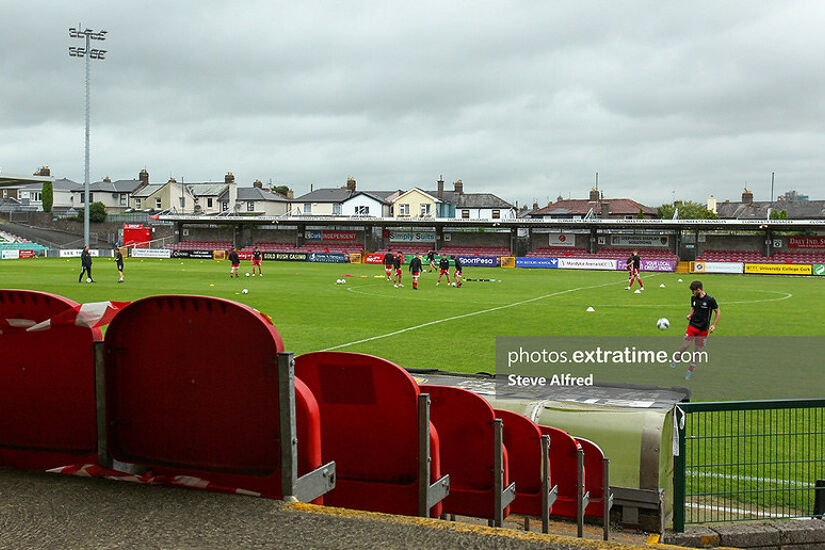 James Keddy may have bailed out Liam Buckley a few times as a player – but he will be looking to do the opposite as a manager on Friday night.
Keddy brings his in-form Wexford to Turner's Cross in the FAI Cup to face Buckley's Premier Division Cork City.
The pair worked together at Shamrock Rovers for a period during the early-2000s with Buckley the boss and Keddy the influential player.
Both teams come into the game off the back of wins, with the Slaneysiders defeating Treaty United 2-1 and City beating relegation play-off foes Sligo Rovers 3-0.
But Dubliner Keddy has his eyes on an FAI Cup scalp against his former boss when they reunite on the touchline at the Cross.
"It's a massive game for us and I keep telling the players that it is a one-off game," he tells extratime.com. "It's important that we defend well.
"They have good players, attacking players and their midfielders are good. Ruairi Keating is a very good player as well.
"But we've got to believe that we can beat them because they're only 11 men. We'll have a bash at them, give it a go and see where it takes us at the end of the night.
"Our main objective of the season is the playoffs. But it'd be fantastic for the club and everyone around the club (if we win)."
Wexford are sitting pretty in the First Division play-off places and are just one point behind fourth placed Athlone Town.
They have also won three of their last games and are unbeaten in that mini-run of fixtures.
"It took a while (to get going) because we've got a lot of young players and it takes a while to gel," Keddy adds. "Over the last month and a half you can see little improvements.
"Lads are getting what we're trying to do in training and there's a very good togetherness in and around the club as well.
"There's a lot of work being done behind the scenes with everyone in the club and there's a good atmosphere around the place at the moment.
"During the window we brought in five or six players and I think it's helped because it has given us competition for places.
"I've got 24 players at the moment to pick from and everyone's fit now.
"On Friday night there's going to be four players left out, which is difficult for me because everyone's training really well.
"But it's a great problem to have. All the players are really looking forward to it."
As far as first jobs in senior League of Ireland football go, Keddy has had an impressive one.
After a patchy start to the campaign, the former Longford Town and Bray Wanderers assistant to Gary Cronin has steadied the ship at Ferrycarrig Park.
And the First Division play-offs are in his sights.
"It's been a great learning curve," the Sandyford native explains. "A lot of the work is unseen and you only know what it is like when you go into it. I've enjoyed it.
"It's obviously more enjoyable when you're winning games. At the start of the season it was difficult. We had a lot of injuries, probably eight injuries after six games.
"You get a little bit of stick from people as well but it takes time for a team to gel. I brought in the whole new squad so we're getting there."
Key to Wexford's resurgence in recent weeks has been the club's commitment to engaging with supporters and the county's footballing stakeholders.
And Keddy has played his part.
The two-time FAI Cup winner as a player paid for a bus to allow a group of supporters to attend their recent away game against Athlone Town last month.
"That was just an idea and it cost me a few quid," he revealed. "But it was worth it!
"It's about the fans. I think they're the most important people at any club where I manage.
"It was only a small gesture but I think they appreciated it. It was good for both the club and everyone else.
"We're trying to build relationships with all the schoolboy clubs and there's a fair bit of work going on behind the scenes.
"We're hoping that over the next three to four years that there's going to be a better connection with young kids going to the games and that's what it's all about.
"It gives them a bit of hope watching the likes of Aaron Dobbs and Ethan Boyle – thinking they can be the next players like them."
And an extended FAI Cup run may do wonders for a club seeking to build a real connection with its local community.
"I've been lucky to win two FAI Cups," he reflects. "I've been very lucky with my playing career as well but it's all about the day.
"You have to perform and that's what I'll be saying to our lads before the game against Cork.
"We're against a full-time team and that's a massive advantage for them.
"I know Liam well. Liam was my manager at Shamrock Rovers so it should be a good occasion.
"If we're at it, we'll give them a game but if not we're going to get turned over."
While he only worked with Buckley for a spell at the Hoops, Keddy learned a lot from the now Cork City interim manager.
"Liam was probably the calmest manager I ever had," he adds. "He never was an absolute gentleman. He saw things totally different than other managers I've played under and had a lovely manner about him.
"He builds up your confidence as well. But he never shouted, that's one thing I'll always remember.
"I remember one game against Shels. We were winning by two goals and we got beaten so if there was ever a game to lose his temper, that was it. But he didn't.
"There were occasions when he might have gone mad but there were other occasions where you'd go away from it for a day and everything's not as bad as it seems.
The match preview is in for our massive cup tie this Friday night!

Read more - https://t.co/7lVVPlsjUB

: Cork City
: 7.45pm Fri 15th September
: Turners Cross
: https://t.co/YcULjKNgU1pic.twitter.com/mCFGZcfQzO

— Wexford FC (@WexfordFC) September 13, 2023
"Stuff like that I would have learned from him. He's a decent guy and that's important in this day and age. You have to make decisions as a manager but you can't keep everyone happy.
"People won't like you for whatever reason but you just have to keep going and believe in what you believe in. That's what I learned from him."