Conor Kearns on Shelbourne's win over St Pat's: 'To get over the line was really encouraging'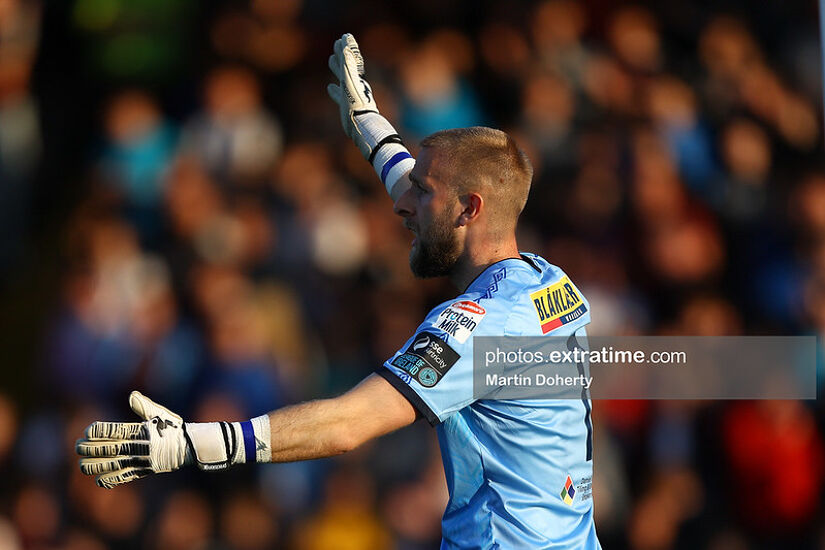 He may have had to watch Shelbourne score twice from a distance away – but that did not matter one jot to Conor Kearns as the Saints were downed 2-1 at Tolka Park.
Joe Redmond gave St Pat's a first-half lead against the run of play as Shels dominated for vast swathes of the opening half.
And that trend continued during the second half – but Damien Duff's men got their just reward late on when Euclides Cabral and Paddy Barrett both scored.
For Kearns – a former Saint – it meant he could breathe a huge sigh of relief.
"It was an overwhelming sense of relief in one way because I thought we absolutely dominated the game from start to finish and had an abundance of chances," he told extratime.com after the game.
"It's a great feeling to get a result like this because it's one we've probably been just slightly short of actually getting over the line and getting.
"It's probably the right time to get it as well."
Shels came into Friday's game without a league win since June against Drogheda United but they did at least claim a late point against Shamrock Rovers during that barren patch.
"It's a double-sided coin isn't it?" he remarked. "Our last home win was against Drogheda but we've also not lost many games in that time frame.
"We've probably been one of the hardest teams to beat this season in general. And it's just that last little bit of luck or belief… It seemed to be a different thing in each game.
"But to get over the line (on Friday) was really encouraging and I think it is long overdue because I think the performances haven't been far off what (Friday) was.
"We just clicked and got what we wanted."
Shels' win over the Saints at Tolka was their first at the venue against their Inchicore foes since March 2020 – before the Covid-19 pandemic – and just their third since 2006.
And with the scale of the celebrations that came following the full-time whistle, Kearns reflected on that big moment.
"It's honestly one of the best feelings I've ever had on a football pitch," he added. "I couldn't really enjoy it before the final whistle.
"But the supporters have been absolutely incredible and I think they were due a night like that.
"Maybe they've been a little bit too few and far between for the way we've played and for the way they've supported us.
"So it's really good that they get a night like that. Hopefully we can give them a few more."
Since joining Shels from Galway, Kearns has helped the Reds establish the meanest defence in the Premier Division by racking up 12 clean sheets.
He has also only conceded 20 goals – which is the least of any side in the top-flight.
But he stressed: "It's a group effort. We have been fairly resilient defensively. I've said it before but I probably didn't have anything to do really (against St Pat's).
"I didn't have a whole pile to do and that's the case most weeks. I'm fairly well protected and I can come up with the moments when they arise.
"I wasn't able on Friday but the lads turned it around to get a win. It's a nice statistic to have but it's one that we want to hold on to for the last few games."
Shels are now just one point behind fourth-placed Bohemians after their win over St Pat's, while they are just four points off Jon Daly's men in third.
European qualification is within touching distance but Kearns knows that the Reds must keep focused on the task awaiting them.
"We can do it if we take it one game at a time," he added.
"I know the manager has said we are dreamers and we dream of things that people didn't expect of us but now it's a case of fully focusing on each game as it comes.
"There was a lot of focus on this game and you see that with the rewards and performance that we got.
"We're fully aware of the position we're in and we're fully aware that we can go and maybe upset the applecart a little bit.
"But we're going to have to be professional in the next game against Cork and take each game as it comes."
Mark Doyle: 'We're far behind now but all you can do is do what we're doing, show up and try and get the three points' https://t.co/CIPllBTEzBpic.twitter.com/WpSA30tzvg

— Extratime.com (@ExtratimeNews) September 5, 2023