extratime.com League of Ireland Voice Notes - Episode 31 - Europa Conference League Special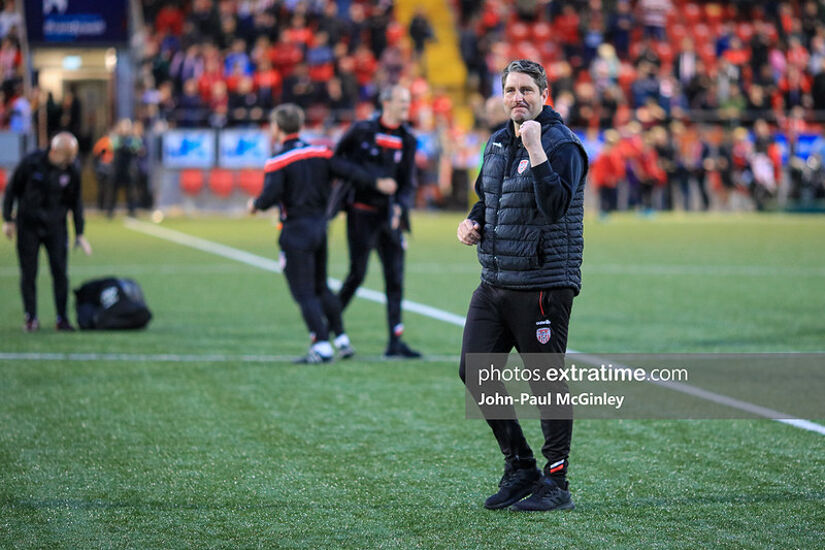 In this week's edition of Voice Notes with Oisin Langan, we pivot our gaze back towards European football where three Irish sides took centre stage in the Europa Conference League fixtures on Thursday.
Derry City's Delight: A Narrow Victory
Meanwhile, joy abounds in the Derry City camp as they sail through with a narrow 5-4 aggregate win. Gareth McGlynn shares the exhilaration of this nail-biting victory, a triumph that has sent ripples of delight through the club. It's a game of grit, determination, and the will to eke out a result despite numerous knock-backs during the clash.
The Unsilenced Enthusiasm of the Drive 105 Commentary Team
Next, we turn our attention to the passionate voices behind the microphone. The Drive 105 commentary team of Michael Kealey and Dermot Liddy who, in their joy at the Candystripes scoring, where asked to keep it down by the home support!
Ruaidhri Higgins: A Manager's Perspective
We hear from a delighted Derry City manager Ruaidhri Higgins talking to Drive 105. He provides insight into his side's progress, and the joy of reaching the 3rd round. He commended the resilience his side showed during the game and the constant battling spirit to come back each time.
Michael Duffy: The Scorer of the Winning Goal
Also chatting with Drive 105, we hear from Michael Duffy, the man whose head delivered the winning goal. He shares his reflections on the euphoria of the breakthrough moment for the Candystripes in the Europa Conference League. He praised the commitment of the fans and his delight to deliver a result for the great support.
Dundalk's Euro Exit: A Difficult Pill to Swallow
As the echoes of the whistle signalling the end of Dundalk's Europa journey still ring in our ears, Oisin caught up with Dane Massey. His disappointment is palpable as he unpacks the frustrating result. He talks about Dundalk's failure to finish, a lack of attacking spark, to change the direction of the tie.
Be sure to tune in to 'Voice Notes with Oisin Langan' after each match night for detailed and insightful commentary on the SSE Airtricity League's latest action.
You can listen to the podcast on all major podcast platforms or on the player below.
Links: