Who are Champions League finalists Manchester City?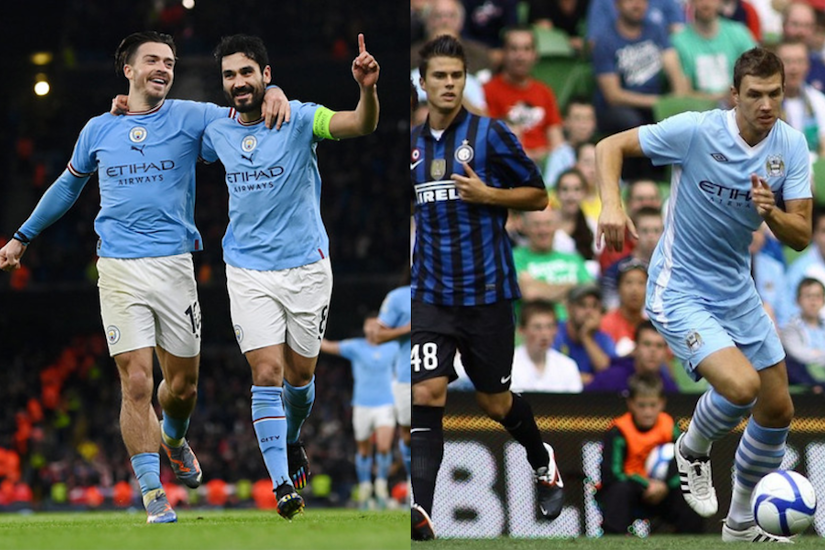 Macdara Ferris reports from Istanbul
Manchester City and Internazionale will face off in the Ataturk Olympic Stadium in Istanbul, Türkiye, on Saturday evening in the Champions League final.
Inter Milan are a marquee name in European football, having won three European Cups in their storied history including a treble of Champions League, Serie A and Coppa Italia in 2010. But they face a side in Man City who haven't won a European trophy for 53 years.
extratime.com has taken a very shallow dive into the team managed by Pep Guardiola as City look to become the first new name on the Champions League winners list since Chelsea's win in 2012.
So just who are Man City?
Manchester City hail from the city of Manchester in England and play their football in the English Premier League.
They were founded in 1880 as St. Mark's before switching their name to Ardwick Association Football Club, meaning they topped the table alphabetically at the start of every season until taking the name Manchester City in 1894.
City played their home matches at Maine Road from 1923 onwards until the start of this century. During their time at that venue they were English champions just twice – 1936/37 and 1967/68.
They have won the FAI Cup six times and were runners up in the Full Members' Cup in 1985/86.
In recent years with the influx of money from their new wealthy owners, they have been the dominant club in the Premier League winning three-in-a-row and five of the last six titles, including this past domestic season.
What is their European pedigree?
Not very good really. They have only won one European trophy and that was in a competition that no longer exists – the European Cup Winners Cup. They beat Polish club Górnik Zabrze 2-1 at Vienna's Prater Stadion in the 1969/70 final.
They reached the Champions League final two seasons ago, losing 1-0 to fellow English side Chelsea.
City are unbeaten in this season's European Cup, winning seven of their dozen games in the competition, eliminating Bayern Munich and last year's winners Real Madrid. They are the top scorers with 31 goals (their opponents Inter have found the back of the net 19 times).
What competitive games have City played in Türkiye before?
This will only be City's second time to play a European game in Türkiye. Back in the 1968/69 European Cup they lost the second leg 2-1 to Fenerbahçe in Istanbul and were eliminated from the competition after the first leg was scoreless.
Where do they play their home games?
Like clubs closer to home such as Derry City, Shamrock Rovers and Waterford, Manchester City play their home games at a council owned facility.
The City of Manchester Stadium, known as the Etihad Stadium for sponsorship reasons, is owned by Manchester City Council with the Sky Blues a tenant with a 200-year lease.
While at the RSC the Blues cross a running track to get to the pitch, there is no such issue for the Sky Blues at City's stadium as the track at the venue was removed after the 2002 Commonwealth Games.
Who is the standout player to watch out for?
Their centre forward has been scoring goals for fun all season. No we aren't talking about Waterford again and Ronan Coughlan but another striker fond of banging goals in while known to sport a pony tail – Erling Haaland.
Unsaddled with having to play the World Cup in Qatar late last year, the Norwegian striker has netted 52 goals for City in all competitions this year.
Twenty eight of his goals came in the Premier League and a dozen goals in the Champions League (four more goals than any other player this season). He was top scorer in the European Cup with ten goals in 2020/21 when he was with Borussia Dortmund.
Who are the club's owners?
We won't be making a comments about Waterford in this section. Since 2008, City have been owned by Sheikh Mansour bin Zayed Al Nahyan through the Abu Dhabi United Group.
The influx of Abu Dhabi money into Manchester has propelled City to unparalleled success in the Premier League but the petrodollars have yet to help them secure a European trophy. That is likely to change this weekend.
Who will Irish football fans recognise in City's team?
One of Manchester City's star players has of course pulled on the green jersey of Ireland at underage level and has played at Tallaght Stadium previously. Step forward Colin Farrell look-a-like and 2015 Republic of Ireland under-21 player of the year Jack Grealish.
Have the two finalists faced each before in Europe?
No.
Have they played each other at Lansdowne Road by any chance?
Why yes, yes they have. City ran out 3-0 winners over Inter in the 2011 Dublin Cup held at Lansdowne Road, known as the Aviva Stadium for sponsorship reasons. In that pre-season tournament City also beat a League of Ireland selection managed by Damien Richardson in that competition by the same scoreline.
Current Inter striker Edin Džeko played and got a goal for City against Inter in that Dublin Cup game. The forward scored 72 goals in 189 games in all competitions for City between 2011 and 2015 winning two Premier League titles.
Which players have played together previously at club level?
John Stones and Romelu Lukaku at Everton and İlkay Gündoğan and Henrikh Mkhitaryan at Borussia Dortmund played together from 2013 to 2016. Kevin De Bruyne and Romelu Lukaku spent one season together at Chelsea (2013)
Who is the match official for the final?
The top job of officiating the Champions League Final has been awarded to Polish whistler Szymon Marciniak.
Turkish media mogul Acun Ilıcalı becomes majority shareholder in Shelbourne https://t.co/o8Tgr2gxd9pic.twitter.com/OsXccidIHO

— Extratime.com (@ExtratimeNews) June 9, 2023