No complaints from Kenny on FAI contract situation as the midnight hour approaches on his managerial reign with Ireland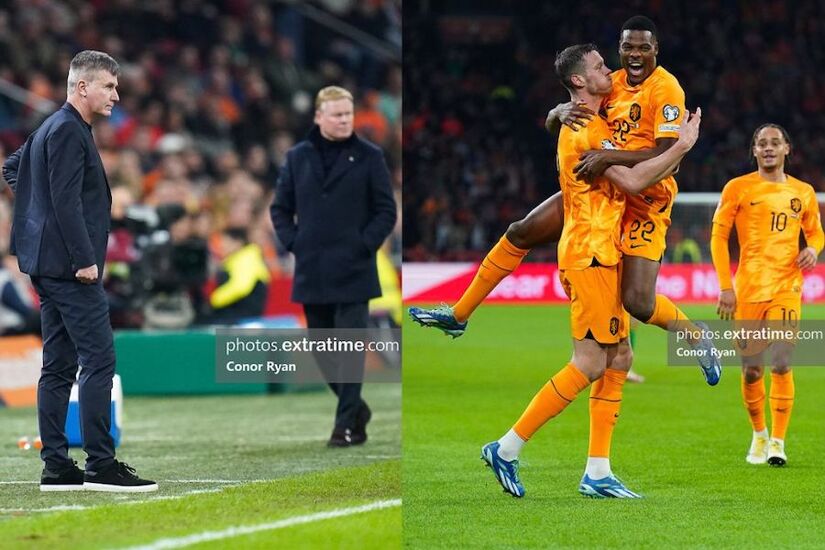 Macdara Ferris reports from Amsterdam
As the clock is counting down to the end of Stephen Kenny's time managing Ireland, on Saturday the clock was ticking towards midnight in the Johan Cruijff Arena when the final question was put to the Ireland boss at the post-match press conference.
Earlier he had seen his team lose 1-0 to the Netherlands in a game that was dominated by the home team whose victory booked the Oranje a place at the Euros.
It was put finally to Kenny that both Matt Doherty and Gavin Bazunu backed him in their post-match comments and a question was posed whether he felt he had unfinished business with Ireland?
Kenny took his time with his response setting out how he sees his tenure as manager – a tenure that realistically he knows will soon end.
We got the long pauses that can often punctuate a Kenny press conference which at times makes him seem ponderous. There was a momentary wry smile and a certain air of resignation – without, it has to be said, any discussion of an actual resignation.
Kenny set out his time in charge by talking once again about the difficult start to his time in charge of Ireland with COVID playing havoc with his player availability. He spoke about the extensive blooding of young players – which played into the poor results - and he did also acknowledge the legitimate criticism that has come his way.
"Obviously I'm biased in this viewpoint, yeah, of course I do," said Kenny saying he felt he had unfinished business with the Boys in Green. "I have seen what the team can become now. All of those players have come through together and you have a bit of pain with that.
"The group (with France, Netherlands and Greece) was an exceptionally tough group but there has been a lot of pain trying to rebuild a team. You're not going to rebuild a team without setbacks, it's not realistic."
It was only in his 12th game in charge that he finally got their first win – a 4-1 friendly victory in Andorra. His first competitive victory didn't come till October 2021.
Covid
"People go on about my record but to be honest with you, I don't think the first ten games, or the first part of it with Covid....I don't think it's fair at all that that's referred to overall in my record. I said that before and it wasn't well received.
"(We had) different rules in Ireland and the rest of Europe in relation to close contacts and the two metre rule. One window with 12 players missing and not many of them had Covid, and that was without injuries, it was just from the Covid side of it.
"From then on, and I feel like I'm trying to justify it, but from then on to tonight, since our first win, we had 11 wins, 11 defeats and six draws and played a lot of the top nations, but obviously we're disappointed with the lack of points and the games against Greece, of course I am. I'm disappointed with that and take responsibility for that."
EURO 2024 qualifiers report Netherlands 1 - 0 Republic of Ireland https://t.co/CFAmQGPiZupic.twitter.com/qh23nvJ1PX

— Extratime.com (@ExtratimeNews) November 18, 2023
The Dutch had been without a large number of defenders coming into Saturday's game – Ireland could maybe have exploited that if Kenny had a full complement of players to choose from.
"There are some players missing, you talk about cutting edge players, like Chiedozie Ogbene and Michael Obafemi who provide real pace, they are two amongst others who are not there tonight."
Earlier in the press conference he said he had "no complaints" as to how the FAI have handled his contract situation – which has essentially been allowed to run down to end after the final whistle against New Zealand.
Goalscoring
In this European Championship campaign, taking out the Gibraltar matches, Ireland have lost all six games and scored one penalty (Adam Idah's early goal in the home match against the Dutch) and Nathan Collins' goal in Athens. In the UEFA Nations League prior to that they had scored eight goals in six games.
"That hadn't been an issue for us as we had been scoring a lot of goals. We probably had conceded too many coming into the campaign, we had been scoring a lot of goals. It wasn't an issue for us. Four of those games, against France and Holland, of course. But it's a legitimate criticism."
Kenny's thoughts turned to Tuesday to the New Zealand game and no further. He said he is looking for his team "to be positive going into it. We want to finish strong and then it's completely out of my hands."
Kenny calls his team courageous in possession but acknowledged difficulty in penetrating Dutch back three - https://t.co/94rjArr8tjhttps://t.co/lQYtF5LlLM

— Extratime.com (@ExtratimeNews) November 19, 2023