Kenny calls his team courageous in possession but acknowledged difficulty in penetrating Dutch back three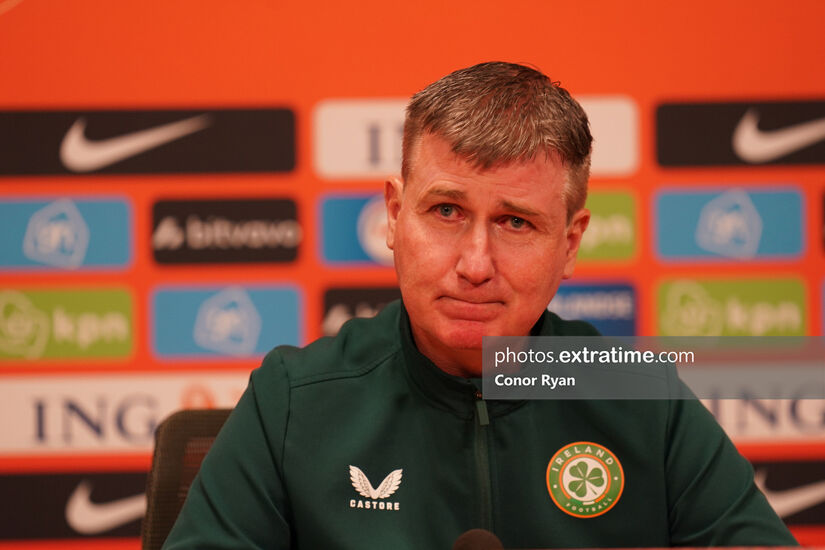 Macdara Ferris reports from the Johan Cruijff ArenA
Stephen Kenny put a brave face on in the post-match press conference late on Saturday night in Amsterdam after his team lost 1-0 to the Netherlands.
In truth Ireland were lucky to only concede the solitary goal by Wout Weghorst but Kenny didn't accept when it was put to him by extratime.com that it was a backs-to-the-wall performance at the back by his team.
"I wouldn't see it as backs-to-the-wall myself because we didn't sit back, we didn't take one step back, not one step back," said Kenny. "We absolutely pressed Holland high up the pitch, we went after them.
"The players were courageous in possession, they worked their socks off out of possession, worked incessantly and they put their bodies on the line.
"He did that and that kept us in the game. We just couldn't get that level of creativity in the final third that we required to break down a really top-class defence. We just didn't create enough with the possession we had.
"We found it difficult to penetrate their back three, but overall I felt that the players gave everything of themselves.
"If we had sat in deep and try to clear our lines and sat deep, I don't think it would have worked. I know you can play on the counterattack; I'm not saying you can't do that, but I don't think sitting deep and going long would have worked against Holland."
The Boys in Green had just the three attempts on goal in the game but allowed the Dutch get 18 away with the shots on target going five to one in favour of the Netherlands.
Ireland were thankful for another fine goalkeeping display on the night by Gavin Bazunu.
He was quick off his line to smother a number of Dutch efforts and pulled off a couple of brilliant saves in a few second half minutes to first save Weghort's close range effort and then pushing Tijani Rijnders' shot onto the post.
"Yes, they played through us and they created chances in the second half, and it required last-ditch defending, players but their bodies on the line when it was required and it required Gavin Bazunu to play really well."
Goal concession
Weghorst had given the home side the lead after just 12 minutes.
"Ryan Manning and Nathan collided and it opened up for Weghorst to go and score. It was a brilliant finish and you would not expect him to score from that angle, but it was a phenomenal finish and we got punished.
"They had a lot of chances in the second half, to be fair, Holland, and they deserved their win, of course they did, I'm not disputing that, but that was their first chance.
"We've gone up against a world-class team there, one of the best teams in Europe. The reason no Irish team in its history has beaten a team of Holland's calibre away from home - and there's been better teams than us, for sure, a lot of great teams – is because it's really difficult, really, really difficult to beat a tier one nation like that away from home in a qualifier."
With the New Zealand game to come on Tuesday, Kenny wasn't going to be drawn on his future just noting that "it's an absolute privilege to manage Ireland. I've always said that and I always would feel that. Yes, it's been a roller-coaster of emotions, of course but it's all been an honour to manage Ireland."
Koeman on qualification
His opposite number meanwhile was delighted with his team's qualification for EURO 2024 which came with their win but noted that "we are disappointed we only won 1-0.
"We are happy to have the qualification for the Euros. We did our job. We won twice against Ireland and Greece. We lost twice against France which made the away game in Ireland more difficult and put more pressure on us away in Greece."
EURO 2024 qualifiers report Netherlands 1 - 0 Republic of Ireland https://t.co/CFAmQGPiZupic.twitter.com/qh23nvJ1PX

— Extratime.com (@ExtratimeNews) November 18, 2023