Alan Browne and the Boys in Green out to spoil the party in Amsterdam on Saturday night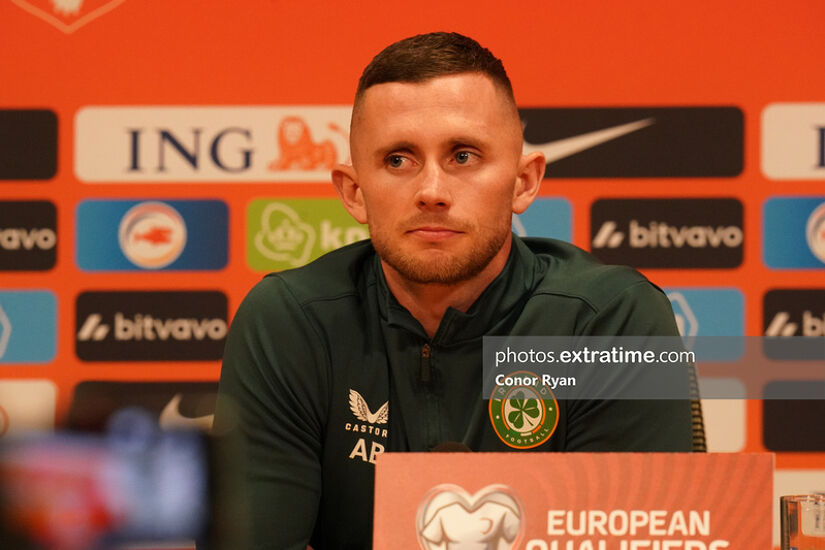 Macdara Ferris reports from the Johan Cruijff ArenA in Amsterdam
It will be celebration time in Amsterdam on Saturday night for the home supporters should their team get the win over the Republic of Ireland that will book them a place at EURO 2024.
On the eve of the game, at his press conference the Dutch manager Ronald Koeman wasn't getting carried away about planning celebration if they qualify. "Partying? No, not really. We will if we win the European Championship."
When Ireland midfielder Alan Browne was asked by extratime.com about was spoiling the home side's party a motivation this weekend, he said it was more about concentrating on professional pride in taking on and defeating a world class team rather than being purely party poopers.
"It's not so much about spoiling their party, but we want to come here and win," said Alan Browne when speaking in the Johan Cruijff Arena ahead of Ireland's pre-match training session which took place under the closed roof.
"We want to win the game and spoil their party to an extent, but it's not a vendetta against them; It's just as a professional you want to win every game that you play in, and especially at the highest level against one of the best teams in the world, you want to go out and beat them."
Ireland's slimmest of slim qualification hopes ended on Thursday night with a Slovakia win over Iceland so what pressure, if any, there was on the Ireland team has abated somewhat.
"Their lads will be aware that we can play with a bit of freedom, it's a bit of a free hit for us – which is obviously disappointing to say as a player, but that's the way it is.
"It would mean an awful lot for us to get that result, but we know it's going to be difficult and really tough."
Ferguson fit as Kenny calls on his young team to embrace Dutch challenge https://t.co/DuMFT1Faaipic.twitter.com/Zj73XWuVaO



— Extratime.com (@ExtratimeNews) November 17, 2023
Progress
Saturday's game will almost certainly be Browne's last competitive match under manager Stephen Kenny and Browne insisted, despite there only being six competitive wins in the Kenny era, that there has been progress under the Tallaght man's tenure.
"Yeah definitely," said Browne when asked about this team's progression. "I've seen a lot of stuff in the media, a lot of criticism, and rightly so in terms of results. It's been a tough one.
"The group we got (with the Netherlands, Greece and France) we knew it was an uphill battle right from the start. I think with the teams we got we were really unfortunate. But that's what you are up against, the best teams in the world, if you want to succeed you got to beat them."
Ireland have had just the two wins in this group – both coming against bottom side Gibraltar who are ranked the fifth worst side in world football.
The Boys in Green do feel hard done by after the 2-1 defeat to the Dutch in Dublin earlier in the campaign on a night when possession was split 50/50 with both teams having seven shots each.
"In terms of performances, I think we have come a long way. Hopefully it continues for a long time.
Certainly since I first came in, in terms of team performances, we have definitely come a long way, we know that as players and staff. We have been in it together and just come up short in terms of results.
Out at the Johan Cruijff ArenA of the Ireland pre-match press conference for @ExtratimeNewspic.twitter.com/ib98BuYzEF

— Macdara Ferris (@macdarabueller) November 17, 2023
Small margins
"It is small margins within games. There hasn't been any game, apart from France away, which is a difficult place for any team to go at the best of times, I think there are just little moments within games that have cost us.
"We have had chances and haven't took them. Teams at this level are going to punish you if you don't take your chances. We obviously found that out the hard way.
"We don't want to keep harping on about it how far we have come, or the way we think we've been playing because at the end of the day it is down to results. That's ultimately what we will be judged on.
"We are really disappointed with the results in this campaign. It was just moments in games."
Alan Browne and the Boys in Green out to spoil the party in Amsterdam on Saturday night https://t.co/heIV2Iya6hpic.twitter.com/rtTRQNofUX

— Extratime.com (@ExtratimeNews) November 17, 2023