New balls please - UEFA unveil official adidas match ball for EURO 2024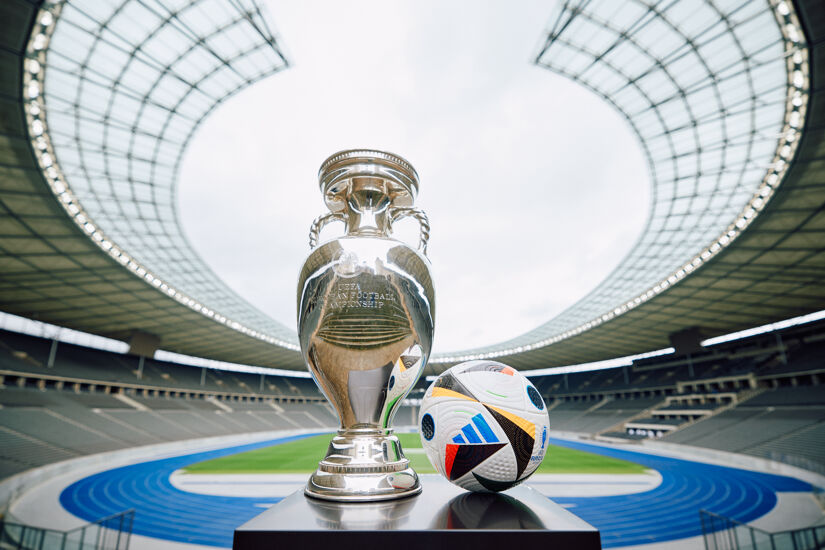 This week in the Olympiastadion in Berlin UEFA unveiled their new match ball for EURO 2024.
FUSSBALLLIEBE, the official match ball of next summer's European Championship, has a design, according to UEFA, that "is inspired by the joy of football and the energy of the tournament".
German for 'love of football', FUSSBALLLIEBE features adidas Connected Ball Technology for the first time at a European Championship which will contribute to UEFA's video assistant refereeing decision-making process.
Illustrations of each of the tournament's stadiums appear on the ball alongside the name of each host city.
UEFA stated that 'The use of bold red, blue, green and orange celebrates both the vibrance that the competing nations bring to the tournament and the pure simplicity of football that attracts so much love from fans around the world'.
As well as using recycled polyester and water-based ink, FUSSBALLLIEBE is made from more sustainable bio-based materials than any previous adidas ball using corn fibres, sugar cane, wood pulp and rubber.
Zvonimir Boban, UEFA technical director and chief of football, said: "The UEFA European Football Championship stands as the pinnacle of national team competition in Europe and we are committed to ensuring that every aspect, from the venues to the equipment, upholds the highest standards of quality and performance.
"We are, as always, confident that Adidas' FUSSBALLLIEBE will mark another stride in our shared dedication to excellence."
EURO 2024 will take place from 14 June to 14 July 2024 across ten host cities in Germany: Berlin, Cologne, Dortmund, Düsseldorf, Frankfurt, Gelsenkirchen, Hamburg, Leipzig, Munich and Stuttgart.
Collie O'Neill on Rovers return: 'The last thing now we have to build is a winning culture' https://t.co/ZOSQ1InC6Tpic.twitter.com/WMlfFvwIE6

— Extratime.com (@ExtratimeNews) November 15, 2023