Collie O'Neill on Rovers return: 'The last thing now we have to build is a winning culture'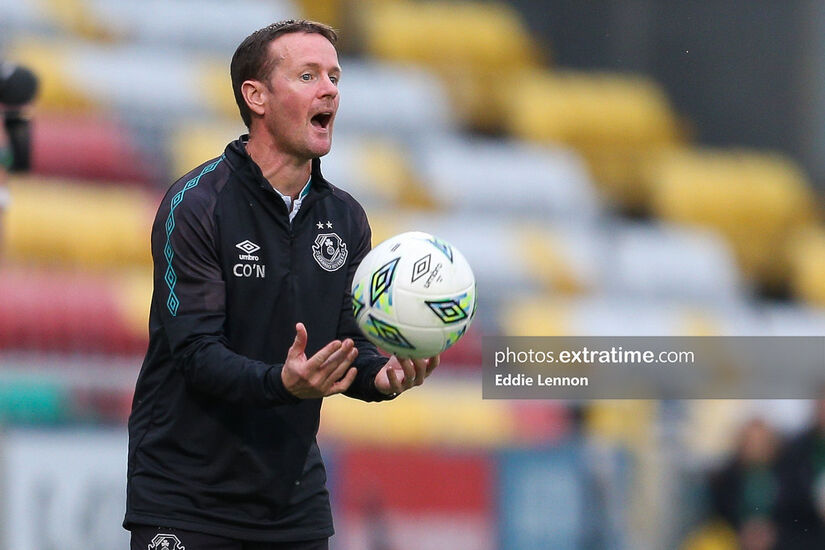 Macdara Ferris reports from Tallaght Stadium
Hoops Head Coach Collie O'Neill is proud of his team this season as Rovers made their return to the top level of women's football in Ireland after a nine year absence.
His side finished in third place in the Women's Premier Division - losing just one match - with a 94th minute equaliser last Saturday costing them runners up spot. The Hoops exited the FAI Cup at the semi-final stages.
Having brought a brand new squad together – with, amongst others, six players from Shelbourne, six from Peamount United, two from Athlone Town and promoting a number from Rovers' underage set up – the Hoops put in a very credible performance without winning any silverware
"It has been enjoyable," said O'Neill speaking to extratime.com reflecting on the season after his side drew their final game of the league against Athlone Town on Saturday 4-4.
"I'm extremely proud of what they have done. Not just the effort and the work they have put in but they have all come from different teams who all played a different style of football.
"The majority was get it, launch it and now they have taken it on board and started playing football in a brand new way. We've got them to be more comfortable on the ball.
"We've been asking them to push boundaries, come outside comfort zones to play football in a completely different way and they've taken it on board and they have been brilliant."
Professional environment
The average age of his starting line-up was 22.3 years of age – the fifth youngest in the league (Shels who finished second had a 25.7 average while champions Peamount United's was 23.9).
O'Neill's squad is packed with teenage talent such as Lia O'Leary (17), Scarlett Herron (19), Joy Ralph (17), Aoife Kelly (17), Jaime Thompson (19) and he highlighted the help his more experienced players have given his younger charges.
"It is a good blend of experience and youth and you can't buy that experience that they are getting off Áine (O'Gorman - 34), Steph (Zambra - 34), Shauna (Fox - 27), Amanda Budden (29) and Jess Gargan (26).
"They have been really good at setting what the standard is, what are principles should be. Some (of the younger players) are coming from schoolboy / schoolgirl football which is an amateur status and they have moved into a professional environment so it has been a good education for them.
"They (experienced players) are very good at putting the arm around their shoulder and giving them good guidance.
"We have built some really really good foundations for next year. The squad have worked really hard. Now the ground work is done and we can hit the ground running next year. We will look to improve again in the off season.
"We will see if we can get one or two extra in to add extra quality into what we already have.
"We don't have to do the start up from scratch next year. We are still waiting on budget to be sorted out but once that end of it is done we will hopefully be able to get it all done quickly."
Winning culture
The Hoops home record in the league was eight wins, one draw and one defeat. Away from Tallaght Stadium they were undefeated but drew five of their ten league matches away from Dublin 24.
Their one league defeat was to champions Peamount United who had a seven point margin over the Hoops by seasons end. Rovers also had a painful 2-0 cup semi-final defeat to Shelbourne (having defeated them 3-1 the previous week in the league).
They also led 4-1 on Saturday and had second place in their grasp only to allow a spirited Athlone Town comeback cost the Hoops runners up spot and so O'Neill highlights what needs to be done next year.
"I'm absolutely gutted," said O'Neill. "When you are 4-1 up you should be seeing out the game. We put so much work into this year so to finish like that is disappointing. I've learned more about the players from the semi-final game against Shels and tonight in the second half. It is good education.
"The last bit that we are trying to build on. Technically and tactically, they are very astute and are very good. The last thing now we have to build is a winning culture. That is the final ingredient that we need to try and add in next year."
2023 Season Review: Shamrock Rovers https://t.co/VraC958CnLpic.twitter.com/4Q3sMtdrxY

— Extratime.com (@ExtratimeNews) November 14, 2023