2023 Season Review: Longford Town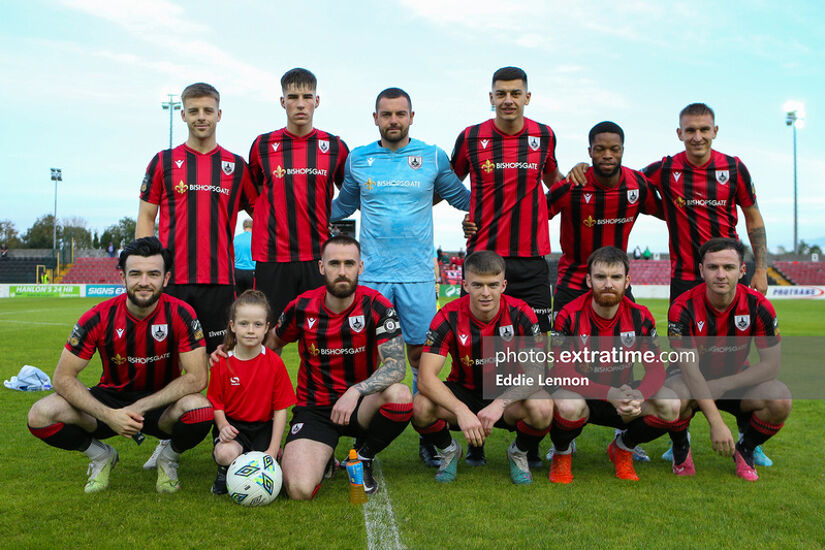 Team: Longford Town.
Head Coach:Stephen Henderson.
Top Scorer: Cristian Magerusan (10).
Stadium: Bishopsgate.
Highest Attendance: 1514 (v Athlone Town, February 18)
Lowest Attendance: 387 (v Bray Wanderers, October 14)
Star Player: Jack Brady
Perhaps busier than he would have liked to have been, Jack Brady often won points on his own for Longford Town between the sticks.
The goalkeeper returned to the club from Treaty United prior to the start of the 2023 campaign before assuming a leadership role at Bishopsgate.
At the start of the year, only he, Shane Elworthy, Aodh Dervin, Sam Verdon, Derek Daly and Stephen Meaney had any real experience of senior League of Ireland football - so his contributions were vital.
And to underline his importance to boss Stephen Henderson's side, he was a near ever-present in the starting XI throughout the season - and collected 10 clean sheets.
Another clean sheet for Jack Brady last Saturday night.

How good was his performance? #Town2023 | #LTFC | #CmonDeTown | pic.twitter.com/NGAB88cRfq

— Longford Town FC (@LongfordTownFC) September 4, 2023
Between injuries and suspension, few had that accolade in Longford's first-team squad.
Best Young Player: Kyle O'Connor
With 33 league appearances under his belt, only Jack Brady had as many to his name as Kyle O'Connor did this season.
O'Connor joined De Town from Shelbourne and despite his relative inexperience at the start of the season, he grew into his role before excelling as the campaign wore on.
Playing in every defensive position, the former Shamrock Rovers youth showed his versatility - and quality - throughout.
And the Dubliner will be keen to push on next term having impressed so much during his first full season of senior football.
Captain Shane Elworthy, Kyle O'Connor and Joshua Giurgi have appeared in every single league game so far this season.

A brilliant few months for the 3 lads. #Town2023 | #LTFC | #CmonDeTown | pic.twitter.com/gAVJ6LJCsj

— Longford Town FC (@LongfordTownFC) May 24, 2023
Best New Signing: Viktor Serdeniuk
A bolt from the blue at the time, Viktor Serdeniuk left Shamrock Rovers at the end of the 2022 campaign to join Longford Town in the First Division.
And like O'Connor, his versatility was mightily impressive - and useful - in a side that was hamstrung by a remarkable injury list at different stages during the season.
The Ukrainian played 32 times last season for the Red and Black - and when he was absent from the starting XI, the lack of his presence was felt.
A physical presence in the middle of the park, Serdeniuk often gave Longford's younger players the platform to shine.
He also caught the eye in defence for the Red and Black at the start of the season when he had to deputise with Oisin Hand, Aaron Walsh and Gavin O'Brien injured during that period.
If Longford hold onto him for another campaign, it would be quite a coup.
Congratulations to Viktor Serdeniuk who was voted the Supporters Club Player of the Month for March. #Town2023 | #LTFC | #CmonDeTownpic.twitter.com/Gzr4UWZhgg

— Longford Town FC (@LongfordTownFC) April 14, 2023
What we expected they would do:
The extratime.com team tipped Longford Town to have a good stab at making the play-offs before just missing out and finishing 6th.
What they actually did:
As it happens, we were not too far off in saying that Longford would just miss out on the play-off places.
While they came 8th, they were on course for a top-five finish before injuries and suspensions cost them dearly during a bruising September.
Although, they do hold the honour of being the only side to defeat Galway United this season in the First Division - and they did it twice.
Both victories came at Bishopsgate and they were both 1-0 wins.
From defence to up top.

A brilliantly worked move sees Cristian Magerusan score from close range on a Jordan Adeyemo cross.#Town2023 | #LTFC | #CmonDeTown | #LOITVpic.twitter.com/p0T9JPKasY

— Longford Town FC (@LongfordTownFC) September 2, 2023
They also proved to be a thorn in Waterford's side - picking up three draws against the Blues in four games.
But their inability to pick up wins when it came to the crunch against their closest rivals cost them - so perhaps it was no surprise that they missed out on the play-offs at the business end of the year.
Meanwhile, they also bowed out of the FAI Cup at the first hurdle following a narrow 2-1 defeat against eventual winners St Patrick's Athletic.
What they need to improve on for next year:
Experience.
There is no doubt that Longford Town improved as the season went on, but their lack of an experienced core proved to be their downfall.
By their manager's own admission, Town were forced to play players regularly who were initially recruited to play a bit-part role.
While those players will all benefit from that down the line, the short-term pain could have been offset by the presence of more experienced names in the squad.
But they were decimated during the off-season in terms of player departures with only four players staying on from Gary Cronin's 2022 squad.
And one of those, Sam Verdon, left the club after their opening night loss against Athlone Town in February.
So unexpectedly, Town boss Henderson had to rebuild a relatively successful team - and deal with a crazy number of injuries.
At one point, Town were without 12 first-team players before a trip to Cobh in June - and a number of those who played were not meant to due to the risk of aggravating injuries.
But they recovered from that and once they added experienced names such as Dylan Hand, Adam Wixted, Bastien Hery, Jordan Adeyemo and Beineon O'Brien-Whitmarsh, their fortunes improved.
And while they fell short, there is a sense that they could have snuck into the top-five if they had more players available to them at the start of the season.
Elsewhere, the spread of goals was a problem with strikers O'Brien-Whitmarsh and Cristian Magerusan scoring a large proportion of them.
Beineon O'Brien-Whitmarsh's well-deserved strike that put Longford back in front

LON 2-1 WEX#LOI | #LONWEXpic.twitter.com/BlA3ooVxs6

— League of Ireland (@LeagueofIreland) July 1, 2023
To put their woes in front of goal into context, only Kerry (29) scored less than Longford and Finn Harps (39).
If they manage to rectify that, and add a number of more experienced players to their squad, they should improve on their 2023 showing next year.
2023 Season Review: Shamrock Rovers - https://t.co/94rjArr8tjhttps://t.co/TeFe7KTPYF

— Extratime.com (@ExtratimeNews) November 15, 2023