2023 Season Review: Shamrock Rovers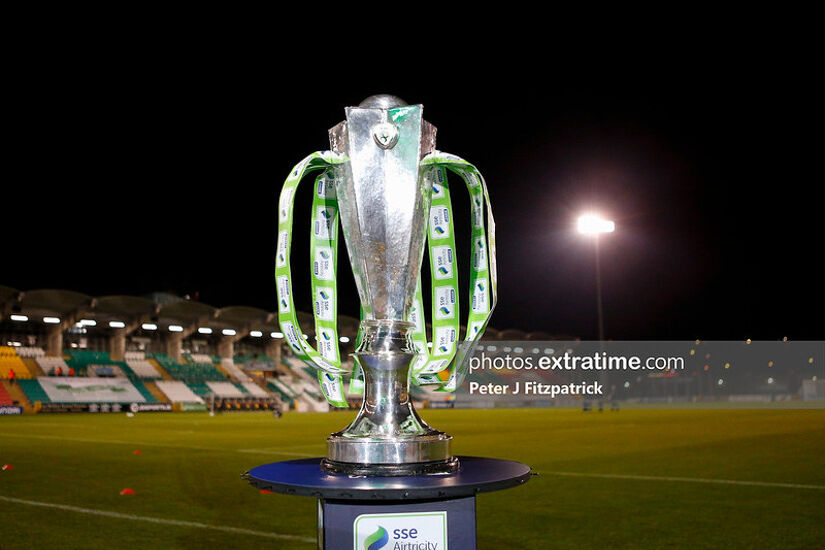 Team: Shamrock Rovers
Head Coach: Stephen Bradley
Top Scorer: Graham Burke (12 league goals and 13 in all competitions)
Stadium: Tallaght Stadium
Highest Attendance: 8,021 (4-2 win over Sligo Rovers in November – a league record for Tallaght)
Lowest Attendance: 3,419 (2-1 win over Cork City in August)
Star Player: Dan Cleary
Maybe not like in previous title winning seasons when Jack Byrne and Rory Gaffney (last year) were the standout players for Rovers, this year there were several candidates rather than one clear winner of our fictious award.
Injuries ruled out Byrne and Neil Farrugia as they missed large chunks of the campaign.
Gaffney had another excellent season and Graham Burke top scored while at the back Lee Grace and Pico Lopes were serious contenders but star player for this reporter was Dan Cleary.
Nobody started more games (37) for the Hoops from their 41 game competitive season than the 27-year-old player.
Hoops Head Coach Stephen Bradley went with Cleary more than Lopes, Grace or Sean Hoare across their league campaign. Cleary was a rock in Rovers' back three and was excellent when taking the ball forward from his position on the right of the Hoops back three.
He was key in the Hoops kept 20 clean sheets from their 36 league games – an increase of three on last year.
What a night in Inchicore winning the league🏆🥳 Special group to work with 💪 My boy is a Hoop 😍💚🕺 pic.twitter.com/zjEO1ruWcx

— Daniel Cleary (@DanielCleary21) October 28, 2023
Best Young Player: Johnny Kenny
Much has been made of the Hoops age profile – their average age of 28.4 compares with Derry City's 25.5 who are the next oldest.
Rovers have had difficulty in bringing younger players through into their first team - a sign of an experienced team according to Stephen Bradley or simply the challenge of looking to integrate younger players into a multiple title winning team.
Of course in 2020, the Shamrock Rovers II team gave the Hoops a platform to play younger players in the First Division.
Their squad then included many now familiar names – Sam Curtis, Sinclair Armstrong, Aidomo Emakhu, Kevin Zefi, Darragh Nugent, Sean Brennan, Thomas Oluwa, Conan Noonan, and Dean Williams - but opposition from other clubs put pay to that team continuing.
This season Darragh Nugent was involved in 19 Rovers league games but 14 of them were off the bench.
Both Conon Noonan and Naj Razi have shone in their brief cameos towards the end of the season and so that leaves Johnny Kenny as clearly the best young player.
It remains to be seen if Kenny, on loan from Celtic, will remain at Rovers next year but the 20-year-old striker contributed lots to Rovers' title success even if goals didn't come in the quantities as when he was with Sligo Rovers.
He made 17 league starts and made a further dozen appearances off the bench. He was fourth top scorer for Rovers in the league. But having scored his fourth of the season way back in April, the Ireland under-21 interantional took him till late October to get his fifth and final goal for the season.
Best New Signing: Markus Poom
Stephen Bradley, having done a major overhaul of this squad in 2017 and 2018, has gone for fewer new signings in recent seasons.
The Hoops brought in four new players this year – Liam Burt from Bohs and three players signed on loan (Markus Poom, Johnny Kenny and Trevor Clarke).
Injury hampered Burt all season and he only made his first team debut away to Ferencvaros in July. Clarke missed a large chunk of the season due to injury but when he was available he was a real asset to the Hoops.
Markus Poom proved a crucial signing for Rovers and represents the best signing by Bradley for 2023. No player played more times for the Hoops in all competitions than Poom (38 appearances in total including 28 league starts).
The Estonian international excelled alongside Gary O'Neill in the base of the Rovers midfield in their predominantly 3-4-2-1 system.
He chipped in with three league goals. He is certainly a player that the Hoops supporters will hope they can hang onto for 2024 although, having been born in the UK, the player may look to move on should a decent opportunity arise.
Markus Poom... BOOM 🔥

Who's ready for the latest edition of the Dublin Derby on Friday night?

Watch it live on @VMSportIE at 19:45! #LOI | #SHABOHpic.twitter.com/i6lBIE5L3v

— League of Ireland (@LeagueofIreland) August 28, 2023
What we expected they would do:
The extratime.com team predicted that the Hoops would be runners up behind Derry City (see here). It is unclear if this prediction was pinned to the dressing room wall in Tallaght.
What they actually did:
SSE Airtricity League Premier Division
The Hoops were champions again – for the fourth year in a row – even if many wrote them off after the Hoops failed to win a game from their opening six matches.
Indeed in early March one newspaper headline read 'Even if Shamrock Rovers eventually get their act together, it may already be too late for title hopes'.
Rovers did get their act together – they went on a run of nine wins and a draw once they finally won their first match - but, it has to be said, other clubs handed the impetus back to Bradley's side at crucial parts of the season.
Bohs couldn't maintain they super start, falling off the pace during the summer, while Derry City and St. Patrick's Athletic had a habit of not capitalising when Rovers did drop points, for example when Rovers relegated UCD with a draw, Derry lost in Sligo and Pat's, when six points back late on, lost their game in hand to Drogheda United.
In the end Rovers won the league with two games to spare with a winning margin of seven points over second placed Derry City.
Their 72 point total was seven less than their club record last season but they kept three more clean sheets (20) than they did in 2022. They lost only four matches – two home and two away.
Rovers' 67 goals were the most by any team (with an xG of 71) scoring six more than last year.
They conceded the joint second fewest (27 – five more than 2022) off an XG conceded of 30.
Looking at the Wyscout stats for the league season, the Hoops topped the charts for shots, touches in the penalty area and ball possession (58%).
Across all the passing stats they were top – passes overall (466 per 90 mins), accuracy (84%), to final third, progressive passes, deep completions and through passes.
For a detailed blow-by-blow account of Rovers' four-in-a-row see below:
Longread: How the Hoops won their 21st title and secured the four-in-a-row https://t.co/fhTR1dJea2pic.twitter.com/ktO7VEbRti

— Extratime.com (@ExtratimeNews) October 30, 2023
Europe
Whatever metric you look at, Europe was a failure for the Hoops.
They played four and lost all four games, scoring just one goal. They earned the very minimum amount due to them as champions (€810,000) with 10,953 spectators attending their two home games.
The previous year they played 14 European matches, scoring a dozen goals and earning €3,936,500, along with 45,118 spectators coming through the turnstyles in Tallaght.
Having been seeded in the draw this season, they got a decent tie when avoiding some Scandinavian and Polish heavy hitters on their side of the draw.
The Hoops were drawn against Breidablik who entered by winning the preliminary round two game tournament but the Icelandic champions probably benefitted from coming through those qualifying games.
They were a decent side – showed by them qualifying for the Europa Conference League group stages - but the Hoops didn't perform in the first leg at home losing 1-0 nor away where they lost 2-1 south of Reykjavik.
Rovers then were unlucky in the next round when they were drawn out of the hat against Ferencvaros.
The Hungarian champions had been sensationally dumped out of the Champions League qualifiers by Faroe Island side KI Klaksvik as Fradi dropped into the Conference League qualifiers.
The Hoops were taken apart 4-0 in Budapest for the second year running and lost 2-0 in Tallaght in the second leg.
Few positives for Bradley after Hoops suffer Hungary hammering https://t.co/GgrwuoqBS9pic.twitter.com/sOxLG1JETA

— Extratime.com (@ExtratimeNews) July 29, 2023
FAI Cup
The Shamrock Rovers four-in-a-row side dominated domestic action in the mid-1980s winning three doubles. And while the 2019 FAI Cup win was the springboard for this Rovers side's four-in-a-row success, they haven't been able to win a double.
Rovers' 1-0 First Round defeat in Dundalk came in their very difficult July period in between their two losing European ties. It meant that the Hoops scored just the one goal that month, but they didn't let that derail their title ambitions.
The Hoops didn't lose another domestic game in the season after that lost in Oriel Park – winning seven and drawing four.
"We've been doubted before and I'm sure we'll be doubted again but come and see us in November and see where we are," said Bradley in Budapest when speaking to this reporter. "People want to jump on things and I understand that but people react to results and July hasn't been good so far for us with results. I'm pretty sure over the course of the season we'll be the top scorers again."
By November Bradley was lifting the league trophy again, with his side the top scorers in the league – their 67 goals were ten clear of Derry City who were second in the scoring charts.
What they need to improve on for next year:
When the league was still up for grabs in late October, the worry was the Hoops might lose their manager and their two best players (Byrne and Gaffney) from recent seasons but things are looking a lot more positive for them next season after Rovers wrapped up the league.
Hoops Head Coach Stephen Bradley looks likely to remain at the club, with all the talk of the 'drive for five' now that a more favourable budget is available with the title secured.
The Hoops this week have confirmed the re-signing of both Jack Byrne and Rory Gaffney – along with Leon Pohls.
The goalkeeping situation was one that was worrying Rovers supporters for much of the season with Alan Mannus set to retire. However, after Mannus missed the middle of the season due to a nasty finger injury, Pohls stepped up during Mannus' absence.
The German goalkeeper kept nine clean sheets in 14 league games with Bradley saying at the end of the season that Pohls will be number one for next campaign.
It is clear Bradley believes in season long loans but it remains to be seen which of Rovers' loan signings from this season will be in the squad in 2024.
With Mannus and Ronan Finn departing the club, the average age will drop.
The transfer talk in the Irish Independent noted that Cobh keeper Lee Steacy is set to come in as a number two, while Josh Honohan is a target from Cork City with the 22-year-old right sided defender the right age profile.
Teenager Naj Razi could make the break through in the Rovers starting XI.
The Hoops effectively managed to win the league in third gear with Bradley talking at seasons end how this was opposition clubs' best chance of stopping them win the league from the last four seasons.
The challenge for Rovers next year will be to retain their title while going a lot deeper in Europe. Should they win their first round in Europe, where they will be seeded, it means a minimum of an eight match European campaign – four more matches than they played this year.
Alan Mannus on winning over Hoops fans after his arrival from Linfield, his two most memorable Shamrock Rovers saves and the goalkeeping team in Tallaght https://t.co/MH4ES7TJV8pic.twitter.com/SWKcw7hJOS

— Extratime.com (@ExtratimeNews) November 5, 2023