2023 Season Review: Kerry FC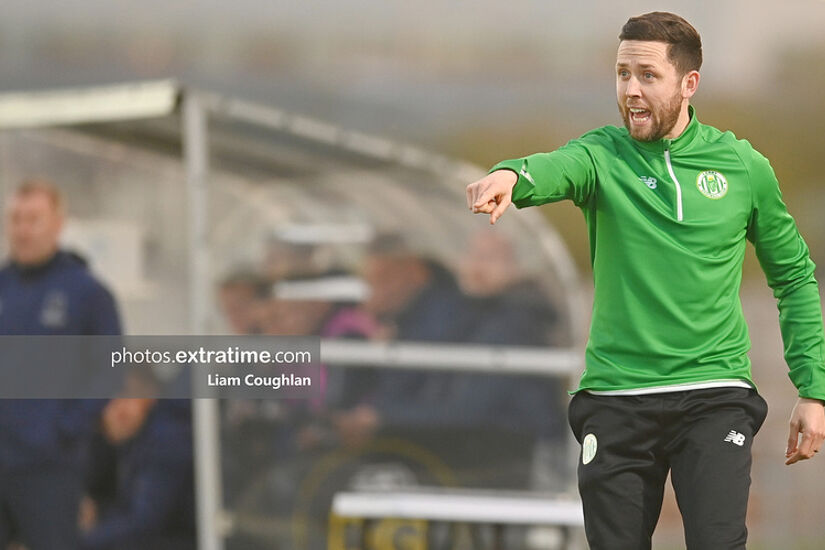 Team: Kerry FC
Head Coach: Billy Dennehy
Top Scorer: Ryan Kelliher (12 goals- 10 League 2 FAI Cup)
Stadium: Mounthawk Park
Highest Attendance: 1,230 (v Treaty 3rd March)
Lowest Attendance: 381 (v Longford 8th Sep)
Star Player: Leo Gaxha
The 21-year-old was a statement signing for the Kingdom outfit in their maiden senior League of Ireland season and the former Republic of Ireland underage international didn't disappoint.
Appearing in 35 of their 36 league games, the ex-Sheffield United youngster found the net seven times and finished the season wearing the captain's armband after taking the role from Kevin Williams halfway through their debut campaign.
Despite wearing the number ten shirt, Gaxha featured in a number of attacking positions - wide and centrally - to accommodate the central striking options of Ryan Kelliher or the returning Daniel Okwute later in the season.
Other credible mentions include defenders Kevin Williams - the returning ex-Kerry FC Academy product featured in 34 of 36 league games at either full or centre back - and midseason arrival Ethan Kos - the Californian Cannavaro coming from UCD's LSL side to shore up the Kingdom defence.
Midfielder Seán McGrath who doubled his minutes played with Cobh Ramblers in 2022 to feature in all 36 league games for the Kingdom and earn a contract for 2025, while 22 year old Ryan Kelliher from Killarney netted ten league goals in a side who were firmly rooted to the bottom of the First Division all season.
He scored a match winning double in their FAI Cup victory over Ringmahon Rangers and also earned a new contract tying him to the club for next season and beyond - the first player in the club's history to be offered such a deal.
Similarly, it would be remiss not to mention the exploits of Tralee's Nathan Gleeson (21) whose solitary strike for the club came in their only league victory of the season over Athlone Town.
Another to come through the Kerry underage ranks, his 25 league appearances and four assists (two for McGrath and one each for Gaxha and Kelliher) across the 2023 campaign saw him rack up almost 1,600 minutes of senior football alongside balancing his studies at Tralee MTU.
Indeed, a strong argument could be made for any of the others to seriously rival Gaxha for the award of Player of the Season, however in this case dealing with the weight of expectation and playing a starring role throughout the season has swung the needle in his favour.
Best Young Player: Ronan Teahan
Given the absence of anyone over 25 playing regularly in the Kerry side at season's end, this accolade is confined to those under the age of 20 with the winner being Ronan Teahan (19) who patrolled the midfield with displays belying that of a novice League of Ireland player.
So impressed were the Kerry FC board that they signed the Cahersiveen native to a contract which takes him up to the end of the 2025 season.
Having missed a game in June due to his Leaving Certificate at Coláiste na Sceilge, the former Kerry U15, U17 and U19 midfielder racked up 2,313 minutes across the 33 games he played (remaining on the bench v Longford Town in May and sitting out Wexford in October due to concussion) to become a vital cog in the Kerry engine room.
However, despite Teahan's impressive campaign, this is another area where debates could be had - especially across the backline.
After a period with the Under 19 squad towards the start of the season, St Brendan's Park product Sean O'Connell became a fixture on the left hand side of the Kerry FC defence upon his return to the starting lineup away to Galway in June, racking up 28 league appearances in total, alongside three goal assists.
The former underage international has represented the Kingdom outfit at Under 15, Under 17, Under 19 and now senior level. Much like Teahan and Kelliher, the former Gaelcholáise Tralee student is an Academy product the Mounthawk Park natives will be hoping to see stay around for a while longer.
Alongside O'Connell, another St Brendan's graduate Samuel Aladesanusi (19) featured consistently since breaking into the team against Galway Utd in March.
Despite the heavy defeat on debut, the teenager featured in 28 league games and was never subbed off, showing many of the qualities which had been recognised by Tom Mohan who had called him into an Under 19 international squad in September 2022.
Ahead of him, ex Cork City attacker Kennedy Amechi (19) was another youngster to shine as he netted three times across the league season - including the last Kerry FC goal of the season, one he combined with studying for the Leaving Certificate while he was also called up by Tom Mohan in March for Republic of Ireland U19 home based camp.
What we expected they would do:
As to be expected of a team starting their first ever senior League of Ireland campaign, we predicted a 10th placed finish for the men from the Kingdom
What they actually did:
League
Despite a number of heavy defeats, including a 9-1 defeat in Galway back in March and 6-0 June losses to Waterford and Wexford respectively in June, they finished the season with a credible pair of draws - taking three results from their final seven games and losing three of the other four by a single goal.
A single league win, 3-2 away to Athlone Town in May, wasn't as many as they may feel they deserved - in July alone they conceded goals in the final 10 minutes against Longford Town, Finn Harps and Cobh Ramblers respectively to take a single point when they had a lead and two draws after 80 minutes.
Ten points isn't truly reflective of their efforts all season and 17 points is a wide gap to ninth position.
However, buoyed by a sense of consistency towards the back end of the season, manager Billy Dennehy shouldn't be overly downbeat about the points total - rather focusing on the improvements across the campaign.
A solid recruitment in the off season and midtable may be achievable.
FAI Cup
Much like some of the league games outlined above, Kerry FC can feel a tad unlucky about their departure from the FAI Cup.
Having seen off a Ringmahon Rangers outfit packed with ex LOI players 2-0, courtesy of a Ryan Kelliher double, the Kingdom's quest for silverware came unstuck at the hands of Drogheda United.
The Boynesiders arrived at Mounthawk Park for the first time ever and came away with a 1-0 victory thanks to an early Kyle Robinson strike.
Despite Gary Deegan smacking the crossbar, the hosts were always in the game and had a late effort deflected into the arms of visiting goalkeeper Andrew Wogan as they exited the competition with their heads held high.
What they need to improve on for next year:
League winners Galway United had Brendan Clarke (37) between the sticks for all bar the last five minutes of their final league game, play off contenders Cobh Ramblers have seen Lee Steacy play every league and play off game bar one in 2023. For Kerry FC, it's a much different story.
Having started the season with goalkeeper Wayne Guthrie (33) wearing the captain's armband and playing 11 league games, Billy Dennehy's troops finished with midseason signing ex UCC netminder Arthur Nganou (23) between the sticks for the fourth time in the league.
In between times, Callan Scully (22) had also departed after six league appearances, Aaron O'Sullivan (19) made five league appearances in May and June and Lee Axworthy Duggan (22) arrived in July and made ten league outings while Academy products Richard Healy and D Foley warmed the bench.
A consistent goalkeeper is a requirement for next season if Kerry FC harbour ambitions of continuing to make progress in the First Division.
Similarly, with a multitude of attacking options potentially available for 2024 and a consistency arriving in the defence, it's an experienced physical presence in the middle which could benefit the side next season.
The loss of the veteran League of Ireland trio of Shane Guthrie, Kalem Spillane and Matt Keane meant that a voice of experience was missing centrally and a tough tackling midfielder alongside Ronan Teahan in the engine room next season may allow the youngster with another platform to shine.
Ten points isn't truly reflective of their efforts all season and 17 points is a wide gap to ninth position.