Alan Mannus on winning over Hoops fans after his arrival from Linfield, his two most memorable Shamrock Rovers saves and the goalkeeping team in Tallaght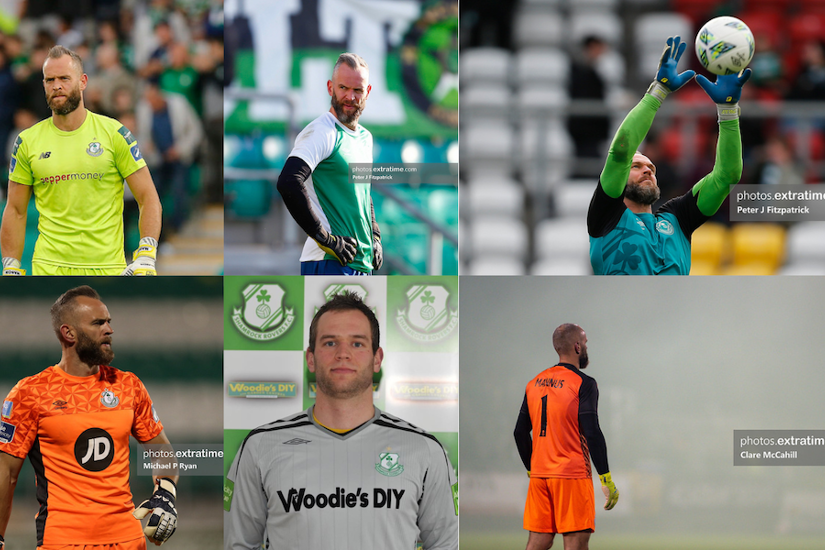 When Alan Mannus left the pitch at Tallaght Stadium last Friday, he called time on an incredible 21 year professional playing career. He won 11 league titles and six cups (across Ireland, Northern Ireland and Scotland) and retires regarded as Shamrock Rovers' greatest ever goalkeeper.
With the Hoops he won two leagues under Michael O'Neill in his first spell at the club and on his return played a crucial part in ending the club's 32 year FAI Cup famine and was instrumental in a league record equalling four-in-a-row team.
He exits with the club's all-time clean sheet record – an amazing 111 shut outs from 224 league games with 128 cleans sheets from 285 matches across all competitions.
Having changed his mind on retirement last year, 41-year-old Mannus said that his plan was always to finish at the end of this season but the nasty finger injury he suffered during the summer meant there is no coming back in 2024 even if he wanted to.
"The sun has set on my playing days," said Mannus. "This is it. Walking off the pitch for the last time, it will be hard but it has to come to an end at some point.
"From the start of this season it was always the plan to retire but with the finger even if I wanted to I couldn't play on. I can't get through training the way I could before. If I could stay on and play, I'd give anything to do that but I know when the time is right and that is now."
The nine time capped Northern Ireland senior international said he can now "start to focus on my family as at times when you are playing you make sacrifices and I feel like I haven't been able to give as much to them over the last few years as I should. I know I'm going to find things difficult in my life after I finish.
"Rather than look on it as a bad thing, I've been so fortunate that I've been on that pitch so many times. I couldn't have asked for any more."
From Windsor Park to Tallaght Stadium
Michael O'Neill brought Mannus to the club in August 2009 and the goalkeeper admitted that it was a difficult start for him at Rovers. Some supporters were not overly happy with him replacing mid-season the highly regarded Barry Murphy, along with the fact he had come from Linfield (where he won five leagues and four Irish Cups).
Best wishes go to our Clean Sweep goalkeeper Alan Mannus who has announced his retirement from football with the 2023 League of Ireland season having drawn to a close.

An 11-time League winner (5 for Linfield and 6 for Shamrock Rovers over 2 spells), the former international,… pic.twitter.com/huGgIoRi6O

— Linfield FC (@OfficialBlues) November 3, 2023
Mannus made his Hoops debut in a home draw with Dundalk. "I remember the game well. We were 2-1 up and they scored with five minutes to go and it probably wasn't the best result for me in my first game. Some people were annoyed at that.
I was at another club previously to that which maybe you wouldn't see players normally go from one to the other and that added some difficulties and challenges. I wanted to prove to everyone at Rovers - staff, players and supporters - that I was good enough to be there. That was my motivation.
"I understood that Barry Murphy was there when I first joined and I know he was a legend at the club but it was out of my control. I didn't choose the team. I understood people were disappointed that I was playing and Barry wasn't."
The goalkeeper picks out a penalty save the following season in the home game against St. Patrick's Athletic as a real highlight from his time at Rovers – a save he says won over any Rovers doubters still remaining amongst the support.
"Billy Dennehy had handled the ball when it was going in and was sent off when we were 2-1 up in injury time. I happened to save the penalty. It wasn't in the corner or anything but it was so important in the context of the game and the season as we were in a good position battling Bohemians in the title race.
"We went on and we won the league. After that some people said to me it changed their opinion of me. Before they weren't sure about me being there and it won a few people over who didn't want me there before that."
With his contract up at the end of that 2010 season, he went on trial to St. Johnstone which went well but he re-signed at Rovers before the Scottish club came calling and he made a move in mid-2011. He went on to win the Scottish Cup with the Saints in 2014.
"It wasn't that I wanted to leave the club but I was trying from a very young age to get a chance across the water in England or Scotland. It was now or never for me then so it wasn't about leaving Rovers but getting the chance that I'd been trying for 15 years to get.
"I had to make that sacrifice to leave. I knew people would be disappointed and they let me know but I had to accept that. I remember saying when I left that I hoped I might get another opportunity to play for the club because I would love that. It ended up that I did get the chance."
Alan Mannus makes his last appearance in football.

LEGEND 💙pic.twitter.com/4NADRC8Gli

— sjfcnews (@sjfcnews) November 3, 2023
Mannus returned to Rovers during the 2018 season. "There were other clubs who spoke to me in the Irish League and the League of Ireland but I was always going to choose Rovers. The fact Stephen Bradley was the manager meant I knew that he would want the team to play football.
"In Scotland we didn't really play that way and I kind of felt I never really had a chance to play for a team that tried to pass the ball.
"The playing style was a big thing that attracted me to return to the club but I always had the intention of trying to get back to Rovers at some point if I could. I had such a good time before that and I've learnt so much about football from the coaches since returning to Rovers. It has been brilliant for me to play for this team."
Asked what saves stood out from his career at Rovers, in addition to the penalty save against Pats, the goalkeeper picked out a save from his second spell at the club. This one played a key part in helping the Hoops win the FAI Cup in 2019, providing a springboard for the club's recent success.
"My most memorable saves are ones that have context and importance. We would call them big saves and they aren't necessarily an amazing save but more what happens before and after and how it affects and influences the game and the result.
"There is another one from the FAI Cup final (against Dundalk) when Georgie Kelly had a chance that comes to mind. He was very close to me on a tight angle and it was low down to my left which was awkward. I got my finger tips to it. It was the last minute of extra-time and it brought it to penalties and we went on to win the shootout. Looking back on it if I didn't touch it they would be them celebrating instead of us.
"You build on things like that cup final win and it gives you momentum in terms of winning competitions. When I lived in Scotland I paid attention to the league so I saw how dominant Dundalk were.
"Coming home I knew we were looking to get above them so for us to beat them in the cup people realised that we were catching them and were not that far off for the league. They had won the league going into the final - they were the best team in the league but we were the best team in the cup.
"We built on that cup win and it gave us that momentum going into the 2020 season and onwards."
Finger fracture
Back in May away to Derry, he suffered a finger injury that very nearly ended his season and is one that will have long term implications.
"The way the fracture was, it broke off a lot of the bone that held the finger in place so it didn't sit in position anymore. I had to have an operation to put it back into place and clean out the bits of bone. They put pins in it to hold it in position so that it would heal.
"It has healed but the position now is at a 45 degree angle and I can't bend or straighten it anymore. It seems that is the way that it is going to be for the rest of my life. As a goalkeeper you catch your finger constantly every week in training. The amount of times that it has happened and it has been sore but it clears up in a few weeks but this time it popped out and broke."
Pohls position
Mannus has spoken previously about the pride he has in how he managed his fitness down the years allowing him to maximise his playing appearances and to play into his 40s. The injury in Derry meant missing the middle of the season but created an opportunity for Leon Pohls.
The German goalkeeper excelled during his time in between the sticks for Rovers. He saved a penalty in Derry in the game he replaced Mannus from the bench and earned nine clean sheets from his 15 league appearances in 2023.
"I thought he was excellent when he came into the team. I knew I was going to be out for a long time and we spoke and I said to him 'you are ready to play, there is no doubt about it my mind'. I really am pleased how Leon did. I've said for a long time that he is as good as any other goalkeeper in the league, if not better.
"He has some qualities that other keepers don't have and does things other keepers can't do. It didn't surprise me how well he did and I was delighted that he did. You can see was ready from the saves he made and all those points he helped us get."
Even after Mannus returned to full fitness Pohls held onto the jersey initially and Mannus admitted that he "didn't expect to get playing again after that and I was ok with that. I obviously want to play but I know how football works. If someone is in and are doing a good job, they stay in so I didn't expect to play again and if that had been the case I couldn't have complained as I felt he was doing very well.
"I know how much he has wanted to play, and it has probably been frustrating for him not to get opportunities at times but it is important for the goalkeeping group that you work well together. As much as the other goalkeepers who aren't playing want to, it is getting that balance right that you want to play but not trying to disrupt the keeper who is in. Leon couldn't have been better for me to work with."
In addition to the praise Mannus gives to Pohls he was quick to mention the contribution of Tom Leitis and Todd Bazunu and the importance of Rovers goalkeeping coach Jose Ferrer Montagud was also very clear when chatting to Mannus.
"If Jose wasn't the coach at Rovers, I probably wouldn't have been playing this year or even last year. The club are really lucky to have him as a coach and the players and the staff value him. I can't thank him enough for what he has done for me.
"Sometimes his work goes under the radar but it is reflected in how Gavin (Bazunu) has taken his opportunity and where he is now, in Killian (Cahill at Brighton), along with Leon's progression."
This article is an edited version of an interview carried out by the author with Alan Mannus that was published in Hoops Scene - the Shamrock Rovers match programme.
An emotional evening last night as we bid farewell to two club legends

Both Alan & Ronan have set and drove standards at the Club, playing a vital role in our success and depart with our utmost gratitude and best wishes

From fellow teammates, staff and fans alike, thank you 💚 pic.twitter.com/BKXWRqBFwd

— Shamrock Rovers FC (@ShamrockRovers) November 4, 2023