Bradley on his Hoops future and relationship with John Giles: 'He watches all of our games and gives feedback. We were winning games and he had a go at me, he said 'youse weren't good' and I thought 'f*cking hell John'. I watched it back and he was right'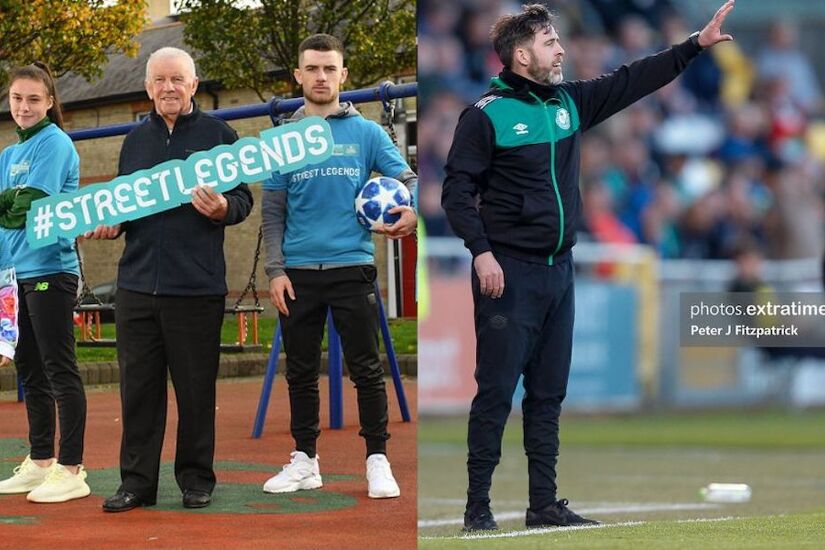 Macdara Ferris reports from Tallaght Stadium
Two footballing men discussing the inner workings of the game. That has been the regular case with Stephen Bradley and Johnny Giles over the last few seasons as Stephen Bradley desribed it on Sunday night.
The talk from Stephen Bradley in Tallaght over the weekend after his team's win over Drogheda United appeared to suggest those conversations with Giles will continue with Bradley as Hoops Head Coach into the future.
It was a great weekend for Shamrock Rovers supporters – with their win over Drogheda it left them a victory away in their next match from the league title and equaling the club's famous four-in-a-rwo side of the 1980s.
The previous evening, Shamrock Rovers had celebrated 20 years of their members club with an event in Aviva Stadium.
Speaking guests included two individuals crucial to the trophies brought to Tallaght in the first few years at the venue – manager Michael O'Neill and striker Gary Twigg – the 1980s four in a row captain Pat Byrne and former Ireland and Shamrock Rovers manager Johnny Giles.
Giles is a man who Bradley has got to know over the last few seasons.
Clarity
Speaking after Sunday's win in Tallaght about his own situation at the club, Bradley said: "As a manager, you have to keep striving to be better and want to be better, the day I stop that, I'm no good to anyone. I understand I'm lucky to be in this position and to manage this club, the best club in the country.
"I get all that but the day I stop wanting more and pushing and wanting to be better, then I've lost that fire and hunger and them I'm no good not just to Shamrock Rovers but to anyone.
"I think we've had real clarity the last couple of weeks and I'm looking to move forward, that's the plan. Real clarity in terms of where the club want to go. It's allowed me to talk to the players and give them real clarity on their situation.
"I think my situation will sort itself out in the next few weeks like I said. I love this club, everything about it, the fans, what they've done for me and my family, all of that is not lost on me, it never will be.
"I've never doubted, for one second, what the members of this football club think of me, this team, and this staff, I've never doubted that. I know 99% of people here really support me."
Johnny Giles
Bradley explained that Rovers Independent Chair Ciarán Medlar facilitated a meeting between Bradley and Giles back in 2020 and the pair have built a working and personal relationship since then. Their first meeting went from a planned 60 minute chat to a three hour discussion across numerous cups of tea.
"I'm lucky that for maybe the last three years, I've been meeting John quite regularly for chats. He watches all of our games and then gives me feedback on them.
"He flips between winning Champions Leagues or what was it called then, European Cups, and Premier Leagues, back to our game like that, some of the names he throws out you're thinking 'fucking hell' but it's great to sit and talk to him, and pick his brains.
"He just loves football and the knowledge of the man is incredible. He is a very, very clever man. It is brilliant for me.
"There were times we were winning games and he had a go at me, he said 'youse weren't good' and I thought 'fucking hell John' so I had to reevaluate what we were doing. It was maybe two years ago and we were on a good run.
"I went in and met him for a friendly coffee and he said 'you're on a really good run' and I said 'yeah yeah' and he goes 'you're lucky' – in the way that John does - and I thought 'fucking hell' and he went on to explain it and I watched it back and he was right our spacing was too big."
Young managers
Bradley was named Hoops Head Coach back in 2016 when he was 32-years-old, while Giles became player manager at West Brom when he was only 34 years of age.
"It's an area we definitely hit it off in, he could really relate to my age, and what he did and what I do. That definitely had real relevance in our conversations."
Giles has been to Rovers training base at Roadstone on a number of occasions.
While he hasn't addressed the Hoops squad as a group, Bradley describes his interactions with the Rovers players as "more a casual thing where he comes in and we sit around and have a chat and have a cup of tea and if people want to come in and join, they join."
The plan is that Giles will be in Tallaght Stadium for the final night of the season against Sligo Rovers when the Hoops hope to lift the League of Ireland trophy for the four consecutive year in a row.
Giles memento for Josh Bradley
The relationship between the 82-year-old Ireland footballing legend and the current manager at Rovers who is earning himself legendary status at the club can maybe be seen in the story Bradley told towards the end of his chat with the media on Sunday where he spoke about the memento Giles gave to Bradley's son Josh.
"(John) gave Josh one of his first Irish jerseys which is incredible. He only had it on him the other day. I had to show him (who John was) - probably Ireland's best ever player - and Josh put it on and it weighed…he nearly fell on the ground the weight of it!"
Hoops historic four-in-a-row side playing part in Bradley's quest as talk turns to five in a row - https://t.co/94rjArr8tjhttps://t.co/1bWvVbWz4K

— Extratime.com (@ExtratimeNews) October 23, 2023