Euro U21 Qualifier Report: Ireland 3-2 Turkey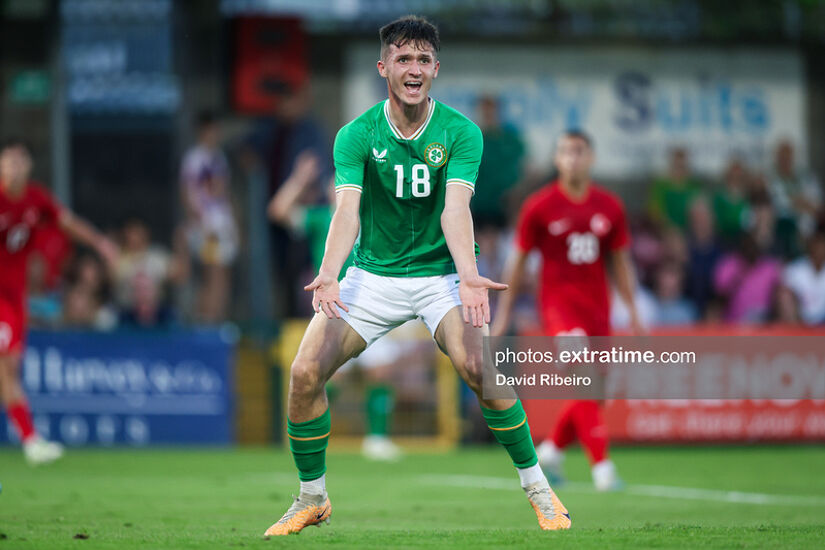 Ireland came back from a goal behind twice to see off Turkey in their Euro under-21 qualification opener at Turner's Cross on Friday night.
Jim Crawford's men fell behind in the first-half following a 22nd minute penalty from Turkish youth Kenan Yildiz.
But former Bray Wanderers and now current Brighton & Hove Albion man Andrew Moran struck to level matters just before the hour mark with a superb strike on goal.
Turkey retook the lead in the 76th minute through substitute Cihan Canak.
But Ireland had a late, late show to claim to claim all three points.
Blackburn Rovers man Zak Gilsenan levelled the game in the 87th minute when he slotted home into the bottom corner.
And in the sixth minute of additional time at the end of the second half Aidomo Emakhu swept home to win the game.
The victory means that Ireland head into Tuesday's qualifier against San Marino knowing that a win could put them top after just two games of qualification.
However, the evening was soured somewhat by Sean Roughan's late red card.
You can view David Robeiro's gallery from the game here.
Ireland: Josh Keeley; Sam Curtis, Sean Grehan (Tony Springett, 84), Bosun Lawal, Anselmo Garcia MacNulty, Sean Roughan (James Furlong, 90+3); Matt Healy, Baba Adeeko, Adam Murphy (Zak Gilsenan, 72); Andrew Moran, Johnny Kenny (Aidomo Emakhu, 72).
Subs not used: Killian Cahill, James Abankwah, Ed McJannet, Killian Phillips, Rocco Vata.
Booked: Anselmo Garcia MacNulty (20), Josh Keeley (80), Sean Roughan (90+1)
Sent off: Sean Roughan (90+9).
Turkey: Dogan Alemdar; Ugur Kaan Yildiz, Serdar Saatci (Emin Bayram 72), Ravil Tagir, Yasin Ozcan; Aksel Baran Potur, Bartug Elmaz (Metehan Baltaci 81), Cem Turkmen, Kenan Yildiz (Cihan Canak 71); Erencan Yardimci, Enis Destan.
Booked: Serdar Saatci (8), Erencan Tarmimci (79), Enis Destan (86), Ravil Tagir (90+3).
Referee: Joonas Jaanovitis (Estonia).
Attendance: 3,754.
A late-night post for a late, late winner!

Scenes at Turner's Cross following @AidomoE's late strike #IRLU21 | #COYBIGpic.twitter.com/xM04ioZMbf

— Ireland Football (@IrelandFootball) September 8, 2023