Ireland Women's Under-17s shine in 3-1 victory over Scotland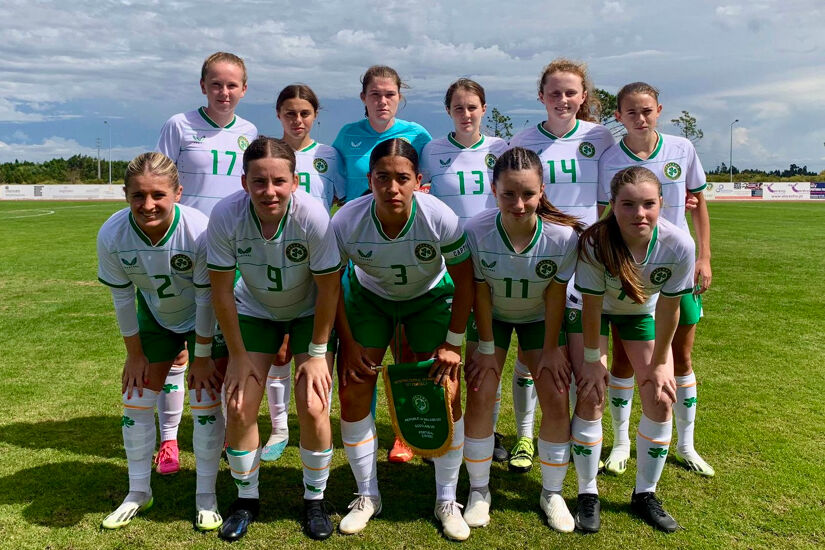 At the Estadio Municipal Sergio Conceição in Traveiro, Portugal, the Ireland Women's Under-17s secured a 3-1 victory against Scotland in an International Friendly. This comes after a 3-0 defeat they suffered against Poland.
The game began with Ireland's early possession, leading to Lauryn McCabe scoring the first goal nine minutes in.
She capitalized on an intercepted Scotland throw-in and fired the ball into the top right corner from the edge of the box.
By the 20-minute mark, Ireland had their second goal. Lucy O'Rourke passed to McCabe, who then assisted Hannah O'Brien to find the back of the net.
Scotland's response came in the form of a 30-yard shot by Sophie Black in the 29th minute, but Irish goalkeeper Enya Carthy captured the ball confidently.
Ireland's Katie Lawlee also had an opportunity in the 42nd minute, but her strike was deflected by Scotland's goalkeeper, Thomson.
The second half witnessed Ireland maintaining their game strategy. Although Scotland managed to have some possession, Ireland's defense held firm.
Scotland's breakthrough came in the 83rd minute when Captain Husband assisted Cara Gray for their lone goal.
In the match's added time, Katie Lawlee netted the third goal for Ireland following a pass from Aoibhe Brennan.
The match concluded with a 3-1 victory for Ireland. Their next game will be against Portugal on Tuesday at 11am.
Ireland: Enya Carthy; Emma Duffy (Erin O'Shea 82), Keeva Flynn, Clodagh Daly, Kiera Sena (C); Lucy O'Rourke, Anna Hegarty (Abigail Bradshaw 82), Lauryn McCabe (Katie Lawlee 30); Hannah O'Brien (Hazel Donegan 63), Rebecca Devereux (Aoibhe Brennan 63), Sorcha Melia (Amy Tierney 82).
Scotland: Thomson, McArthur, J. Husband (C), G. Robertson, E. Husband, English, Black, Sharkey, Cadell, Tobin, A. Robertson.