Longford Town boss Stephen Henderson: 'I'm really happy with where we're progressing to – I still think we can make the playoffs'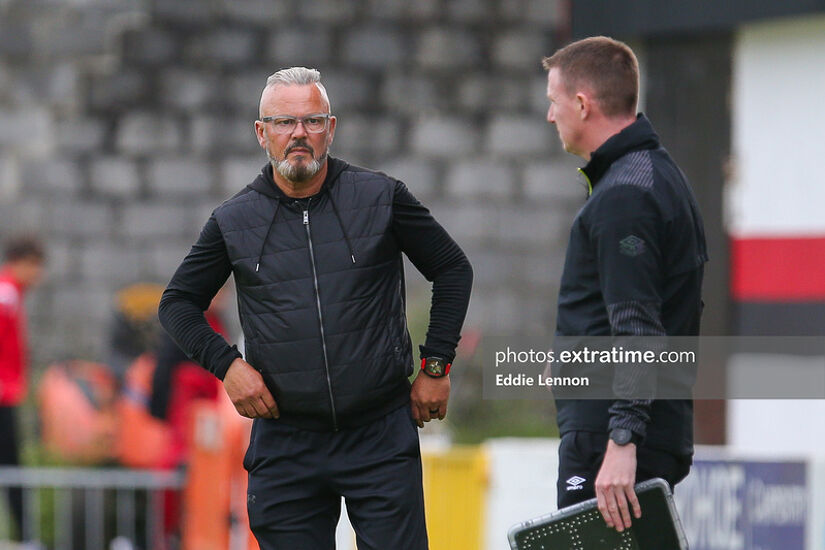 Andrew Dempsey reports from Bishopsgate
Longford Town boss Stephen Henderson reckons his side can still force their way into the First Division play-offs despite their latest setback.
Henderson's side fell to a late 3-2 defeat against local rivals Athlone Town on Saturday night at Bishopsgate.
They are now four points behind fifth-placed Wexford with nine games to play.
But for 70 minutes of Longford's home tie against Athlone on Saturday night it looked as if they were set to reduce that deficit to one point with a morale-boosting win.
"I thought we were the better team," Henderson stressed after the game. "The boy up front for them (Pierrot) is really good.
"I think he only touched the ball three times and he scored with two touches. You can't take your eye off him and we knew that…
GOAL! Longford Town 2-3 Athlone Town

88' | Late drama in a thrilling Midlands Derby! Pierrot gets his second to give Athlone the lead! #LOI | #LONATHpic.twitter.com/MmfkzBxYwt

— League of Ireland (@LeagueofIreland) August 12, 2023
"(But) we were really good and there are lots of things to be really positive about. Cristian (Magerusan) is on fire. He's been magnificent and it's just so good to see that boy back on the pitch after all the hardship he went through.
"But we're really gutted that we lost."
While they created chances from open play, Longford's two goals came as a direct result from set-piece routines.
The first saw Dylan Hand's long throw-in wreak havoc as Cristian Magerusan scored his first while Magerusan was on hand again to thunder home a Viktor Serdeniuk's free-kick routine.
And with Hand's recent arrival from Warrenpoint Town, Longford have a genuine attacking threat in the form of his long throw-ins.
But Henderson wants his side to make more use of them, saying: "We have to take advantage of that because the ball broke loose once or twice…
"But our problem with our long throws is the same as the problem we have defending them.
"We're attracted to the ball. If you look at what other teams do, one or two are attracted while the rest of them stand still and are waiting for the ball to break.
"I'm really happy with where we're progressing to. I still think that we can make the play-offs.
"That's my feeling and the players' feeling on it. I'm gutted about (the defeat) but hopefully the fans will come back and help us during the run-in."
It's five goals in his last three appearances now for Cristian Magerusan!

He's headed Longford Town in front with 25 minutes left in tonight's Midlands Derby #LOI | #LONATHpic.twitter.com/i050kqnfVt

— League of Ireland (@LeagueofIreland) August 12, 2023
When Longford met Athlone Town at home earlier this season they turned in one of their worst performances of the season as they fell to a dismal 3-1 defeat in front of over 1,500 spectators.
But they have improved a lot since then.
And while they remain outside the play-off places, Henderson hailed his side for the level of improvement they have shown in recent weeks.
"The club has been great because we've been able to bring players in," he explained.
"It was no excuse that we had 12 to 14 players out injured for over half the season. That's a fact.
"We have all the scans from the doctors to show that's what it was. We have players coming back from injury and the club have been great by being able to get a couple of players in. We're able to freshen the team up with real quality.
"We've been great the last few weeks and that's a setback against Athlone but that's all that is. Sometimes when we get a setback we play terrible but we played well (this time).
"We didn't deserve to lose that but we are still in a positive mood going to Finn Harps in two weeks."
But Longford are likely to be without Aaron Walsh for the next couple of weeks through injury with the Dubliner aggravating a hamstring injury that plagued him during much of the opening half of the season at Bishopsgate.
Derek Daly is suffering with a similar issue but is not expected to remain out for as long.
However, Town have been able to compete against the odds despite their injuries woes, with Henderson lauding them in doing so amid the presence of a number of full-time outfits in the second-tier.
"It's hard for any team to compete with half a squad," the former Cobh Ramblers chief added. "We were basically playing with an under-19 team for half the season.
"A lot of those kids were brought in to be in and out of the team but they ended up being fundamental to our side with 12-14 hamstring injuries. But since we've got players back from injury and added to our squad we've been really good.
"It is a competitive league, make no bones about it. Athlone are a full-time outfit, Waterford are, Galway are and Finn Harps are so nearly 50% of the First Division is full-time which is unheard of.
"But we were the ones parked on a full-time outfit for the last 10 minutes and that's a positive so the lads should embrace that."
"We have conquered the respect of the other teams with our league position because Athlone has come from a difficult few years..."

Spoke to @AthloneTownAFC boss Dario Castelo to learn a bit more about their man in the dugout.. (via @ExtratimeNews)https://t.co/irPQD6J0tD

— Andrew Dempsey (@AndrewDempsey98) August 14, 2023