Ross Tierney: 'I've never played in England before so it's a different challenge but I always think I can do well'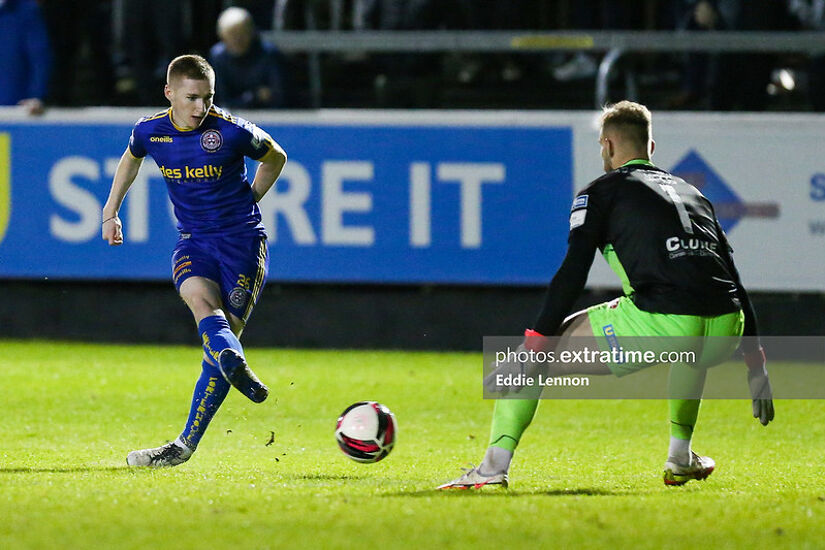 Ross Tierney had a simple answer when asked what would be considered a good outcome for his loan at Walsall this season – playing games again.
Former Bohemians man Tierney is now 22 but has endured a testing 18 months at Motherwell since departing Dalymount Park, leading to his move to England's League Two.
In fact, his last start – before last night's EFL Cup game against Blackburn Rovers – came against Raith Rovers in the Scottish Cup for Motherwell on February 11.
He is raring to go again.
"I never want to go into training thinking, I've no chance of playing here," Tierney tells extratime.com. "I just want to get back and start a game again.
"I was in and out of Motherwell. The most I played in a row were two or three games.
"You're allowed to have a bad game here or there but I feel like I need three or four games where I'm starting and then I'll start getting back to my heights with Bohs and the Ireland under-21s.
"Hopefully we can get promotion but if not we know that we've got targets we set and there's no ceiling to them targets."
Yet, it is not without a sacrifice either.
In order to join Walsall the Dubliner had to leave his girlfriend in Scotland for the time being.
But it was a choice he felt that he needed to make to progress his career.
"I'm a bit different to a normal 22-year-old where I've got a young family," Tierney explains. "Family comes first but Nicole was unbelievable. We thought Walsall was the best for my career and she just told me go for it.
"She knows that if I do well here it could benefit us down the line. I can only thank her, she's the best girlfriend and mother that my kids and I could have.
"She has been there from the start. When I've had my good, bad and really bad days she was always by my side. I can't thank her enough."
"Leaving Bohs was difficult but I always wanted to move away from home…."
Before moving to Motherwell at the end of the 2021 League of Ireland season, Tierney was one of the most coveted players to emerge from the Premier Division that year.
With international recognition to his name with Ireland's under-21 side, the Dubliner also shone for Bohemians during their European campaign that ended in the third qualifying round against Greek giants PAOK.
So perhaps it was no surprise that a move to the UK was on the cards off the back of that form.
But it was still a wrench for the player to leave Bohemians at the time.
"Leaving Bohs was difficult but I always wanted to move away from home," he explained. "Thankfully my girlfriend came over with me which helped me settle.
"The first four to six months were always going to be a teething period for me and I was also getting used to playing full time.
"I got my first goal and then towards the end of the season I scored against Rangers which was probably one of the highlights of my career so far.
"But after that last season I didn't get off to a good start with Graham (Alexander) getting sacked and Steven Hammell came in.
"Behind the scenes wasn't great but that's the way football goes sometimes but when the new gaffer (Stuart Kettlewell) came in and explained that we were joint bottom.
"He pulled me aside and said 'we need results and this was the team that he thought would get the results we need' so that was fine – and the lads kept winning!...
"I'm always a big believer in if the team is winning, why would you try to change it? Why change something that's not broken?
"We had a real togetherness because we knew that the lads were winning games and it was a good environment to be in. Then I started getting niggly injuries and that didn't help so I wanted to try and play games.
"I was delighted when I went to see the gaffer and he said that it would be best for me to go out on loan and get some minutes.
"But I had to just see what way it worked out with Motherwell because we didn't have a big squad so I couldn't just go when I wanted.
"That wasn't good because I couldn't go early in the window and get settled in with the new group that's here. But I eventually got to go and I'm happy with Walsall now. I'll keep an eye out for Motherwell because at the end of the day I'm still classed as their player."
"The only real difference was that the physicality was a bit more…."
When Tierney left the League of Ireland, he joined a host of players who opted to swap the Premier Division for the UK at the end of the 2021 season.
And while some have endured mixed fortunes since then – Tierney included – the former Bohs man admits he did not find the gap between the League of Ireland and the Scottish top-flight too big upon his arrival.
"There wasn't much of a big difference because the League of Ireland is so strong," he revealed. "You look at the Irish team there's so many people that have come from the League of Ireland now and a lot of them are young lads as well.
"That was one of the reasons why we did so well at Bohs that year in Europe. We didn't do well that year in the league which is one of the regrets I had. I left in a year when we didn't qualify for Europe and lost the FAI Cup final.
"But the only real difference was that the physicality was a bit more.
"In Scotland everyone is big and physical. I wouldn't say the quality was much of a difference apart from maybe Celtic and Rangers but that is to be expected.
"Outside of that I think the League of Ireland gets looked down on abroad but when you play in the League of Ireland you realise it's a good league."
"I can't thank Bohemians enough for what they did for me…"
But if it was not for Bohemians and manager Keith Long, Tierney is unlikely to be where he is today, not only in professional football.
After making his debut for the Gypsies in August 2019, the former St Kevin's star went through a difficult 2020 campaign beset by personal issues.
At the time, he lost his best friend Aaron to a tragic incident which took its toll on him both personally and professionally.
But Bohemians and Long soon stepped in to help the dynamic midfielder on the path to recovery – which ultimately gave him the year of a lifetime during the 2021 season.
"I broke through at the end of the 2019 season and I think I played eight or nine games," he reflected. "I was hoping that 2020 would be my breakthrough season.
"I thought I would have played a lot more games but things off the field didn't go well. That was probably the worst year of my life after losing my best friend Aaron and I just wasn't the same on the field
"At one stage I thought my career was over and then thankfully Keith (Long) and Bohs were unbelievable to me. I ended up getting my counselling within a week of speaking to them and it was just like a big weight came off my shoulders.
"I could open up to my girlfriend and that is very important especially with the three kids that we have now. It goes both ways with us.
"But I can't thank them (Bohs and Long) enough because I don't think I'd be here – not even just playing football – without them."
"In the space of six to eight months I went from thinking my career was over to getting the move to Scotland and playing against Celtic and Rangers…"
During the 2021 season, Tierney went on to play 34 times for the Gypsies and struck up a lethal partnership with Georgie Kelly in Dublin 7.
He scored seven goals while Kelly notched a stunning tally of 21 himself – with the previously unfancied duo propelling Bohs charge at home and in Europe that year.
And with that success and support given to Tierney during his darkest days, the now Walsall loanee will be forever indebted to Bohemians.
"I watch all the games and I speak to Detser (Derek Pender)," he revealed. "He gave me a call when I signed with Walsall and we just had a bit of a chat. I'm still a Bohs supporter.
"We had such a good team and looking back now you see how many lads are doing well. You look at Dawson (Devoy) at MK Dons, Liam (Burt) at Shamrock Rovers, Georgie (Kelly) at Rotherham and then you look at Promise Omochere with Fleetwood.
"It was great to see Promise come through his injuries because he and Christian Magerusan were two of the hardest working in the team and they were in the gym every day. They just kept getting setbacks but it's good to see the two lads playing well now.
"We had such a good group and hopefully one day I will get the chance to rectify that FAI Cup final. But now you think if we won that maybe would have given Keith a bit more time.
"Football is a ruthless game but it gives you so many ups and so many downs. It can change so quickly.
"In the space of six to eight months I went from thinking my career was over when I was sitting in a psychiatric ward to getting the move to Scotland and playing against Celtic and Rangers. It's just unbelievable.
"That summer (in 2021) was probably the best time of my career. Going to the Aviva and playing there felt like a home. Looking back on the memories now I still get goosebumps."
"That group that we had, myself included, probably wouldn't have been in that squad if Stephen Kenny didn't have the first team job…"
Tierney also received international honours during the 2021 campaign, making his Ireland under-21 bow against Australia in June of that year.
In fact, he also scored with his first touch to ensure a win for Jim Crawford's side on his debut.
From there he became a valuable asset in the Boys in Green talented side that came agonisingly close to qualifying for the finals in Georgia and Romania earlier this summer.
And while they missed out on the tournament at the expense of Israel via a penalty shootout, Tierney revelled in every minute of his time away with them.
"We had such a good group with the under-21s," he insisted. "It felt like a real club team, not an international one.
"It just felt like we'd been with each other every day. We'd sit down and talk about what we're doing but it felt like we'd seen each other all the time. We had so many good days. You take it a bit for granted but we were sitting there playing cards with John O'Shea…
"It was such a good group and I think that fed onto the pitch. We still have a group chat of myself, Andy Lyons, Gavin Kilkenny, Conor Coventry and Brian Maher…
"But I obviously look back on the Israel game, losing on penalties and being so close. We should have beaten them in Tallaght and I think we had enough chances to beat them there. It obviously makes it harder that they've gone on to do so well in the Euros.
"We just look back and think what if that was us? But then again it's weird because Irish football has changed. That group that we had, myself included, probably wouldn't have been in that squad if Stephen Kenny didn't have the first team job.
"We had so many players in there in the first-team team. Israel brought a few in and I think we could have had eight from players who could have played for us.
"It just shows how much faith Jim had in us to keep us. Aaron Connolly was the only one who came down but he was just trying to rectify his career and it's good to see him get a good move to Hull and hopefully he does well."
"I'm small in stature and I got a little bit looked down on even from a young age…"
And while Tierney is hopeful that Connolly's fortunes may change during the upcoming English league campaign, he will be hoping for the same himself.
On Tuesday night, the 22-year-old showed glimpses of what is to come with a debut goal and assist for Walsall during their thrilling EFL Cup defeat against Blackburn Rovers.
And that happened to be his first taste of competitive football in England after moving from Scotland, 178 days after his last competitive start.
But he is relishing his opportunity to shine in a league that will have plenty of eyes on it with the likes of Hollywood-backed Wrexham, Notts County, Bradford City and MK Dons competing in it.
"I always like to challenge myself against good players," Tierney explains. "I'm small in stature and I got a little bit looked down on even from a young age. I didn't get picked for some Ireland and DDSL squads because I was too small.
"I've always wanted to prove people wrong. I've never played in England before so it's a different challenge. But I always think I can do well and I have full confidence in myself because I've played at a high level.
"I've played international football, I've played in Europe and I've played against international players. When you look at the international squad we had with the under-21s there are players in there that have gone on to do so well…
"Some people have spoken and said League Two is just full of big people but I'm ready for the challenge. There are so many big teams in the league but we have got a good group.
"We just need to stick together and hopefully we'll have a good season. Hopefully we can prove a lot of people wrong."
"I probably haven't played against Dawson since his Home Farm days. I am looking forward to it…"
Of the group he is joining, he has been reunited with his former Ireland under-21 teammate Oisín McEntee – and the pair previously played together with Dublin schoolboy side Belvedere for a brief period.
Two-time Ireland under-19 international Ronan Maher is also part of the Saddlers first-team squad.
Former Drogheda United attacker Freddie Draper is also on loan at the club from League One outfit Lincoln City.
"I knew Oisín from when I was younger but I didn't know Ronan until I got there and Oisín started introducing me to the lads," Tierney said.
"But everyone in the dressing room was welcoming me better than I thought I would expect. I've settled in pretty well."
And he is also likely to be coming up against his former Bohemians, St Kevin's and Ireland under-21 teammate Dawson Devoy in League Two – with the Meath man playing for MK Dons and Tierney with Walsall.
"I was speaking to Oisín about it the other day and we can't wait to see him," Tierney adds. "Hopefully we're all on the pitch at the same time. I probably haven't played against Dawson since his Home Farm days.
"He was at Home Farm when I was at Kevin's and then when I had a year at Belvo he was at Kevin's.
"That was probably the only time we've ever been on the opposite team. It'll probably be a bit weird but it should be fun."
"I was there for a year and a half and it felt like I wasn't a football player at the end…"
But the main aim for Tierney this term is to start football matches again and be happy on and off the pitch once more in his bid to recapture the form he enjoyed with Bohemians.
"At Motherwell I enjoyed it and we had a great changing room and the lads were always helpful to me – including the staff – but I think I needed a little reset to go back to not going into a week where I know that I'm not starting, even a week before," he admits.
"I was there a year and a half and it felt like I wasn't a football player anymore. I felt like it was a bit of a chore, which it should never be.
"I felt like I was just going in just to train and I didn't think I had a chance of playing which didn't give me any confidence.
"I'm more of a confidence-based player and I think a new challenge here obviously helps because I can show my capabilities and my qualities down here.
"Hopefully I can get into the team soon enough, start playing, and get a few goals and assists – getting back to the quality I was playing with at Bohs.
"Hopefully we can have a great season together at Walsall."
Saddlers debut
Assist
First goal

Solid start, @RossTierney26 pic.twitter.com/ZzcLZ85XVF

— Walsall FC Official (@WFCOfficial) August 8, 2023