Sky Blue thinking – thoughts of Guardiola and De Bruyne on Champions League final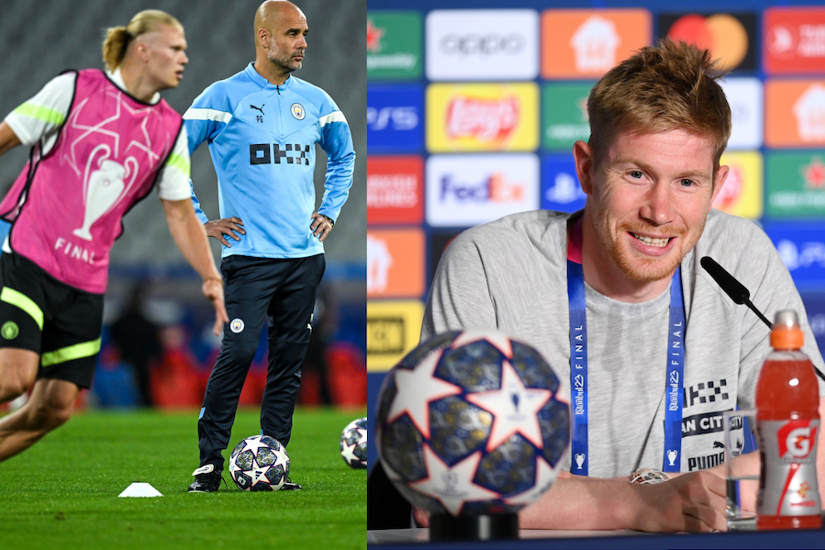 Macdara Ferris reports from the Atatürk Olympic Stadium in Istanbul
Pep Guardiola's has put his plan in place for Manchester City's final leg of their treble quest as they face Internazionale in tonight's Champions League final in Türkiye.
"The plan helps in the uncertain moments of the game," said the City boss speaking in the stadium on the eve of the game. "It gives us security. Games can become crazy."
Inter Milan are seeking to become the first Italian side to win the Champions League since the Milan did so in 2010 and the Nerazzurri have elements that can hurt City according to the Sky Blues boss.
"You have to be patient. If it is 0-0, we must not think you are losing. Italian teams think they are winning when it is 0-0 but they aren't. We must be stable and in the bad moments step forward.
"Italian teams know how to defend. They never get nervous. The way their keeper (Andre Onana) brings the ball out is excellent.
"They are very dangerous with their forwards – Lautaro Martínez, Edin Džeko and Romelu Lukaku. They don't lose the ball and are good at keeping it. They can attack down the middle or out wide."
"What's important is that at 10pm Istanbul time (kick off time here in Türkiye), we do the best performance possible and that can make the difference."
Guardiola has won two Champions League's previously with Barcelona (in 2009 and 2011) and when asked about the principles of his success joked that it is about having "good players. I had Messi in the past and I have Haaland now."
The Norwegian striker has scored just once in his last seven games but his manager said: "I have no doubts about Haaland scoring goals. He will be ready to help us win the Champions League."
Crucial for Haaland's 52 goal / 50 game season has been his connection with Kevin De Bruyne. The Belgian star was asked was it 'love at first' with Haaland.
De Bruyne joked that "I'm happy with my wife!" but then said "sometimes you have a feeling with a player about what they want and he understands me. It clicked really well. He started scoring at an incredible rate."
He described his eight seasons at City as "incredible" but noted that there is one thing missing – the Champions League.
"We've been able to win a lot of trophies domestically. There have been lots of high moments and we've been competing in this competition but haven't won it. We just need to find a way to win the first one."
Inter will deploy a three/five man defence and two up top. Even Guardiola admitted that his side has "struggled against two strikers in the Premier League".
Du Bruyne's gave his thoughts on the opposition formation – Inter have played 3-5-2 78% time over this season. "They are very good at this system as they play it all the day," he said compared with teams who deploy it only when they face City.
"In the last five or six seasons, a lot of the lower teams play with five at the back. Inter play with two strikers which is a bit different. The players know their roles and are very good at it.
The two strikers hold the ball up really well and have a lot of runners from midfield. We don't expect it to be too open a game."
Champions League Final Preview: Manchester City -v- Internazionale https://t.co/7igQMB9GtUpic.twitter.com/wfaZx5hacm

— Extratime.com (@ExtratimeNews) June 10, 2023