Ireland suffers 2-0 defeat to Galicia in UEFA Regions' Cup opener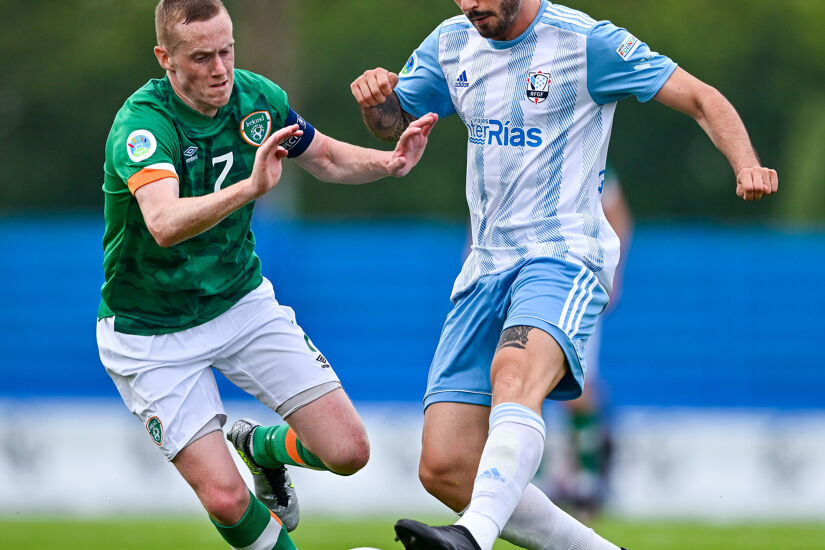 Ireland was handed a disappointing 2-0 loss by Galicia in their inaugural match of the UEFA Regions' Cup in Cambados on Friday, despite a resilient performance with only ten players for the majority of the game.
The day began on an unfortunate note with Brendan O'Connell withdrawing from the game during the warm-up due to an injury, necessitating Gary Cunningham to step in.
Galicia took an early lead ten minutes into the game when Inaki Martinez manoeuvred in from the left wing and launched a precise shot off the near post, putting the hosts ahead.
The situation for Ireland deteriorated further after only 19 minutes into the game when Glen Daly was shown the red card. The referee ruled that Daly's tackle took down the last man, reducing Ireland to ten men.
The Galicians threatened to extend their lead on the 50-minute mark when Felix Rial met a cut back but fired his shot over the bar.
Cunningham proved his worth by pulling off a stunning save from close range, deflecting a Galician effort into a corner.
Despite their numerical disadvantage, the Irish team did remarkably well to limit Galicia to few opportunities in the second half. They adjusted their formation to frustrate the hosts effectively.
As the game entered its final stages, Ireland forced several set pieces and almost equalised when Jack McMullen shot narrowly over the bar from a bouncing ball inside the penalty box.
However, a late goal from substitute Joni Magisano sealed the game for Galicia, putting the match beyond Ireland's reach.
The Republic of Ireland's next challenge in the tournament is a Group A clash against Bavaria on Sunday, 9 June, where they will seek to make amends for the disappointing start.
Galicia: Ramon Rodriguez Vazquez, Jesus Varela Sanchez (Antonio Gonzalez Vilar 75'), Sergio Cotilla Martinez, Alejandro Rey (Alex Ubeira 75'), Anton Iglesias, Felix Rial, Adrian Otero (Oscar Lorenzo 78'), Pablo Caraban, lago Martinez, Iñaki Martinez, Fabio Gonzalez (Joni Magisano 75') Subs: Gabriel Martinez Loureiro, Martin Sanchez, Lucas Antañon, Juanin, Brais Vidal

Ireland: Gary Cunningham, Dylan Connolly, Lee McColgan, Glen Daly, Jack McMullen, Danny Aherne, Jimmy Carr (Luke Casey 62'), Stephen Chambers (Nathan Broderick 80'), Jordan Buckley (Deiric Hyland 80'), Eoin Murphy (Conor Coughlan 62'), Jimmy McHugh (Eoin Hayes 55') Subs: Jack Parke, Adam Crowley, Adam Conway