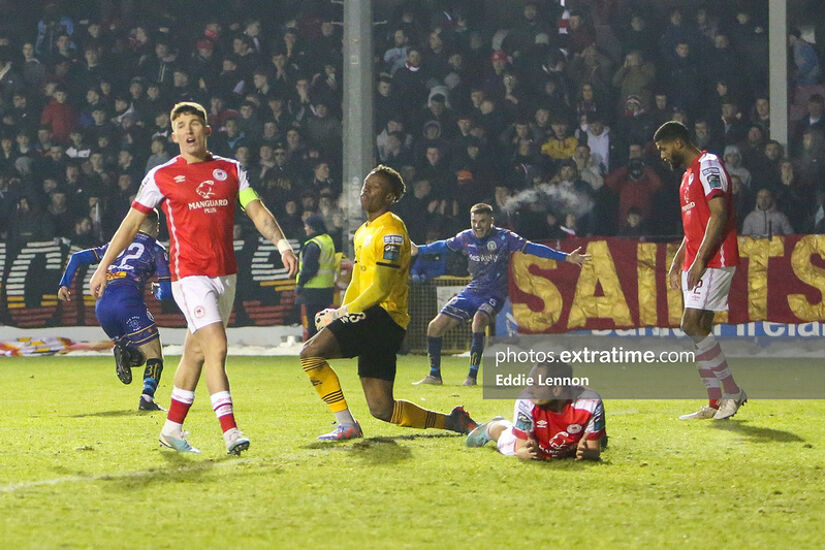 extratime.com League of Ireland Voice Notes - Episode 5
Sat, Mar 11 2023




Welcome along to League of Ireland Voice Notes with Oisin Langan. A match night show that will get instant reaction and reflection on the action.

On this week's Voice Notes, Oisin has one-on-one interviews with Tim Clancy and Joe Redmond on Pats current travails and Declan Devine on Bohs flying start as well as the analysis of Keith Treacy.

Jay McGuinness joins us from Tolka Park where Shels drew nil-all with Shamrock Rovers while Gareth Mc Glynn assess Derry's scoreless draw with Dundalk.

Ronan McNamara was in the UCD Bowl for the Students' defeat to Drogheda while we'll also round-up the First Division.





About Gareth Penrose
Gareth Penrose founded extratime.com in 2008 and has worked as a reporter / editor / developer on the site since.

Over the last 14 years, Gareth has covered games in the League … View Full Profile
| | Team | P | W | D | L | Pts |
| --- | --- | --- | --- | --- | --- | --- |
| 1 | PEA | 5 | 4 | 0 | 1 | 12 |
| 2 | SHE | 5 | 3 | 1 | 1 | 10 |
| 3 | Shamrock Rvrs | 4 | 3 | 1 | 0 | 10 |
| 4 | GUW | 5 | 3 | 0 | 2 | 9 |
| 5 | BOH | 5 | 3 | 0 | 2 | 9 |
| 6 | WEX | 3 | 2 | 0 | 1 | 6 |
| 7 | ATH | 4 | 1 | 1 | 2 | 4 |
| 8 | DLR | 4 | 1 | 1 | 2 | 4 |
| 9 | TRE | 5 | 1 | 1 | 3 | 4 |
| 10 | COR | 4 | 0 | 1 | 3 | 1 |
| 11 | SLI | 4 | 0 | 0 | 4 | 0 |
Be Social