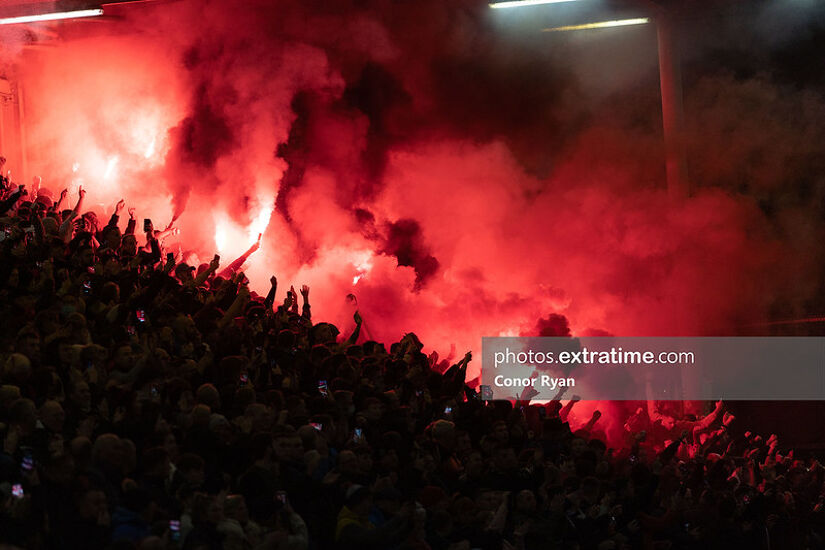 2022 League of Ireland Attendances - The story so far
Mon, Apr 25 2022




Absence makes the heart grow fonder and it would seem the 2022 League of Ireland season, so far, is proving that point.

When the turnstiles opened on the 18th February, it was the first time in almost two seasons fans had no COVID-19 restrictions to deal with. The days of travelling to Finn Harps to watch a match through corrugated iron fences, or over a boundary wall in Derry, Bray or Tallaght hopefully distant memories.

This article covers the first quarter of the 2022 season which consisted of 79 games – 45 in the Premier Division and 34 in the First Division. When comparing to other years, the same number of games within the same division breakdown is used. Due to COVID-19 restrictions, the 2020 and 2021 seasons are not applicable.

An Overview

172,813 spectators have attended games so far this season in the League of Ireland (based on 72 official attendances and seven estimates which were derived based on multiple sources present at games). When you compare that to the same period in 2019, it is a 25% increase in attendance. Looking further back, it is a 40% increase on 2018 and an impressive 56% jump compared to 2017.

Delving deeper into that overall figure, 129,520 fans attended the Premier Division which is an increase of 12% on 2019, 20% on 2018 and 38% on 2017. The average gate has gone from 2,579 in 2019 to 2,878 in 2022.

The First Division, largely due to Cork City, Waterford and Galway United, has significantly outperformed compared to previous seasons. The 43,561 spectators who travelled to First Division venues for 2022 is up 99% on 2019, 180% on 2018 and 155% on 2017. The average gate over the 34 games so far is 1,281 compared to 675 in 2019.

First 79 games - League of Ireland





Combined

Premier

First

Total

Average





Total

Average

Total

Average

2022

172.813

2,188

129,520

2,878

43,561

1,281

2019

138,003

1,747

116,071

2,579

21,93

422

2018

123,378

1,562

107,834

2,396

53,342

457

2017

110,786

1,402

93,673

2,082

52,987

503

Average Attendances

Due to the fact teams have played between three to five home games we will look at the average gates so far rather than overall attendances.

In 2019, Shamrock Rovers became the only club to finish with an average above 3,000. Four teams finished between 2,000 and 3,000 while five more averaged between 1,000 and 2,000.

So far in 2022, the Hoops are currently averaging a gate of 5,318 which is a significant improvement on the previous top average of 3,445. It has to be noted this is after four home games compared to a full season. Elsewhere, five teams currently have an average over 3,000.

If you compare 2016 with 2022, eight teams had an average over 1,000 with Dundalk's 2,738 the highest that year. That average would rank 8th in the current season averages.

League Averages

2022

2019

2018

2017

2016

Shamrock Rovers

5,318

3,445

2,857

2,799

2,041

St. Patrick's Athletic

3,815

1,890

1,614

1,583

957

Cork City

3,748

2,505

4,121

4,559

2,533

Bohemians

3,415

2,878

2,136

1,958

1,627

Shelbourne

3,302

1,074

654

500

583

Derry City

3,293

2,633

2,085

1,500

1,519

Dundalk

2,919

2,753

2,801

2,705

2,738

Sligo Rovers

2,518

1,996

1,803

1,717

1,752

Finn Harps

1,915

1,158

708

1,269

1,210

Galway United

1,915

791

758

1,359

1,169

Waterford

1,900

1,597

2,314

1,550

277

Drogheda United

1,653

928

413

815

583

Bray Wanderers

942

798

713

966

933

UCD

933

739

353

220

317

Cobh Ramblers

917

266

243

339

403

Treaty United

855

Longford Town

532

610

456

342

488

Wexford

406

235

188

340

455

Athlone Town

298

354

133

182

156

Best attended matches

The attraction of the Dublin derby between Shamrock Rovers and Bohemians remains the top billing with 7,478 present for the Hoops 1-0 win. Rovers 3-0 victory over UCD was the second best with a crowd of 5,173.

Despite playing First Division football, Cork City's 1-0 defeat to Galway United drew an incredible 4,984. It almost doubles the best attended First Division game in 2019.

The Top 10 features all four of Shamrock Rovers home games so far. Cork City, Shelbourne and St. Patrick's Athletic feature twice to complete the top 10. Shamock Rovers features in 6 of the 10 fixtures.

Top 10 Attended games

Date

Home

Away

Att

11/03

Shamrock R

1

0

Bohemians

7,478

18/02

Shamrock R

3

0

UCD

5,173

25/02

Cork City

0

1

Galway Utd

4,984

04/03

St Pats

1

0

Shamrock R

4,871

18/03

Shamrock R

2

2

Sligo R

4,513

08/04

St Pats

0

0

Dundalk

4,322

11/03

Cork City

2

0

Cobh R

4,240

18/02

Shels

0

3

St Pats

4,238

08/04

Shels

1

2

Shamock R

4,182

28/02

Shamrock R

3

1

Drogheda

4,107

Total number of games played: 79

Total League of Ireland 2022 Attendance to date: 172,813

Average gate for the 2022 season to date: 2,188

Average gate for Premier Division: 2,878

Average gate for the First Division: 1,281

Total number of attendees in the Premier Division: 129,520

Total number of attendees in the First Division: 43,561

Largest Attendance: 7,478 - Shamrock Rovers 1-0 Bohemians

Lowest Attendance: 100 (est) – Athlone Town 1-1 Bray Wanderers

Television Coverage

With the departure of Eir Sport last season, only RTÉ have shown League of Ireland matches live on television in 2022. Over the years, the debate has always been does live television coverage hurt the gate?

Shelbourne's 3-0 defeat to St Patrick's Athletic was broadcast live but was also the Reds' best gate of the season to date.

Derry City's 2-1 win over Shamrock Rovers was next up for live TV treatment and it also was recorded as the Candystripes' best attendance so far.

The Louth derby between Drogheda United and Dundalk was next up and, just like the other fixtures, it also resulted in the club's best crowd so far this season.

Dundalk featured again when RTÉ showed their away visit to St. Patrick's Athletic. Whilst it wasn't the Saints best crowd of the season, it was their second best and the sixth best attendance of the season overall.

When you consider the fixtures featured a Dublin derby on the first day of the season for a club just promoted - a Louth derby and the champions travelling to a team in form, the gates were always likely to be good but it does suggest at this early point in the season, people still want to go to games despite the option of watching on the television.

PREMIER DIVISION CLUB BY CLUB





+ You can filter the graph to display only the teams you wish by select/deslecting by clicking on the team names above the graph

*When we refer to the last four seasons, we mean those without any coronavirus restrictions i.e. 2022, 2019, 2018 and 2017

DERRY CITY

Looking back over the last four seasons relevant to attendances (2022, 2019, 2018 and 2017) our records for Derry City have largely been estimated. However this season, we have official figures and for the first four games in the Ryan McBride Brandywell Stadium, Derry City have entertained crowds over 3,000 on every occasion. When compared to our estimates from previous seasons for the Candystripes, they rank 2nd, 3rd 7th and 8th out of 57 home games.

SHAMROCK ROVERS

The Hoops finished 2019 with the highest average attendance (3,445) and have continued apace in 2022 with an average so far of 5,318. They posted the highest attendance of the season for their home win over Bohemians (7,478) which is also the best attendance when we look over the last four seasons*. Interestingly, but not surprisingly, Rovers top four attendances over the four seasons all come from their home games against Bohemians.

ST PATRICK'S ATHLETIC

In 2016 Pats average gate was 957. We highlighted the fact they had almost doubled that in 2019 with 1,890. With five home games gone in the 2022 season, they have more than doubled their average attendance over 2019 (102% increase). Currently they have the second best average attendance in the league with 3,815. Their home game against Shamrock Rovers recorded an attendance of 4,871 which is their best crowd over the last four seasons*.

SLIGO ROVERS

Sligo Rovers have played five home games with an average attendance of 2,518. Whilst their crowd average is currently up 522 on 2019, the trend in their attendances is downward. From 3,257 in their first game, every game since has seen a drop with 1,865 in attendance for the game against UCD. Part of the drop could be accounted for based on the size of the travelling away support for each game.

DUNDALK

During Dundalk's successful run over the last number of seasons, their average attendance kept pretty consistent (2019 – 2,753, 2018 – 2,801, 2017 – 2,705, 2016 – 2,738). At this early stage in the 2022 season, their average is currently 2,919. They are one of three clubs we have had to estimate one of their crowds. Their best attendance this season was for the visit of Shamrock Rovers (3,546).

BOHEMIANS

In 2019, Bohemians increased their average attendance by over 700 to 2,878. As it stands so far this season, after four games, they have had another similar increase with the average attendance coming in at 3,415. The Dublin derby against Shelbourne was their best attended so far (3,640). Bohemians can't really do much better than they are regarding attendances with that Shelbourne game deemed a sell out and two other games were within 130 of that total.

SHELBOURNE

In 2019, Shelbourne gained promotion to the Premier Division and did so in front of an average crowd of 1,074 which was a big improvement over the previous three seasons (654, 500, 583). They subsequently got relegated and won promotion in the two COVID-19 hit seasons. Now, back in the Premier, they have averaged 3,302. The best of the first five home games was 4,238 for the Pats encounter. A long way to go before we have end of season averages, but Shels have currently more then tripled their average from their 2019 season in the First Division.

DROGHEDA UNITED

Like Shels, Drogheda United were in the second tier in 2019. The club average attendance then was 928. In 2022, they have seen that increase to 1,653. The best of their crowds was the aforementioned Louth derby against Dundalk with a crowd of 2,065.

FINN HARPS

Harps recorded an average attendance of 1,158 in 2019. With five games in the mix for this article, they have a current average of 1,914. The visit of Derry City drew the largest crowd with 3,126 in attendance.

UCD

The Students had jumped to an average of 739 in 2019 having previously recorded 353 in 2018 and 220 in 2017. Four home games into 2022, they have an average of 933. The visit of Bohemians drew a crowd of 1,708 which drove up their average. The attendance of 473 for the visit of Derry City is the lowest Premier Division crowd so far.

FIRST DIVISION CLUB BY CLUB

CORK CITY

For a number of seasons, Cork City blazed a trail when it came to attendances. They had average attendances over 4,000 when the rest were below 3,000. In 2019, their average attendance took a hit dropping to 2,505. Since then the club have been relegated, but despite the fall to the lower league, their attendances this season have been excellent. At this early stage of the league, their average attendance of 3,748 is the third best in all the league (both Premier and First Divsions).

GALWAY UNITED

After four home games, Galway United have an average of 1,915. It is a very good average for a First Division team but boosted by the 3,025 that watched the game against Waterford. The three other attendances have been between 1,355 and 1,759. The Waterford attendance was the third best First Division crowd this season.

WATERFORD

The Blues have had a wild time over the last number of seasons attendance wise. In 2016, they had an average of 277. Two seasons later, their average was 2,314. The following year it dropped to 1,597. Now back in the First Division, how have they fared? With an average of 1,900 after three games, they are also driving the First Division overall attendances up.

LONGFORD TOWN

In recent seasons, Longford Town have averaged between 342 and 610. Their brief stint in the Premier Division was during COVID times without the ability to cater for crowds. Now back in the First Division, they are roughly in the same place as they were. The 2022 average after four games is 532.

TREATY UNITED

We have no previous records to compare against due to Treaty United's recent arrival in the league. This season, after three games, they have an average of 855. We will see if they can push beyond the 1,000 mark which, in previous seasons, would be a strong showing for a First Division team.

BRAY WANDERERS

Only one of the four Bray Wanderers games is an official attendance. The other three are estimated. With that in mind, the 2022 average is 942. That is buoyed by the Cork City crowd of 1,450. Will Bray be able to better their 2017 average of 966 when it comes to the end of the season?

WEXFORD

Wexford were last in the rankings in 2019 with an average home crowd of 235. They have improved on that so far this season with an average of 406. With Galway United, Waterford and Cork City likely to bring decent travelling support it looks like Wexford could very much improve on that 2019 figure.

COBH RAMBLERS

Cobh Ramblers didn't fare too well in 2019 with an average of 266. They have definitely improved this after four games this season. Their average so far is 917 and, again, like Treaty United, will be hoping to try get on the good side of 1,000 this season.

ATHLONE TOWN

Like Bray, Athlone Town have three estimates from four games. Waterford's visit drew a crowd of 397 but the Cobh Ramblers and Galway United games have been estimated. From that, we calculate their average as 298, which is currently better than their 2016-2018 average but down on 2019.

IN SUMMARY

When you look at each club's current average compared to that of their 2019 season totals, only Longford Town and Athlone Town are lower. Almost half the clubs have improved their average by between 50-250%.

More telling perhaps is the fact a number of clubs have had to dust off the "Sold Out" signs on numerous occasions this season. In 2019, the crowd totals had shown promise only for COVID-19 to halt that momentum. In the intervening two years of watching WatchLOI or LOITV or just tracking your team online via websites like extratime.com, people may have rediscovered or discovered the joys of attending live sport.

There is also a sense that the league is no longer an entity that only die-hard fans know or care about. For a multitude of reasons that would demand its own article, it seems that the League of Ireland has entered a lot more people's vocabulary but in a positive way.

The fact the International team is now headed up by a man who made his name in the league and that more and more former and current League of Ireland players are in squads adds to the positive perception.

Whilst facilities are still below where they need to be, for now, the punters are turning up in greater numbers than before. Capitalising on this momentum will be vital.

The big question here is can the attendances of the quarter of the season be maintained? Time will tell.

If you have any comments or issues with facts and figures, you can reach this article's author on @garethpenrose. If you spot any errors, please let us know.

Please note that if you do use the figures found here further afield in print or online, on radio or on television, please credit extratime.com as the source as it has taken a lot of effort to gather and compile this information.