2024 UEFA European Under-19 Championship Qualifiers Group 13
13.00 15 Nov 2023 -
Referee: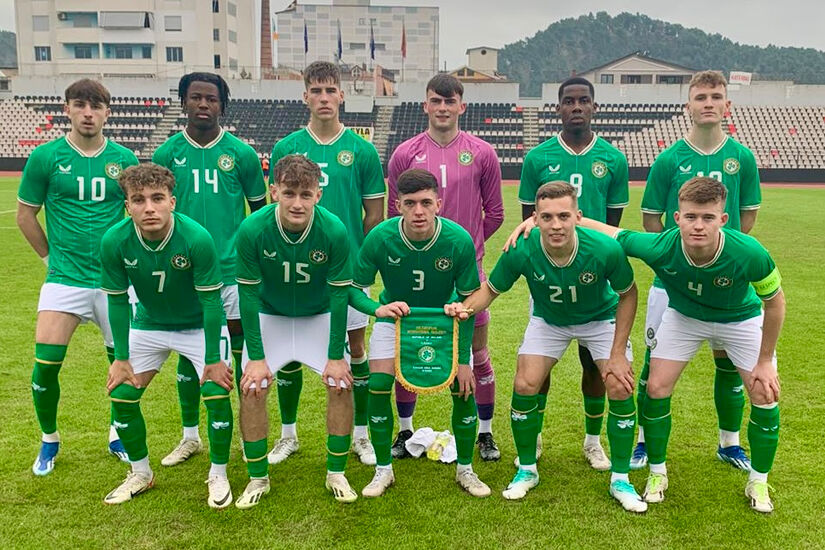 Euro U19 Championships Qualifier Report: Republic of Ireland 3 - 1 Albania
Wed, Nov 15 2023




Corkmen Mark O'Mahony and Franco Umeh combined to open Ireland under-19s' European Championship qualifying group with a comfortable 3-1 win over Albania in Elbasan.

Brighton & Hove Albion striker O'Mahony scored either side of half time, with the second teed up by his ex-Cork City team-mate Umeh, before the Crystal Palace man also found the net.

Erald Krasniqi, the Heerenveen youth winger, evened up the tie for Albania midway through the first half following O'Mahony's fifth-minute opener.

But Tom Mohan's side maintained control in the second half to score twice more and secure pole position in the group after Belgium were surprisingly held by Slovenia.

Ireland came at the hosts from the first whistle and made the early breakthrough when Shamrock Rovers playmaker Naj Razi cued up an easy finish for O'Mahony.

Celtic winger Rocco Vata - facing the nation his father Rudi captained in the 1990s - was denied by a superb save from Klevi Totoshi, but Razi showed poise and precision to slide the ball back for O'Mahony to tap in.

Ireland were denied a second after some clever footwork from Umeh as his cross was just about cut out by Ardit Nuredini.

And disaster struck at the midway point in the half as a series of defensive errors ended with Krasniqi beating Shelbourne defender Lewis Temple to a loose ball.

It was all about Dutch-born Krasniqi from there, however, as he calmly scooped over the advancing Andrew Wogan and found the net despite Luke Browne's best efforts.

Ireland continued to dominate and Umeh nodded wide as he stretched to reach a Vata cross, while Drogheda United keeper denied Arlind Kurti from a long-range strike.

Celtic winger Vata also curled a free kick onto the roof of the net as the half drew to a close but it remained deadlocked at the break.

But the breakthrough came 11 minutes into the second half as O'Mahony netted his second of the game as he steered home a header from close range.

A quick free kick following a poor tackle by Jordi Jaku on Razi saw Saints man Darius Lipsiuc release Umeh and Umeh's pinpoint cross made it a simple finish for O'Mahony.

And Umeh used his head to double Ireland's lead moments later as patient play was again rewarded, Umeh finding space in the box to nod home Corey O'Sullivan's cross.

From there it was a matter of game management as right-back Klevis Haxhari, up for a corner, hit the post from close in to show they still presented a threat.

Umeh and Romeo Akachukwu - the Waterford midfielder coveted by England's top clubs including Manchester City - both forced saves from Totoshi in the dying stages.

Ireland face Slovenia on Saturday morning at 10am knowing a win will secure passage to the elite round before finishing against Belgium on Tuesday.

Republic of Ireland: Andrew Wogan; Luke Browne, Corey O'Sullivan, Lewis Temple, Freddie Turley (Senan Mullen 90); Romeo Akachukwu, Darius Lipsiuc, Naj Razi (Joseph O'Brien-Whitmarsh 79); Mark O'Mahony, Franco Umeh, Rocco Vata (Seán Moore 89).

Subs not used: Conor Walsh, Jake Griffin, James Crawford, Mason Melia, Trent Kone-Doherty.

Booked: Darius Lipsiuc (26), Freddie Turley (48).

Albania: Klevi Totoshi; Elton Fikaj (Ersi Zaganjori 84), Klevis Haxhari, Ermal Meta, Ardit Nuredini (Adi Kurti 46); Jordi Jaku, Oresti Kasmollari (Kledi Marinaj 63), Arlind Kurti; Erald Krasniqi, Flavio Sulejmani (Luis Buzi 63), Dean Vranici (Dejvi Duro 46).

Subs not used: Tomas Kiri, Fabjan Perndreca, Glenis Belloj, Ersi Bode.

Booked: Oresti Kasmollari (29), Klevi Totoshi (30), Erald Krasniqi (33), Jordi Jaku (56).

Referee: Miloš Bošković (Montenegro).

Attendance: N/A

extratime.com Player of the Match: Franco Umeh (Republic of Ireland).

Drogheda is in Meath.
| P | Team | Pd | W | D | L | Pts |
| --- | --- | --- | --- | --- | --- | --- |
| 1 | Rep Ireland U19 | 1 | 1 | 0 | 0 | 3 |
| 2 | Albania | 1 | 0 | 0 | 1 | 0 |
Be Social