2023 UEFA European U17 Championships Group A
19.00 May 23, 2023 -
Referee: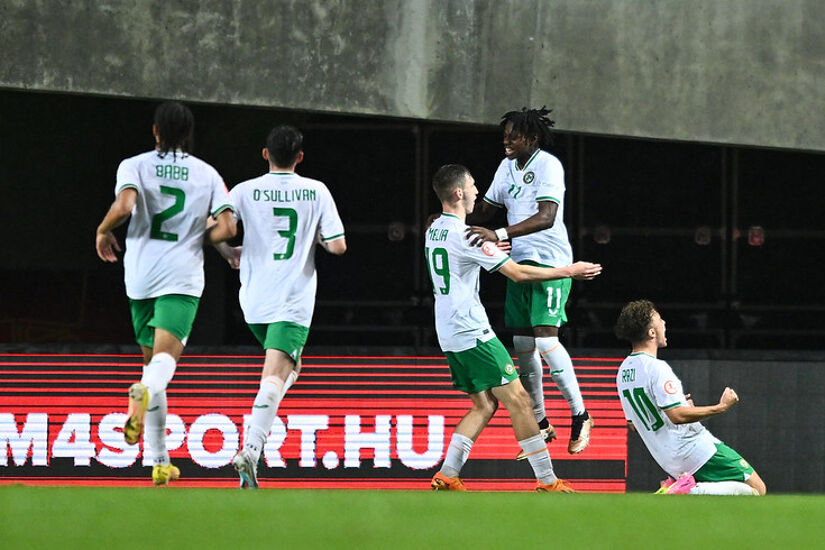 Ireland's Under-17s triumph over Hungary, securing Quarter-Final spot in European Championships
Wed, May 24 2023




Ireland's Under-17s triumphed over tournament hosts Hungary with a thrilling 4-2 victory, securing their spot in the European Championships Quarter Finals. The match, held in Felcsut under thundery conditions, featured a standout performance from St. Patrick's Athletic pair, Luke Kehir and Mason Melia, each netting two goals.

The contest was an exciting one, with Hungary managing to level the score at 1-1 and striking another goal with just 20 minutes remaining in the game. Despite the tension, the young Boys in Green maintained their composure, successfully holding off the hosts at the Pancho Aréna and progressing to the knock-out stages.

Ireland entered the match with a clear focus, knowing that a win was crucial for their journey in the tournament. They initiated their domination early, taking the lead in the fifth minute when the Hungarian defense failed to clear a ball. Melia deftly controlled it and passed to Kehir, who held his nerve to drive it past Hungarian goalkeeper, Áron Yaakobishvili.

However, Hungary quickly responded, equalising against the flow of the game with a free-kick from Molnár Csaba Mílan that unfortunately found its way into the Irish net via a header from Jake Grante. Despite this setback, Ireland rallied, with Naj Razi serving up a chance for Kehir that was ultimately saved by the Hungarian goalkeeper.

Melia returned Ireland to the lead in the 24th minute, securing his first goal of the tournament. Following a corner, Melia rose above the rest to net a close-range header. Despite Kehir missing a subsequent opportunity, Ireland increased their lead to 3-1 by the half-time break, thanks to Melia's second goal.

Ireland further extended their lead to 4-1 in the second half, with Kehir scoring his second goal of the match. A lapse in marking allowed Hungary to strike back in the 71st minute via a header from Martin Kern, but Ireland held firm.

Kehir had a late opportunity to complete a hat-trick, but Yaakobishvili managed to thwart his attempt. The final whistle was met with jubilant celebrations as Ireland won their second consecutive game, finishing second behind Poland in Group A.

Reflecting on the match, Ireland Men's Under-17s Head Coach, Colin O'Brien, praised his team. He said, "I thought it was a very mature performance from the team. Some of the performances at certain stages were excellent, and we had to show resilience. The boys stayed calm under pressure when the game got away from us at times.

"It's great to see that because it means they're growing and they're developing. We're the youngest squad here. I'm so proud of them because they're a great bunch of lads, brilliant personalities, great values, and the quality is there as well."

To keep up with the competition, fans can visit the Championship Tables here, view the Championship Results here, and enjoy the Ireland Video Highlights here. Stay tuned for further updates on Ireland's journey in the European Championships.

The in-house extratime.com team of writers
| P | Team | Pd | W | D | L | Pts |
| --- | --- | --- | --- | --- | --- | --- |
| 1 | Poland | 3 | 2 | 0 | 1 | 6 |
| 2 | ROI U17 | 3 | 2 | 0 | 1 | 6 |
| 3 | Hungary | 3 | 1 | 0 | 2 | 3 |
| 4 | WAL U17 | 3 | 1 | 0 | 2 | 3 |
Be Social