2023 League of Ireland Premier Division
19.45 Sept. 1, 2023 - Tallaght Stadium
Referee: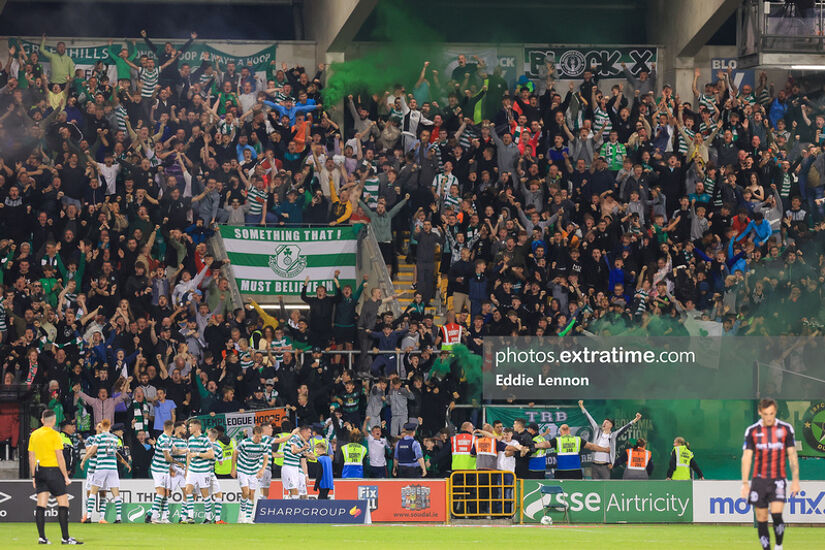 League Report: Shamrock Rovers 3 - 0 Bohemians
Sat, Sep 02 2023




Patrick O Connor reports from Tallaght Stadium

Bohemians relinquished any hopes of winning the league title this year when they were routed 3-0 by Shamrock Rovers in the Dublin derby before a full house at Tallaght Stadium on Friday night.

The Gypsies are now 10 points behind Rovers in fourth place and will now have to concentrate on retaining a top four slot for the remainder of the season.

They came into the game full of confidence after an eight- game unbeaten run but they showed none of that form when it mattered most and in fact surrendered rather meekly to Rovers, particularly in the second half.

The Hoops for their part looked every bit like potential title winners and they will now just need to fend their remaining two challengers Derry City and St Patricks Athletic, both of whom they lead by seven points.

Declan Devine's side did start well and went toe to toe with Rovers in the opening quarter of an hour but when Rovers began to find their rhythm there was going to be one outcome.

Their intricate passing game had the visitors starved of possession for long stretches of the first half and it was no surprise when the hosts opened their account in the 43rd minute.

Poom whipped in one of many corners they had forced and Lee Grace powered home a header past James Talbot to leave it 1-0 at the break.

Shortly after the resumption the insurance second goal came courtesy of a Ronan Finn finish. Rovers took a quick free kick on the left wing and when Gaffney weaved his way into the box, he had time to pick out Finn who fired past Talbot from close range.

Dylan Connolly tried hard to create opportunities for Bohs and he did get some telling crosses into the box but it was an off night for strike Jonathon Afolabi who was well marshalled by the Rovers back three.

Stephen Bradley emptied his bench but did not weaken his side and substitutes Trevor Clarke and Johnny Kenny stretched the Bohs defence even more and prevented them from mounting any kind of resistance to a now rampant home side.

The icing on the cake came in the 81st minute when another substitute, Neil Farrugia scored a third goal with a spectacular strike from the edge of the box.

Shamrock Rovers: Alan Mannus; Daniel Cleary, Ronan Finn (Trevor Clarke 69), Lee Grace, Roberto Lopes, Gary O'Neill, n Sean Kavanagh (Neil Farrugia 79) Graham Burke (Darragh Nugent 79), Markus Poom, Richie Towell (Dylan Watts 83), Rory Gaffney (Johnny Kenny 69).

Subs not used: Leon Pohls, Sean Hoare, Simon Power, Liam Burt

Booked: Richie Towell (62), Markus Poom (62)

Bohemians: James Talbot, Paddy Kirk (James McManus 59), Krystian Novak, Kacper Radkowski, Jordan Flores, Keith Buckley, Danny Grant (Ali Coote 69), James Clarke, Adam McDonnell, Jonathan Afolabi, Dylan Connolly.

Subs not used: Luke Dennison (GK); Bart Kukolowicz, Louis Holzman, Kris Twardek, Cian Byrne, Declan McDaid, John O Sullivan.

Booked: Jordan Flores (54).

Referee: Rob Hennessy.

Attendance: 7,816.

Extratime.com Player of the Match: Lee Grace (Shamrock Rovers).

League Report: Shelbourne 2-1 St Patrick's Athletic https://t.co/SYukuFvE3Epic.twitter.com/9zP6sz66PE

— Extratime.com (@ExtratimeNews) September 1, 2023

Patrick O'Connor has yet to write anything about themselves but click on the bio link to view all past work.
| P | Team | Pd | W | D | L | Pts |
| --- | --- | --- | --- | --- | --- | --- |
| 1 | Shamrock R | 31 | 16 | 11 | 4 | 59 |
| 2 | Derry | 31 | 15 | 9 | 7 | 54 |
| 3 | St Patrick's Athl. | 31 | 16 | 5 | 10 | 53 |
| 4 | Shels | 31 | 12 | 14 | 5 | 50 |
| 5 | Bohs | 31 | 13 | 10 | 8 | 49 |
| 6 | Dundalk | 31 | 13 | 7 | 11 | 46 |
| 7 | Drogheda | 31 | 10 | 9 | 12 | 39 |
| 8 | Sligo | 31 | 10 | 6 | 15 | 36 |
| 9 | Cork | 31 | 7 | 6 | 18 | 27 |
| 10 | UCD | 31 | 2 | 5 | 24 | 11 |
Be Social