2022 League of Ireland Premier Division
19.45 Oct. 28, 2022 - Tolka Park
Referee: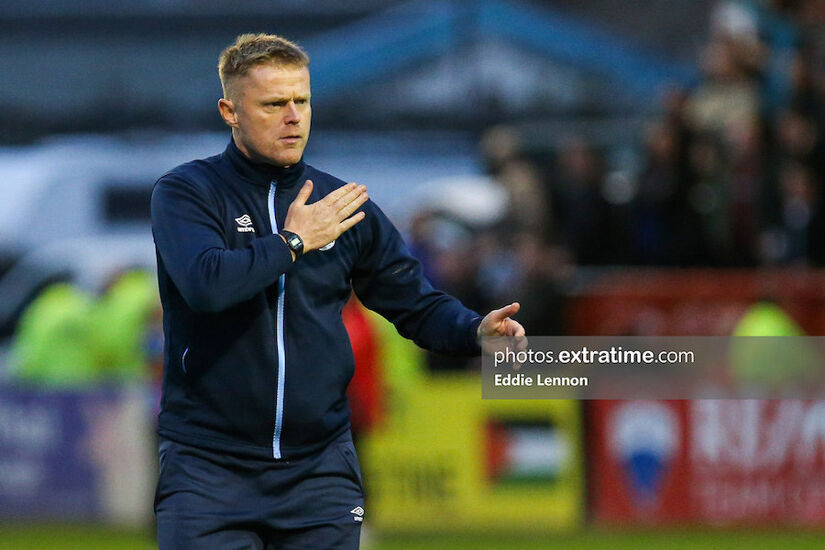 League Report: Shelbourne 6 - 0 Drogheda United
Fri, Oct 28 2022




Seventh place Shelbourne went six points clear of Drogheda United in their penultimate league game with a 6-0 win over the Louth side in Tolka Park on Friday night.

Shels dominated the first half, with several chances in the opening minutes before Jack Moylan tucked it away. It took the former Wexford FC forward just eight minutes to help his side take the lead when his teammate Stephen Negru headed it towards goal from a corner kick, with Moylan on standby near the far post to tap it in.

Another eight minutes on the clock and it was JR Wilson who ran from the back line to score his first of the season. The Drogheda defenders were slow to react when Moylan passed the ball to Wilson, who powered through for a one-on-one with goalkeeper Colin McCabe before breezing it past the former Red.

A penalty was awarded to Damien Duff's men twenty minutes into the half when Drogheda defender Keith Cowan brought down captain Luke Byrne in the box. Sean Boyd, who returned to the side after serving a two-match suspension, stepped up for the penalty kick and made it 3-0 to the home side.

Drogheda looked out of their depth with McCabe doing a fantastic job of saving further shots from the FAI Cup finalists. It was Boyd again on the halfway mark who made it four from the penalty spot after Matty Smith was shoved to the ground by former Longford Town midfielder Dylan Grimes.

The visitors did have a chance towards half time when Dayle Rooney swung a long ball into the box from a tight left angle, but Shels did well to defend and went into the dressing room with 14 attempts on goal in the opening 45 minutes.

It was a dominant opening again by Shelbourne in the second half, with Smith causing trouble for Drogheda with his speed and power around the box. Shane Farrell also wanted in on the action and came very close to making it five when he curled a low ball towards the right corner but it flashed inches wide.

It was Smith who produced a fine finish on the hour mark when a clean pass from substitute Kameron Ledwidge into the box allowed the Dundee native to strike a low ball past McCabe to make it five.

The pace began to soften in the final third with Drogheda getting a fair share of possession. They did, however, leave Shels in too much space at times and it was substitute Aodh Dervin who took advantage of Kevin Doherty's tiring side. The midfielder caught the ball on a low volley with the help of a slight nick off the Drogheda defence to gift Dervin his first of the season.

Shelbourne will finish the league campaign away to St Patrick's Athletic on Sunday, 6 November before taking on Derry City in the FAI Cup final the following weekend. Drogheda will secure eighth place in the league with a home tie against Finn Harps.

Shelbourne: Brendan Clarke; Luke Byrne (Kameron Ledwidge 46), Shane Griffin, Gavin Molloy, Stephen Negru, John Ross Wilson (Brian McManus 61); Shane Farrell (Mark Coyle 62), JJ Lunney (Aodh Dervin 68), Jack Moylan; Sean Boyd (Daniel Carr 68), Matty Smith.

Subs not used: Scott Van der Sluis, Aaron O'Driscoll, Gavin Hodgins, Josh Giurgi.

Booked: Matty Smith (80).

Drogheda United: Colin McCabe; Keith Cowan, Dane Massey, Andrew Quinn; Ryan Brennan (Victor Arong 69), Dylan Grimes, Darragh Markey (Stevan Stanic-Floody 55), Darragh Nugent, Dayle Rooney (Dylan Molloy 46), Emre Topcu; Chris Lyons (Dean Williams 28).

Subs not used: Lee Steacy, Fiachra Pagel, Callum Ralph, Jack Supple.

Booked: Dane Massey (79) Dylan Molloy (85).

Referee: Mark Moynihan

extratime.com Player of the Match: Matty Smith (Shelbourne)

League Report: Dundalk FC 2- 1 Bohemians https://t.co/l2pc9r21AVpic.twitter.com/stUpsjBhEo

— Extratime.com (@ExtratimeNews) October 28, 2022
Aisling Hannon has yet to write anything about themselves but click on the bio link to view all past work.
| P | Team | Pd | W | D | L | Pts |
| --- | --- | --- | --- | --- | --- | --- |
| 1 | Shamrock R | 36 | 24 | 7 | 5 | 79 |
| 2 | Derry | 36 | 18 | 12 | 6 | 66 |
| 3 | Dundalk | 36 | 18 | 12 | 6 | 66 |
| 4 | St. Pats | 36 | 18 | 7 | 11 | 61 |
| 5 | Sligo | 36 | 13 | 10 | 13 | 49 |
| 6 | Bohs | 36 | 12 | 10 | 14 | 46 |
| 7 | Shels | 36 | 10 | 11 | 15 | 41 |
| 8 | Drogheda | 36 | 9 | 11 | 16 | 38 |
| 9 | UCD | 36 | 6 | 8 | 22 | 26 |
| 10 | Harps | 36 | 4 | 8 | 24 | 20 |
Be Social