Markus Poom on rocky Rovers start to league as recent results leave Hoops on brink of history: 'At start of the season, it was hard for us to get results. It wasn't tense. It wasn't anxious. It was 'just get your head down, work hard and the results will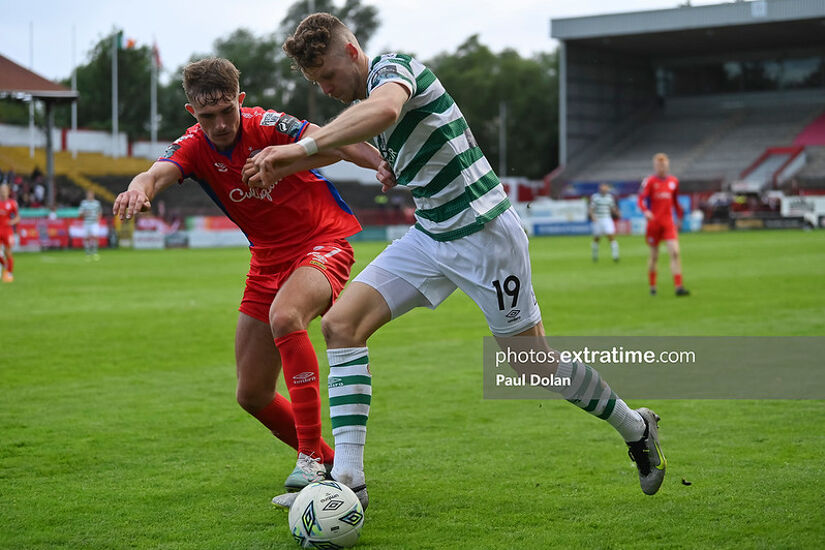 Macdara Ferris reports from Tallaght Stadium.
Shamrock Rovers are on the cusp of their 21st league title. Victory away to St. Patrick's Athletic on Friday night will secure the Hoops a League of Ireland record breaking four-in-a-row.
That is some position for the Hoops to be in going into their third last game of the season given the start to the campaign – their worst for two decades. After Rovers drew with Pat's 2-2 in the first game between the sides this year – in what was their sixth game of the league campaign – Stephen Bradley's side still hadn't won a game.
Fast forward to Rovers' 5-0 win over Drogheda last Sunday night and that was their eighth consecutive league win in a row – with seven clean sheets – all a far cry from Rovers results at start of the season when they didn't win in Tallaght until April.
Markus Poom spoke after the victory over the Drogs with extratime.com asking the Estonian international about that turnaround and their impressive recent home form.
Hard for Hoops
"I think actually at the start of the season, it was hard to put results together at home," said Poom. "I think it's good we turned that tide around, at home you can feel it. It's almost like you're playing with an extra man, it gives us so much energy.
"Looking back to the start of the season, me being a new player I could sense what the players were talking about. It wasn't tense. It wasn't anxious. It was 'just get your head down, work hard and the results will come'.
"That's down to the coaching staff. They've been a good voice for us in the changing room. For me, it's been brilliant.
"He's a top manager," said Poom about Hoops Head Coach Stephen Bradley, "and he's got a really bright future ahead of him."
League Preview: St. Patrick's Athletic -v- Shamrock Rovers https://t.co/IgJuWeGFk1pic.twitter.com/AFYXUyVkpz

— Extratime.com (@ExtratimeNews) October 26, 2023
In between Rovers and winning the title on Friday is a St. Pat's side who guaranteed this week European football for next season and are facing into next month's FAI Cup Final against Bohs. Poom reckons Friday's game has the feel of a cup final with what is at stake for his own team.
"It feels like the next game is kind of a final. If you want to win the league, you want to beat the best as well. It's going to be a massive game for both teams, and for the fans to watch. It will be even more special if we do get that win there."
Hoops history
Victory would equal Rovers' 1980s four-in-a-row team. The final title for that team came in 1987, the year before Markus Poom's father Mart Poom began his professional career with Flora.
As a 24-year-old from Estonia, for the younger Poom, who is playing his first season in the League of Ireland, it is unsurprising to hear that he doesn't know too much about Rovers' history.
However, he said: "I just know it's a big deal. I know we would be in good company if we made that happen (winning four-in-a-row). From my point of view, it would be a privilege to get that kind of thing onto your name so it's something no one can take away from you.
"We've got good people ahead of us who have done that and in this group we feel that we want to do that ourselves.
"(The 80s Rovers team) is a big inspiration for us. You just have to focus on the now and, just try to kind of live up to their standards."
Special
Poom has started 26 of Rovers' 33 league games this season – only Pico Lopes (27) and Dan Cleary (29) have more starts. His valuable contribution means that Rovers supporters would certainly like to see the player, who is currently on loan from Flora, stay on for next year but nothing has yet to be decided on that front.
When Poom headed home Rovers fifth goal against Drogheda, the elongated POOOOOMMM rang out around Tallaght Stadium stands in celebration from the supporters.
"That's the first time fans have ever sung songs about me. That's already really special for the season, as a loan player still, it's just incredible to see the fans' support, I'll cherish those moments.
"I think that's down to my agent and the club to see what happens (for next season) but from what I see, what I've experienced, it's such a good place for me to develop and I feel that I've added something to the team.
"I'm in a good environment and yeah really happen with the season and looking forward to the future.
"I feel this season, I've had to adapt, I think it took me a month or even two or three months to get to grips with the way the team plays, because it's quite different from the way my last team played in Estonia.
"It took me a little bit of time but I could see it's a place I want to be at.
"I just feel really comfortable in how the manager wants us to set up and how he wants us to play and my role in the team so it's been for me a really positive year and also for my development a kind of way of playing, different ideas, in that sense, it's been a step forward for me."
Bradley on his Hoops future and relationship with John Giles: 'He watches all of our games and gives feedback. We were winning games and he had a go at me, he said 'youse weren't good' and I thought 'f*cking hell John'. I watched it back and he was right. https://t.co/oUkuXL5z2Wpic.twitter.com/dp0Y8OssC3

— Extratime.com (@ExtratimeNews) October 23, 2023