Hoops historic four-in-a-row side playing part in Bradley's quest as talk turns to five in a row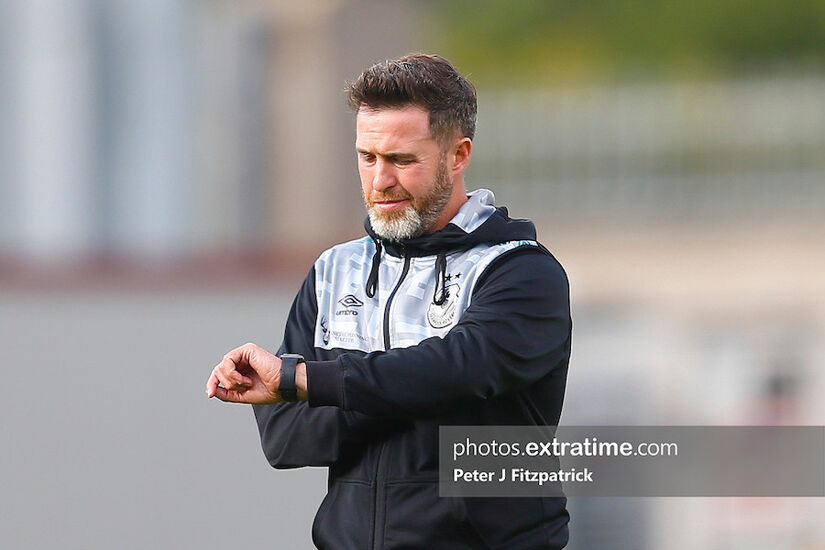 Macdara Ferris reports from Tallaght Stadium
Shamrock Rovers' 5-0 demolition of Drogheda United on Sunday night puts the Hoops on the brink of the title - a win in Inchicore next Friday is all that is now required to equal the historic Hoops four-in-a-row from the 1980s.
Stephen Bradley spoke after the match about how his team has embraced the quest to match that famous Rovers team, how members of that historic Hoops side continue to help his team and he spoke about laying down a marker – not stopping at four-in-a-row but going further.
"My thoughts to the board for quite some time were what can we do to go again?" said Bradley after his team won their eighth consecutive home league game at the weekend. "What are the plans to go again? That's what I've wanted to do.
"I've got a feeling off a lot of people, not just at the club but around, that there is this magic number of four and then we just walk off into the sunset. That has never been my thought process. Why? Five, six…
"The group is in a really good place, we keep evolving, but people talk about four as if it's, 'Off you go, thanks very much'. We want a seat at the top table with them and then we want our own table."
Bradley spoke about the influence of the team who won four in a row in Milltown and how he has tapped into their experience including just this past week when Mick Byrne spoke with the current Hoops squad. Byrne scored 31 goals in the 65 league games he played in during that successful title winning run.
"We have always embraced it from day one," said Bradley about the history around that famous Rovers team. "One of the first things we did was meet the four in a row team - the majority of them - and tried to bring them into the team as much as possible.
"They have been unbelievable in the support they have given us in terms of talking to us as staff and the players. It is really important that the players were aware of what they did, how they did it and the regard they are held to this day because of that.
Mick Byrne
"We had Mick Byrne up on Thursday and we had a good chat with them as a group. It was brilliant what we got out of it. Mick, to be fair, said to me they are in a really good place, the players. He just got a feeling off them. There was no nervous tension or anything.
"We need one more win to join them, but we can't thank them enough so far for what they've done for us. It has always been our aim to go and join them and hopefully beat them eventually. We embrace it, bring it into the group and understand and rather than hide away from it."
That run of league titles ended with the sale of Milltown and the departure of so many of that title winning team – many to Derry City. "We spoke to Mick Byrne and Pat Byrne and Milltown really hurt them, and the time they lost six players to Derry who went and were successful. But they feel they could have gone and done five, six or seven? Why can't we?"
Jim McLaughlin managed the Hoops to three of those four titles in the 80s before leaving for Derry and Stephen Kenny did a three in a row with Dundalk in the 2010s but should Rovers get over the line Bradley will be the first manager in League of Ireland history to win four-in-a-row. What would it mean to him?
"Well I haven't done it myself. I'm lucky, I'm really lucky with Stephen (McPhail), Glenn (Cronin), Jose (Ferrer – goalkeeping coach), Marc (Penrose - video analyst), Tony Mac (McCarthy - physio)... I'm the front of it, obviously, and it's my name, but I'm really lucky.
"I have some of the best people in the country around me, people that will be lifelong friends, long after we are done in football. We are not there yet, but it is definitely something we have worked towards from day one."
Cronin
In the Rovers match programme on Sunday, Glenn Cronin spoke about the ambitions set out right at the start of the Bradley tenure. "I remember sitting with Bradser in my house when he took the job, and people might think I'm mad but we spoke about it," said Cronin about looking to match that historic Hoops 1980s.
"We said we want to be the best there's ever been at this club. We spoke about changing how we play and bringing the club to the next level. We spoke about four, five, six-in-a-row. It was a dream really and to be close to doing it is exciting."
Dublin derby
Next up is a trip to Richmond Park on Friday where Bradley knows a win is all that is required to be champions again (although should Pat's drop points at home to Sligo Rovers on Monday then a point will do.
Bradley said: "A Dublin derby in Inchicore - it would be nice to go there and win it (on Friday) and hopefully we can join that great team at the top table."
League Report: Shamrock Rovers 5 – 0 Drogheda United https://t.co/DS7Fkim2j9pic.twitter.com/Egcn3KWWE6

— Extratime.com (@ExtratimeNews) October 22, 2023