League Report: Wexford 0 - 2 Galway United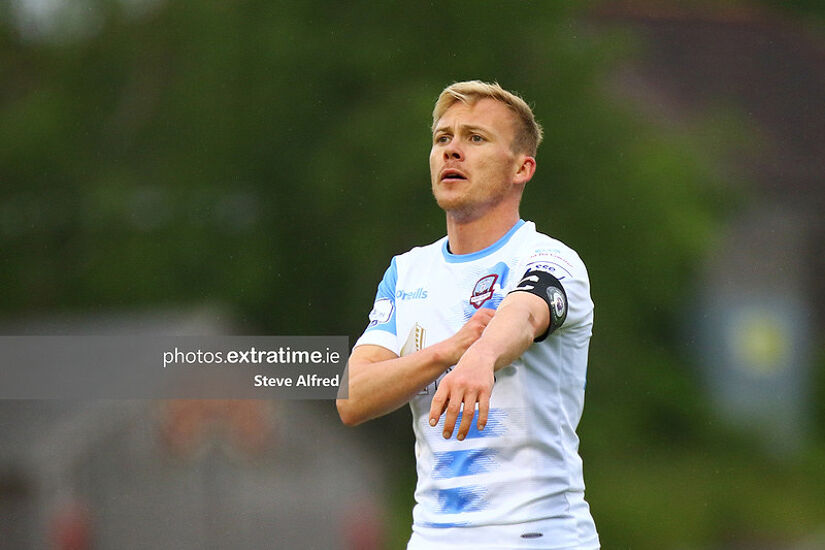 Galway maintained their firm ten-point lead at the top of the First Division table after snatching all three points in a 2-0 win over Wexford FC at Ferrycarrig Park on Friday.
Goals from Conor McCormack and Edward McCarthy gave the visitors a comfortable victory despite a strong performance from the home side.
Wexford couldn't pull off a shock win over The Tribesmen, but Bray's 3-1 defeat to Waterford means they remain just three points below The Seagulls in their bid to climb into a promotion spot.
The Slaneysiders were without skipper Ethan Boyle and last week's goalscorer Darragh Levingston due to suspension, with Galway travelling without Killian Brouder due to his accumulation of yellow cards.
The first half played out as expected, with Galway keeping the majority of possession, but Wexford did well to close them down on several occasions.
Hugh Douglas produced an excellent block from an early McCarthy shot as the referee waved away pleas for a potential handball during the clearance.
It took just 18 minutes for the visitors to take the lead when McCormack whipped the ball into the net directly from a corner kick for his first goal in a Galway shirt.
Wexford's James Crawford had cleared the ball in the build-up which led to the corner kick being awarded, but despite frantic movements from both sides around the box, the ball ended up in the net straight from the foot of the former Cork City midfielder.
Galway had another chance gifted to them towards the end of the half when Stephen Walsh found himself unmarked and one-on-one with goalkeeper Charlie Heffernan, however, by taking too long on the ball, Heffernan and Douglas were able to put themselves on the line to block the inevitable shot.
Walsh played a superb game and hit the post early in the second half as his side went straight on the attack.
Wexford appeared to play with a bit more urgency in the opening stages, but they were caught out close to the hour mark when McCarthy slotted the ball with ease past Heffernan to double their lead.
The chance came from a free kick which David Hurley took quickly, giving Wexford no chance to get themselves organised, and his low pass to an unmarked McCarthy left the home defence in a state of shock.
Hurley himself had an attempt saved later in the half when Kian Corbally slid low to stop him in his tracks, and Walsh hit the crossbar again in the dying stages.
Despite several bursts of energy on display, Wexford's only real chance to put the ball in the net came from substitute Sean Fitzpatrick with five minutes left on the clock, after he found himself running solo towards the goal, but Galway were quick to block his shot.
The chipped follow-up clipped the top of the crossbar, denying the youngster his first senior goal and Wexford's first against Galway this season.
The league will now take a two-week break, with Galway meeting Longford at Eamonn Deacy Park on June 23rd in a bid to secure ten home wins out of ten this season.
Wexford will take the long trip to Ballybofey as they face Finn Harps, who lie just one point behind them in the table, so a crucial fixture awaits for James Keddy's men.
Wexford: Charlie Heffernan; Hugh Douglas, Matthew Dunne, Ben Lynch (Sean Fitzpatrick 50), Reece Webb; Kian Corbally, James Crawford, Brandon McCann (Conor Levingston 80), Corban Piper; Karl Chambers, Aaron Dobbs.
Subs not used: Colm Cox, Jordan Tallon, Kaylem Harnett, Danny Furlong, Evan Farrell.
Booked: Matthew Dunne (26).
Sent off: None.

Galway United: Brendan Clarke; Regan Donelon (Oisin O'Reilly 87), Maurice Nugent, Rob Slevin, Stephen Walsh; Vincent Borden, David Hurley (Mikie Rowe 87), Francely Lomboto (Rob Manley 58), Evan O'Connor; Edward McCarthy (Darren Clarke 67), Conor McCormack.
Subs not used: Alex Rutter, Conor O'Keeffe, Ronan Manning, Steven Healy, Ibrahim Keita.
Booked: Ollie Horgan (64), Evan O'Connor (70), Regan Donelon (76).
Sent off: None.

Referee: Chris Sheehan
Attendance: 616
extratime.com Player of the Match: Stephen Walsh (Galway United).