Simone Inzaghi on dreaming of writing a new page in Inter's history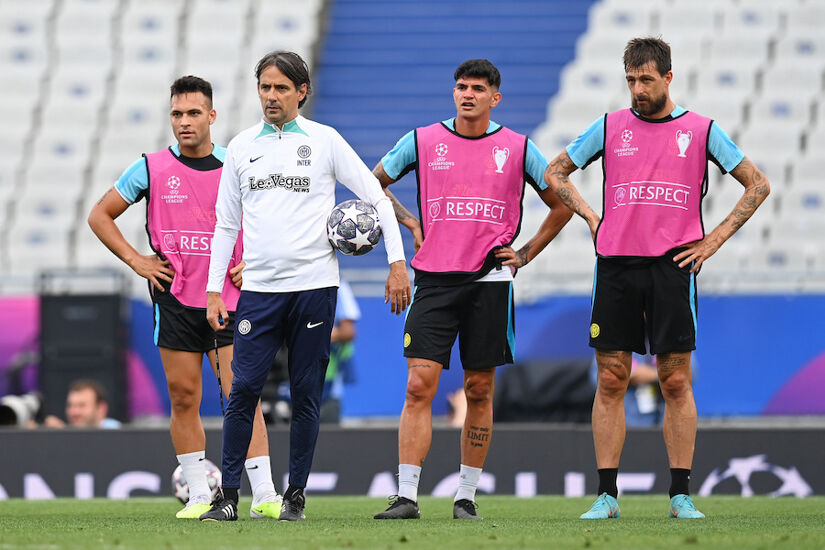 Macdara Ferris reports from the Atatürk Olympic Stadium in Istanbul
Inter Milan are out to make their own history on Saturday night against what their manager Simone Inzaghicalls "probably the best side in the world."
His Inter side finished third in Serie A 18 points behind Napoli but they did lift the Coppa Italia and are now fully focused on this Champions League final against Manchester City.
"This is the 57th match of the season for us but the first 56 allowed us to reach this final," said Inzaghi on the eve of the game. "We have had difficult moments but our commitment has taken us to Istanbul.
"We are proud of our Champions League campaign. We must make no mistakes as our opponents are very strong."
Inzaghi's rallying words to his troops were "what really matters is fitness, mind and heart. You need to be fit to run, you need your mind to stay focused at all times and you must put all your heart into these games.
"I'm at helm of a group of real men. The players have given me huge joy over the last 20 months."
The Nerazzuri are seeking their fourth European Cup and their first since 2010 when they defeated Bayern Munich 2-0.
"This is a huge opportunity to write a page of Inter history. We know it will be tough. Together we will try to make history.
"For us it was a dream but we have always believed in it. I'm proud to be here. Nobody has given us anything, we deserve everything that we have achieved.
"And now the dream to play the final has come true. It has been an extraordinary path and winning a derby in the semi-final brought particular satisfaction."
Argentinian Diego Milito was the hero for Inter 13 years ago in that win over Bayern – an inspiration for his compatriot Lautaro Martinez who with his recent World Cup winners medal already in his locker is just one match away from adding one from the Champions League.
"I'm aware of what Diego Molito achieved at this club and in that Champions League final," said Martinez on Friday evening. "These are the two major finals a footballer can play in. The only thing that changes is the shirt. The feelings are unique as you've made it to the final after working very hard."
The striker ended the season with 21 league goals, matching his career best from the last campaign; only Victor Osimhen from Serie A champions Napoli scored more (with 26) and 22/23.
"I hope we can turn in a great performance, get a result and bring the trophy home to Milan. It is a huge dream for us but a very difficult dream to fulfil. We are just one step away."
Champions League Final Preview: Manchester City -v- Internazionale https://t.co/9UcWPH2JKDpic.twitter.com/avQn90aXS2

— Extratime.com (@ExtratimeNews) June 9, 2023