League Report: Cork City 1 - 2 Dundalk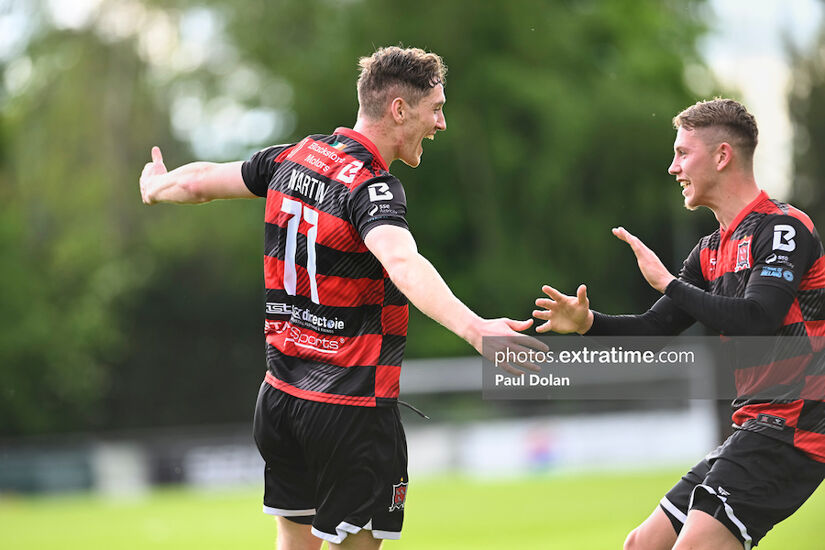 Stephen O'Donnell saw his side achieve two wins in a week after they rallied to win at Turners Cross on Friday night.
A goal late in each half from Ryan O'Kane and substitute John Martin proved to be the deciding factor. They now move within two points of Bohemians, albeit with an extra game played.
This result is a blow to the home side whose four-game winning streak has ended. They had taken the lead via Ruairi Keating in the 20th minute but were unable to maintain it until halftime.
They will undoubtedly be disappointed about the nature of the goals conceded after demonstrating solid performance in recent games.
There was just one change in the starting line-ups for both sides.
The interim management team, comprising Liam Buckley, Richie Holland, and Liam Kearney, who were named until the end of the season, introduced Barry Coffey in favour of Joe O'Brien-Withmarsh.
Dundalk was able to include Wasiri Williams back into the squad after his recent injury.
Both sides noticeably struggled with the pitch in the early stages, likely due to a recent dry spell.
The first real opportunity fell to Dundalk. Ryan O'Kane played a corner low into the box towards the unmarked Patrick Hoban. His effort was heading towards the bottom corner before Jimmy Corcoran was able to intervene.
Cork's first real attack saw the ball played into the path of Tunde Owolabi, but Louis Annesley was able to snatch it from him just as he was about to shoot.
Barry Coffey launched a ball over the top of the visitor's defence to Ruairi Keating as the home side pushed on. Stretching, Keating could only manage a shot across the goal that just missed Owolabi at the back post.
City's top scorer, however, was not to be denied for long. Coffey sent the ball down the flank to the hard-working Kevin Custovic. His low cross into the area was expertly tapped home by the in-form striker.
Dundalk attempted to respond at the other end, but Greg Sloggett saw his chance blocked as the ball bounced around the penalty area.
The likes of Coffey and Matt Healy in midfield were proactive and created several chances for both Keating and Owolabi that were not converted. The latter should have made it two as the home side continued on the front foot.
He played it out wide to Healy, whose return ball into the area was met at point-blank range by the striker. Somehow, Nathan Shepperd managed to save it before the follow-up was cleared by Boyle.
The combination of John O'Donovan and Healy, which brought about the opener against Bohemians on Monday, almost combined yet again.
The young right-back played it back to the winger after his corner was initially cleared. He unleashed a curling effort from the edge of the area that went just past the post.
Dundalk did manage to draw level in curious fashion just before the break. O'Kane floated in a corner from the left-hand side that seemed to evade everyone before landing in the net.
City then found themselves in front with yet another unusual goal.
A corner was played in from the left by Matt Healy and only half-cleared by Jay McGrath. O'Brien-Withmarsh was lurking on the edge of the area, and his header seemed to deceive Dean Lyness and ended up in the bottom corner.
Keating almost made it three from an excellent Healy cross but just missed with his header. The game remained lively as both Mulraney and Owolabi had opportunities to add to the scoring before the break.
Clear chances were scarce at the start of the second half. Dundalk, notably energized by their equalizer, began to exert more pressure on the home side. Keating had a chance blocked, and City was starting to drop deeper.
The away side, traditionally strong on set pieces and crosses, almost proved it yet again. O'Kane's delivery was only half-cleared into the path of substitute Rayhaan Tulloch. He got too much on his effort, and it sailed over the bar.
Moments later, they came closer. A ball into the area was missed by Hoban and fell into the path of Elliott. His effort was blocked on the line by O'Donovan.
O'Kane almost replicated his goal from earlier, but Corcoran was able to deflect it under pressure. Clear chances at the other end were scarce. Healy swung a cross in after a corner to the back post. After a bit of head tennis, it fell to Custovic who was unable to keep his shot down.
The pressure told as Cork was unable to clear the ball. It was played back in, and substitute John Martin made the most delicate of flicks on his header to loop it past Corcoran.
They threatened a third when Tulloch broke through only to be held up by Gilchrist. Despite six additional minutes of play, City could not find the equalizer to maintain their unbeaten run.
The away fans were the ones celebrating at the final whistle after a long journey. Both sides now have a two-week break because of international games.
Dundalk is looking towards a derby encounter with Drogheda on June 23rd at Weavers Park at 19.45.
Cork City faces a daunting trip to play away to Derry City on the same evening.
Cork City: Jimmy Corcoran; Cian Coleman, Ally Gilchrist, Josh Honohan, John O'Donovan (Daniel Krezic 80); Aaron Bolger, Barry Coffey (Cian Bargary 80), Kevin Custovic, Matt Healy; Ruairi Keating, Tunde Owolabi (Cian Murphy 84).
Subs not used: Gordon Walker, Eanna Fitzgerald, Colin Henderson, Joe O'Brien Whitmarsh, Josh Fitzpatrick, Daniel Moynihan.
Booked: None.
Sent off: None.

Dundalk: Nathan Shepperd; Louie Annesley, Andy Boyle, Archie Davies, Darragh Leahy; Daniel Kelly (Rayhaan Tulloch 57), Ryan O'Kane (Paul Doyle 89), Greg Sloggett, Johannes Yli-Kokko (Connor Malley 57); Cameron Elliott (John Martin 77), Patrick Hoban.
Subs not used: Mark Byrne, Peter Cherrie, Wasiri Williams, Hayden Muller, Keith Ward.
Booked: None.
Sent off: None.

Referee: Robert Hennessy
Attendance: 3815
extratime.com Player of the Match: Ryan O'Kane