Champions League final plans put in place to avoid last year's pre-match chaos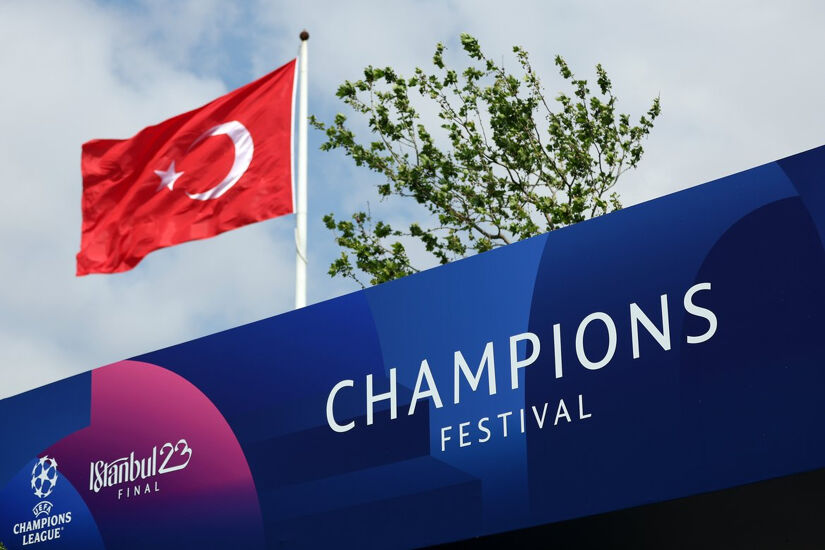 Macdara Ferris reports from Istanbul
UEFA have put in place two fan zones adjacent to the Ataturk Olympic Stadium venue for Saturday's Champions League final as part of their plans to avoid the scenes that marred the build up to last year's final at the Stade de France.
The 72,000 capacity arena is a 90 minute three-metro line ride from the city centre and from the fan festival at Yenikapi Festival Park on the European side of the city looking out over the Marmara Sea.
View from the Inter fan zone at the Ataturk Olympic Stadium https://t.co/9CsIK4mOLFpic.twitter.com/84Eigznyoj

— Macdara Ferris (@macdarabueller) June 9, 2023
The final organisers are looking to get fans of Manchester City and Inter Milan out to the stadium early by locating the fan zones with food and drink in place out at the stadium for ticket holders. Both the Man City zone (south of the stadium) and Inter's (north) are less than a kilometre from the stadium entrances.
A free transport programme has been put in place with dedicated shuttle buses between airports, the city center and the fan zones.
By downloading a fan pass on the Champions League app, match ticket holders can travel free on the shuttle buses or on the public transport. The match kicks off at 10pm local time.
Fans have been warned not to bring coins with them to the stadium as per local regulations.
Any coins removed prior to entry to the stadium will be donated to the Earthquake Fund in support of those affected by the earthquakes in Türkiye and Syria.
Who are Champions League finalists Manchester City? https://t.co/xCjABduRRVpic.twitter.com/3sM6g88qxS

— Extratime.com (@ExtratimeNews) June 9, 2023