League Preview: Waterford -v- Bray Wanderers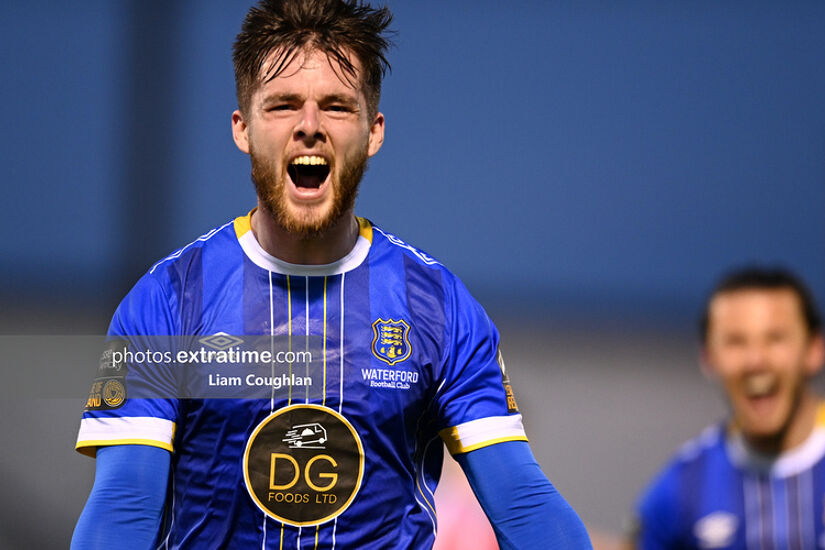 WATERFORD
The double set of fixtures at the Bank Holiday weekend brought no change to the overall profile of the First Division league table, with the two-horse race for automatic promotion between Galway United and Waterford the most significant feature of this year's campaign.
Waterford certainly ensured there was no change from their perspective as they had an excellent weekend with 13 goals scored, none conceded and the full six points in the bag.
If anything, they fared better than their top of the table rivals as Galway Utd only managed a 1-1 draw on Friday night against Bray Wanderers, with the Seagulls now being Waterford's opponents at the RSC this Friday night.
Waterford's 6-0 win in Tralee on the Bank Holiday Monday was all too easy for them, as they were much too street wise and experienced for the very youthful and lightweight Kerry team.
They took a while to adapt to the all-weather pitch and the Mediterranean type weather conditions, but when they got their opening goal in the 35th minute, it was all one-way traffic from then until the final whistle.
Manager Keith Long will have been particularly impressed with the spread of goal scorers over the weekend, albeit that Ronan Coughlan is certainly grabbing all the headlines. He scored four in Tralee, and has notched 23 goals so far this season
Speaking ahead of the game Head Coach Keith Long said ''We were delighted with the result, the performance and the attitude of the players [v Kerry]. Once we got the first goal and got ahead, we never looked likely to concede. We got ahead at the break and then scored some more good goals in the second half to run out winners.
"Bray will be really tough opposition. They gave us a really tough game at the Carlisle Grounds and they've come to the RSC and taken a point already. They're a well organised team and we know Ian [Ryan] will have a plan for how he wants them to play.
"We're hoping to have Dean McMenamy back in the squad and Darragh Power is back now too [both after injury] so hopefully we can get a good performance and result on Friday to send us into the break with a positive result."
BRAY WANDERERS
Bray Wanderers are one of a cluster of mid table teams who are all chasing the remaining promotion play-off spots, knowing that Waterford and Galway Utd are probably well out of reach even at the half way stage of the season.
Their opponents on Friday night, Waterford, are a full 14 points ahead of them so baring a total and highly unlikely collapse on their part, second place seems very much out of reach for the Seagulls.
New manager Ian Ryan has made Bray very competitive and hard to beat this year and they have only lost five games all season.
They currently sit on 25 points and had been on a five-game unbeaten run up to last weekend's 3-1 loss away to Athlone Town.
They were well beaten in that game at Lissywollen and can have no complaints about the result, having been 3-0 down at the end of the match only for Chris Lyons to get a consolation goal in the 94th minute
Ryan spoke to the Bray Wanderers media team this week and said: "We don't view them (Waterford) as superior to us although they are a really strong team.
"They've scored 13 goals in their last two games (against Kerry 6-0 and Treaty 7-0). That will tell you have strong they are.
"We'll go there and look for a reaction from our lads – as we've seen throughout the season so far – that we can compete with the top teams.
"Consistency is the magic formula that we've been missing throughout the year. We were really good against Galway. That put us into a really good position going into Monday's game. It was a missed opportunity after gaining a good point the previous Friday".
He continued: "The performance itself was really poor. But we know that – the players know that. And we can't get too emotional about it.
"It's one game – it's gone. What we can do is rectify it by a proper performance on Friday."
Referee: Gavin Colfer.
MATCH STATS
Bray Wanderers have never managed to beat Waterford in any of their last eight encounters, and the best they have managed is a 1-1 draw in their first game in the 2023 season.
The most recent clash between both teams was in the Carlisle Grounds in Bray in late April with Waterford winning 2-1 on that occasion.
Bray did take a very early lead in that game courtesy of a third minute Cole Omorehiomwan goal.
But their cause was not helped by the 52nd minute red card for Max Murphy, Waterford went on to take full advantage of the extra man with Ronan Coughlan netting two goals in the 55th and 75th minute.
PREDICTION
Waterford 2-0 Bray Wanderers
Waterford
Injured: Wassim Aouachria, Harvey Warren.
Doubtful: None
Suspended: None
Bray Wanderers
Injured: Guillermo Almirall.
Doubtful: None.
Suspended: Ger Shortt, Dane Massey.
League Preview: Cork City -v- Dundalk https://t.co/4GKK2bL3Kkpic.twitter.com/UobLPAfmqV

— Extratime.com (@ExtratimeNews) June 8, 2023