Ireland U17s bow out of UEFA European Championship in spirited performance against Spain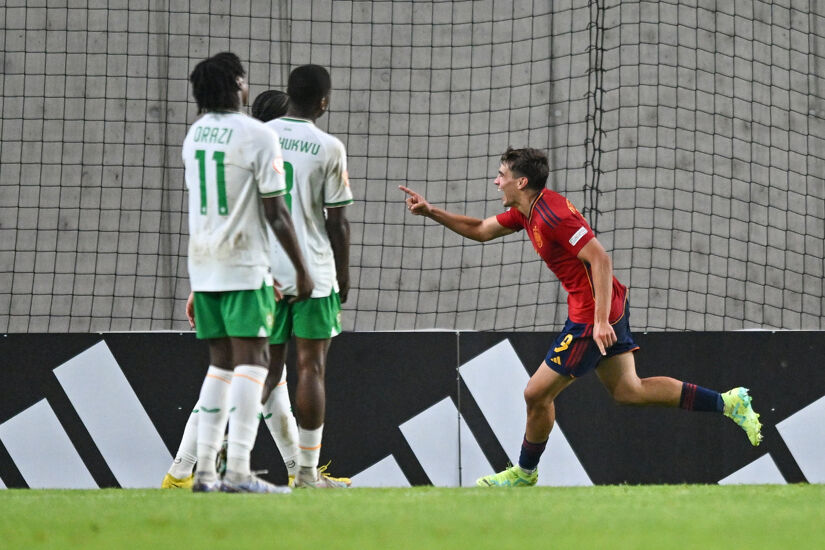 The Ireland Men's Under-17 football team met defeat against a stellar Spanish side in the UEFA European Under-17 Championship Quarter Final held in Budapest.
Despite a spirited performance by the Irish boys, a 3-0 scoreline did not accurately reflect their diligent efforts.
Goals from Spanish players Alejandro Granados, Marc Guiu, and Yamine Lamal were decisive, sending Spain into the semi-finals.
Following an initial defeat, Colin O'Brien's team exhibited commendable resolve, registering back-to-back victories to secure their place in the quarterfinals against the nine-time champions, Spain. The opposition had a strong line-up, including Lamal, FC Barcelona's youngest ever player.
Lamal lived up to his reputation by challenging Ireland's defence, dispossessing Naj Razi on the edge of his own area. However, a strong block by Jake Grante prevented any damage.
Demonstrating exceptional discipline and organization, the Irish boys restricted the Spanish play, simultaneously posing an occasional offensive threat. Luke Kehir and Romeo Akachukwu created a promising attacking position, but were denied by Spanish goalkeeper Raul Jimenez.
Spain's Granados, however, broke through Ireland's resilience with an incredible goal, sending a curling shot from 30 yards out straight into the corner of the net. Despite this setback, the Irish boys showed strength, with Naj Razi leading the offensive charge.
Ireland's goalkeeper, Jason Healy, made an impressive reaction save after the restart, denying Javier Hernandez's powerful header from close range.
This gave a boost to the Irish side, who pushed the Spanish back into their half and came close to scoring when Luke Kehir's cross found Ike Orazi at the back post. However, a strong block prevented Akachukwu from levelling the score.
Unfortunately, Spain inflicted a double blow 20 minutes before the end of the match. First, Pau Prim took advantage of a lapse in the Irish defence, allowing Marc Guiu to score his fourth of the tournament.
Two minutes later, Lamal secured a third goal for Spain, sending a powerful strike into the bottom corner.
This loss dashed Ireland's hopes of a semi-final place, and a late win by France against another team meant they also missed out on a World Cup Play-Off game.
Speaking after the match, Ireland's Head Coach Colin O'Brien expressed immense pride in his players.
"We come here off the back of two qualifying campaigns and get out of a tricky group after a tough opener and pair ourselves against a top nation in world football. Even at the youth level, they're on a different level. However, we competed, we tried to stay in the game but I couldn't ask any more of them and when they reflect on it they'll realise they've done themselves, their family and their nation proud."