League Report: Cork City 1 - 0 Dundalk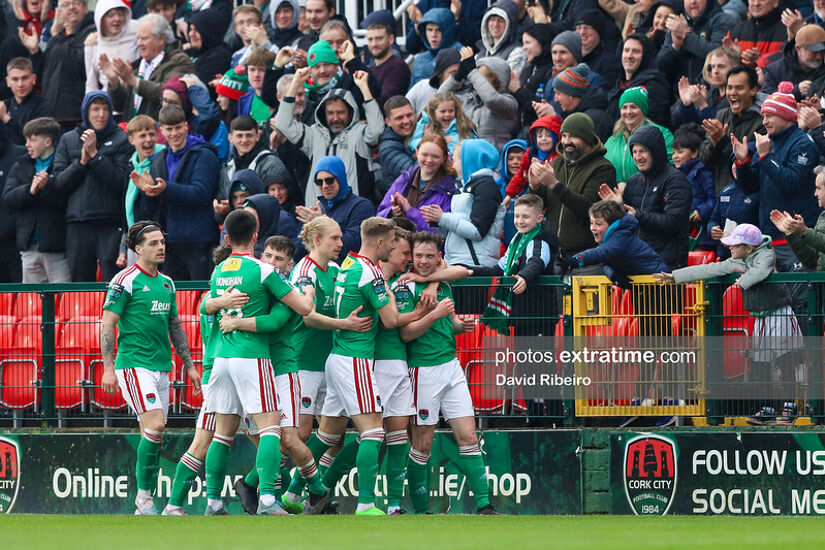 Cork City hung on to secure a precious three points to move them seven points clear of bottom side UCD.
A first-half goal from Cian Murphy put the Leesiders in front after a positive spell against the Lilywhites. They then remained firm to manage their second win of the campaign.
It is yet another defeat in a poor spell for the visitors though. After a bright start, they lost their way in the game to find themselves behind. They were unable to find their way through a massed home defence after the break.
It is more pressure on the shoulders of the manager Stephen O'Donnell who has seen his team lose three in row.
Both managers made three changes following recent defeats. Colin Healy brought back in Cian Coleman, Joe O'Brien-Withmarsh and Cian Murphy as Darragh Crowley, Albin Winbo and Daniel Krezic. O' Donnell freshened up his side after defeats at home to Sligo Rovers and Shamrock Rovers.
Daniel Kelly, Greg Sloggett and Robbie McCourt all started in favour of Darragh Leahy, John Martin and Ryan O' Kane. They were boosted by the return of Patrick Hoban to the matchday squad.
Both sides were seeking a boost in their form and it was the away side who almost went ahead in the opening minute. Johannes Yi-Kokko latched onto a flicked header from Sloggett to find himself through on goal. His fellow countryman denied him with a smart block before he got a shot away.
Sloggett then went to ground clutching his head after a set piece. Nothing was given despite the appeals. City were finding it difficult to get a grip on the ball in this early phase and struggled to create much of note.
They eventually worked their way into the opposition half and had their first shot in anger. Cian Bargary caused an issue via a long throw in before it was only cleared as far as Aaron Bolger on the edge of the area, His effort was just blocked though.
Moments later it was Kevin Custovic who was lurking outside the area with intent. His shot was tipped away for a corner from which Ally Gilchrist headed just wide.
The pressure was building, and they soon had their reward. Ruairi Keating beat Andy Boyle in the air to flick the ball on to his strike partner Cian Murphy. He slotted past Nathan Shepperd who seemed to slip as he was attempting to save it.
It was an ideal time for him to score his first of the season just before the break.
Dundalk were stung by this concession and aimed to remedy it quickly. They forced City back through balls into the area and won a number of corners and set pieces. They were looking for that loose ball and Connor Malley almost found it. He jinked his way into the area and was only stopped by a Custovic block.
Another untracked run into the area by Sloggett saw the ball flash across the area.
If City were unable to carve out much clearcut chances, they were still able to stand firm at the back. O' Donnell brought on Hoban in an attempt to find a way back into the back. The home fans were relieved to see two efforts by Rayhaan Tulloch go just past each post in the space of a few minutes.
Despite the addition of four minutes injury time, the home side managed to hang on for a crucial win. Given they had been ahead against Shamrock Rovers and Sligo Rovers and were not able to see out the win, their resilience will impress Healy. It could be a platform to build on for the rest of the season. They next travel to Dublin on Friday to take on winless UCD. Dundalk must wait until Sunday at 3pm due to the visit of Joe Biden before they take on high flying Derry City.
Cork City: Jimmy Corcoran; Cian Coleman, Ally Gilchrist, Jonas Hakkinen, Josh Honohan; Cian Bargary (Darragh Crowley 71), Aaron Bolger, Kevin Custovic, Joe O'Brien Whitmarsh (Barry Coffey 69); Ruairi Keating, Cian Murphy (Ethon Varian 78).
Subs not used: Aaron Mannix, John O'Donovan, Albin Winbo, Tunde Owolabi, Daniel Krezic.
Booked: None.

Dundalk: Nathan Shepperd; Andy Boyle, Archie Davies, Robbie McCourt (Patrick Hoban 72), Hayden Muller; Alfie Lewis, Connor Malley, Greg Sloggett, Johannes Yli-Kokko (Ryan O'Kane 57); Daniel Kelly (John Martin 46), Rayhaan Tulloch.
Subs not used: Mark Byrne, Peter Cherrie, Wasiri Williams, Darragh Leahy, Anthony Moyo.
Booked: Johannes Yli-Kokko (45), Archie Davies (68), John Martin (77).
Sent off: None.

Referee: Sean Grant
Attendance: 3,674
extratime.com Player of the Match: Cian Coleman (Cork City)
In Pictures: Cork City 1 - 0 Dundalk https://t.co/UhcDlH8CRUpic.twitter.com/6vXEQTwFkx

— Extratime.com (@ExtratimeNews) April 10, 2023