League Report: St. Patrick's Athletic 1 - 0 Shelbourne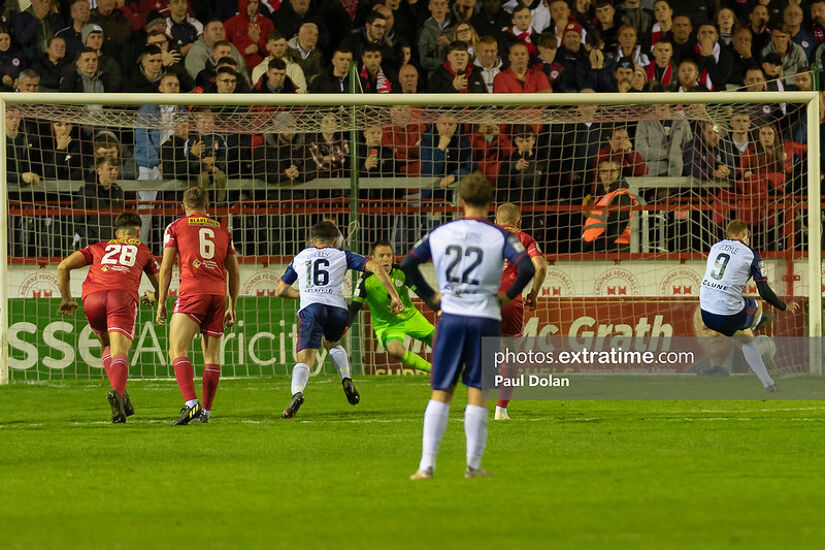 An Eoin Doyle goal six minutes from time earned St Patrick's Athletic their first win of the season against Shelbourne at Richmond Park on Friday night.
Doyle started the game on the bench and watched on, along with almost 5,000 spectators, as his side failed to breakdown a visiting team who had been superbly organised by manager Damien Duff.
The Saints enjoyed the majority of the possession and started out at a terrific pace but time and time again their attacks founded on the rocks of the Shelbourne back five.
Nor was Shelbourne's game only about stopping the other side. When opportunities arose they broke forward at pace and with the ball at their feet they played a three-man forward line that pressed high and hard.
But with the initiative left largely to Pats, and with Tim Clancy's men lacking the necessary spark of creativity, the game soon settled into a stalemate.
The chances that did occur were unconvincing ones. It was not until the 43rd minute that hearts genuinely fluttered. A penalty-box scramble ended with Jamie Lennon seeing his shot blocked with Noah Lewis's follow up being bundled away by Shels' custodian, Conor Kearns.
The second-half followed a similar pattern but when Pats faded midway through the half, ceding an increasing number of loose passes, Shelbourne began to look the more likely to score. Matty Smith picked up one loose ball on 55 minutes and ran 50 yards before winning a corner.
But as time wore on a scoreless draw became ever more likely and it was Duff's team who would have been the happier of the two. Put simply, their plan was working while St Pat's was not.
But with the prize of an away point in sight, Shelbourne's evening was turned upside down with 84 of the 90 minutes gone. A corner from the left rebounded to Eoin Doyle and the striker pushed a low shot through a gaggle of bodies and into the goal.
Needless to say the final minutes saw a mirror image of the first 84 with Shelbourne now rushing to get forward at every opportunity and Pats now prioritising defence.
Despite their urgency Shels never really looked like getting back on terms and the final whistle announced the end of a game that never fully caught the imagination. Pats won't care much about that. While Shelbourne will feel that they were whisker away from getting what they came for.
St Patrick's Ath: David Odumoso; Sam Curtis, Joe Redmond, Noah Lewis, Anto Breslin; Vlad Kreida, Jamie Lennon; Serge Atakayi (Eoin Doyle 60), Jake Mulraney (Ben McCormack 75), Chris Forrester (Conor Carty 83); Tom Lonergan (Mark Doyle 60).
Subs Not Used: Darragh Mooney (gk), Thijs Timmermans, Jay McGrath, Jason McClelland, Tom Grivosti.
Booked: Vladislav Kreida 87), David Odumoso (90+4).
Shelbourne: Conor Kearns; John Ross Wilson, Paddy Barrett, Luke Byrne, Gavin Molloy, Tyreke Wilson (Kameron Ledwidge 59); JJ Lunney, Mark Coyle (Kian Leavy 78); Matty Smith, Jack Moylan (Shane Farrell 59); Evan Caffrey (Kyle Robinson 86).
Subs Not Used: Scott Van der Sluis (gk), Lewis Temple,, Andrew Quinn, Brian McManus.
Booked: Tyreke Wilson (42).
Referee: Neil Doyle
Attendance: 4,930
Extratime Player of the Match: Joe Redmond (St Pats Ath)