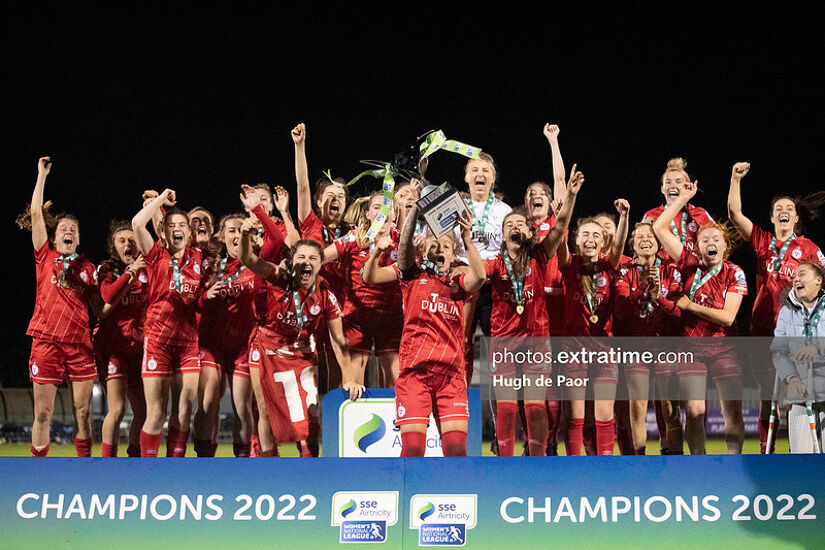 Women's President's Cup Preview: Athlone Town -v- Shelbourne
Fri, Feb 24 2023




ATHLONE TOWN

Athlone Town will be looking to claim their first piece of silverware and the first ever Women's President's Cup crown on Saturday when they host Shelbourne at Lissywollen (kick-off 4pm).

Having missed out on the Women's Premier Division title by just two points to the eventual winners Shelbourne, the Town then went on to defeat in the FAI Cup Final with the Reds emerging victorious as League and Cup double winners.

Tommy Hewitt's side had an excellent season however, despite their ultimate disappointment. There wasn't a commentator around the country that would have pitched Athlone for a tip at the FAI Cup never mind a tip at the League and Cup in the same season.





There have been some changes on the field for Athlone coming into this season and they will be missing out on the goalscoring prowess of Emily Corbett on Saturday with the striker signing for Wexford Youths during the offseason.

Going with her – all 20 goals she scored last season.

The core of last year's group is still together however and add to it former Galway WFC stalwarts Shauna Brennan and Chloe Singleton to increase the quality and they are still in a good position.

It still remains to be seen where the goals will come from but at least we will get a preview on Saturday as they battle for the President's Cup.

SHELBOURNE

The Reds have been in a constant state of chopping and changing such is the nature of having a high quality squad of players that are getting looks in with clubs in the UK.





Shelbourne too will be a significantly altered beast as they come into Saturday's game as League and Cup champions from last season.

The announcement that the newly arrived Shamrock Rovers were snapping up five of their players from last year's squad definitely caused a stir during the offseason.

Experienced players like Shauna Fox, Amanda Budden and Jess Gargan made the switch and following them two promising stars for the future – Lia O'Leary and Republic of Ireland international Abbie Larkin.

They have made moves to replace those players by bringing in the likes of Sophie Watters and Kerri Letmon from DLR Waves and add to that the returning Siobhan Killeen who played for Shelbourne and Raheny United previously.

There are a lot of unknowns coming into this fixture for both sides – but possibly more so for the current champions, all eyes will be on Shelbourne to see just what level they are at with the Women's Premier Division kicking off in just one week.

Referee: Louise Thompson





MATCH STATS

The sides met four times in all competitions last season with the Reds winning twice, Athlone once, and the teams drawing the last fixture.

Shelbourne finished just two points clear of Athlone Town in the League last season, they also claimed the FAI Cup with a 2-0 win over Tommy Hewitt's side.

This is the first ever Women's President's Cup match.

PREDICTION

Athlone Town 1–0 Shelbourne

Athlone Town

Injured: N/A.

Doubtful: N/A.

Suspended: None.

Shelbourne

Injured: N/A.

Doubtful: N/A.

Suspended: None.