Press box highlights from the extratime team. In 2023 do you want to join our team?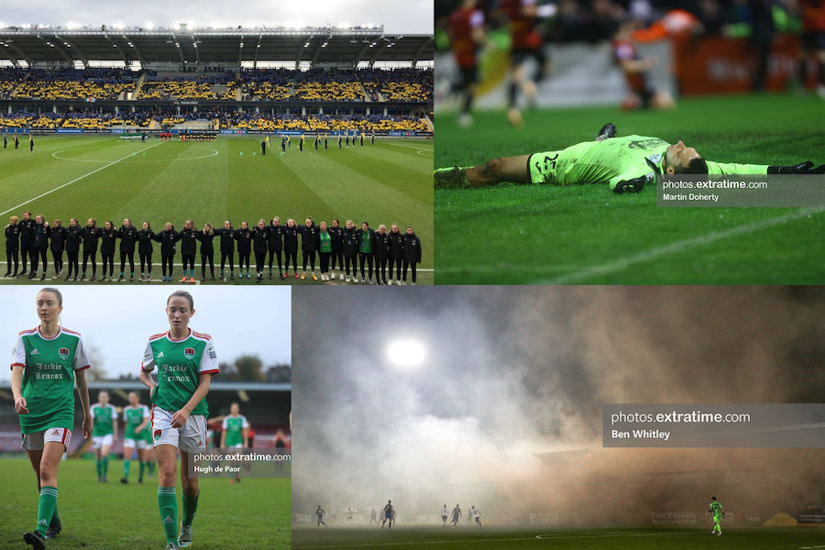 At extratime.com we are always on the lookout for talent to join our volunteer team that covers domestic and international football. We can offer you a place at those optimistic pre-match press conferences and the post-mortem post-match mixed zones. How about a seat in the press box under the Friday night lights of the League of Ireland or a mid-week match night in the Aviva Stadium?
To hopefully inspire some budding sports journalists out there, we asked a few of our reporters to talk about a standout moment from their season in the pressbox. We also asked a couple of former members of the extratime.com team to talk about their careers. If you are interested in joining the team, please do get in touch (see below).
Paul Corcoran
This past season was my seventh covering games for extratime.com but I was no less enthralled by the year that unfolded. I was there for many of the key moments throughout my hometown club's season getting to cover the developing storylines at Galway United such as Stephen Walsh scoring his first of 14 First Division goals when he came off the bench against Waterford last March.
I also got to see one storyline to its conclusion with Alex Murphy's departure to English Premier League side Newcastle United during the summer with his last appearance for the Tribesmen coming in July in a 3-0 win over Cobh Ramblers.
However, my favourite moment from this past season came away from my normal perch at Eamonn Deacy Park when I covered a crucial game in Finn Harps' relegation battle whenn they faced Bohemians at Dalymount Park in October. The home side initially took the lead, but Harps battled to a 2-1 score line only for Declan McDaid to nip in right at the death for an equaliser after a goalkeeping error heaping pressure on Harps who would ultimately be relegated at the end of the season.
Jessica Farry
A former reporter with extratime.com Jessica Farry most recently was on commentary duty for RTÉ covering the World Cup.
I joined extratime.com in 2011 just a few months after I'd started a journalism degree. I always wanted to get into sports writing, and was working for a few UK based websites but when I was approached about joining extratime.com to report on Sligo Rovers games, it seemed like the perfect opportunity. And it was.
Joining the team gave me the chance to learn the trade, gaining valuable experience that I wouldn't otherwise get. Even the small things like applying for accreditation, finding out where to do post-match to attending press conferences, going to Republic of Ireland games, joining a podcast (before they were the done thing) I learned a huge amount. Without extratime.com I wouldn't have got the training I did and wouldn't have got the chance to learn on the job.
It opened up a whole host of opportunities for me and I couldn't recommend it more. Whether you're starting out in a career in sports journalism, or it's your hobby, extratime.com is a great place to learn the tricks of the trade.
Simon O'Gorman
My highlight in 2022 was the WNL game between Cork City and Shelbourne at Turner's Cross back in May. I'd been to 'the Box' countless times before and watched some great players and great games there. I saw Cork City win their first major trophy when they beat Shamrock Rovers to win the League Cup in 1987. And I was there when City won the league title in front of an ecstatic Shed End in 2005.
But this summer I saw my first WNL game there and it was the start of a happy obsession. City lost 4-0 on the day but there was much to admire in their performance, as unlikely as the scoreline makes that sound. Shelbourne were superb. They would go on to do the League and Cup double and watching Jessica Ziu, Pearl Slattery and Noelle Murray was a glorious education on the standards of women's football in Ireland.
Afterwards both teams came to the sidelines and spent a good half hour signing autographs and having selfies taken with the sizeable gathering of young girls who had come to see them play.
In a football world that often challenges my enthusiasm for the modern game I look back on that day as a kind of rebirth - a renewing of my vows with the beautiful game. And I was the only person in the press box. I suspect that, in the coming years, empty press seats at LOI Women's games will be more of a rarity.
.@shelsfc women run out 4-0 winners over @CorkCityFCWomen at the Cross. Two late goals made it look worse than it was for City but Shels are a fine team. A really absorbing game in the early Summer sun #WNL@ExtratimeNews

— Simon O'Gorman (@Sighmo2) May 28, 2022
Tom O'Connor
Following restricted 2020 and 2021 seasons, 2022 saw the return to regular pressbox action for this reporter - taking in games both in Oriel Park and across Ulster and Leinster. A campaign full of twists and turns saw Dundalk towards the end of season in a neck and neck battle with St Patrick's Athletic for European qualification.
The scenes which followed Dundalk's penultimate league game of the season was this reporter's moment of 2022. When the final whistle blew at the end of the win over Bohemians, the coveted third place was within touching distance. However, the game between Sligo Rovers and St Pat's game was still going. The Dundalk squad watched the final few moments in their own dressing room before exploding with joy on the sound of the referee's whistle confirming defeat for the Saints and Europe for the Town.
A jubilant squad returned to the Oriel Park pitch and celebrations began - scenes which were scarcely believable 12 months ago when fans were protesting against the previous ownership. However, that night of October 28th 2022 saw a night of togetherness, triumph and unity between players, fans and owners - the local consortium in their first season of stewardship of the club.
To look from the press box across to the Shed where the returning Dundalk players were celebrating with their fans gave a glimpse of football in its purest form and illustrated the words of the late Jock Stein when he uttered, 'Without fans who pay at the turnstile, football is nothing'.
Macdara Ferris
Having reported on a number of home games in 2021 for Vera Pauw's Republic of Ireland side, last April I travelled to Sweden to report on my first Ireland away game. It was a memorable trip for a myriad of reasons – a first trip away when covid was no longer in the forefront of our minds, the beauty of Gothenburg, and the camaraderie of the traveling press corps covering the game.
But it was also the exhilarating experience reporting from the Gamla Ullevi stadium as the Girls in Green earned a dramatic 1-1 draw, with the added pressure of covering the game both for extratime.com and one of the national newspapers.
What sticks with me most though was the reaction of the players afterwards to a result which was a pivotal in qualifying for the World Cup.
There was the broad smile still on Courtney Brosnan's face an hour after the end of the game as she talked us through a series of incredible saves from the match and it was a privilege to chat and recount Chloe Mustaki's emotional story of her competitive debut for Ireland.
Spoke with Chloe Mustaki after her competitive 🇮🇪 debut in 🇸🇪. The Shels player took leave from her full time job to travel for the game, taking on defensive duties against a front three from Arsenal (Stina Blackstenius), Real Madrid (Kosovare Asllani) and Juventus (Lina Hurtig). https://t.co/f6k2zRxaLM

— Macdara Ferris (@macdarabueller) April 14, 2022
Sean O'Connor
Now a sports writer with the Irish Independent, Sean O'Connor started with extratime.com at the start of the 2021 season.
I had been writing small pieces at home but wanted regular experience at live games and extratime.com gave me that opportunity. To cover live games week in week out was amazing, and the regular feedback I received from the team improved my writing a lot.
I really appreciated the trust the team placed in me as I found my feet with reporting, filing to deadline, and providing post-match copy. I covered my first Ireland game (against Azerbaijan), and also the FAI Cup final two months later. Covering Dublin derbies were always a thrill too.
I wouldn't have had any of these experiences without extratime.com, and I couldn't recommend them enough if you want to start out in sports journalism. If you have any more questions feel free to dm me on Twitter @SeanOCSport, or email seanoc.sport@gmail.com
Philip Morrissey
I started the year by taking in the first home game of the season for Cork City as they took on Galway United in front of a packed Turner's Cross back in February. The home side suffered a rare defeat on that occasion, but they were destined to go on to bigger and better things.
No more than the game I covered towards the end of the 2022 First Division campaign. It was a tense and fraught 0-0 draw on the night against Wexford but it proved ultimately enough to seal the promotion and the First Division title. There was a huge release of celebration at the final whistle after what were a tough couple of years on Leeside.
One of the biggest highlights was to be part of the extratime.com coverage of the World Cup. Supplemented by the reporting we did from Qatar, I wrote a number of match reports for the tournament including most memorably the World Cup Final.
It was an incredible game to cover with Argentina going two 2-0 up and seemingly strolling to the title. France and Mbappe dragged themselves level with the game going to extra-time before Lionel Messi got his country back in front only for Mbappe to land a hat-trick and take it to penalties. The dramatic shootout ended with the South American's clinching their first crown since 1986 and Messi clinching the title of greatest ever in most people's minds.
If some of the above sounds like something that might interest you, now is the time to get in touch with us by either emailing extratimedotcom@gmail.com explaining why you want to be part of our volunteer team, details of any journalism experience to date (if any) and, where possible, a one page CV or completing this online form
Watch: Evan Ferguson scores his first Premier League goal https://t.co/fWm6khvb4Jpic.twitter.com/M1GYP4F6oM

— Extratime.com (@ExtratimeNews) January 1, 2023